This article is more than 1 year old
SPARC and Solaris will live until at least 2019
Oracle reveals three generations of silicon and Solaris 12 release schedule
Oracle has quietly published a roadmap for its legacy Sun SPARC and Solaris platforms.
Big Red's not offered a whole lot of detail, confining itself to the single slide below.
The slide is available here as a PDF or as an embiggened image here.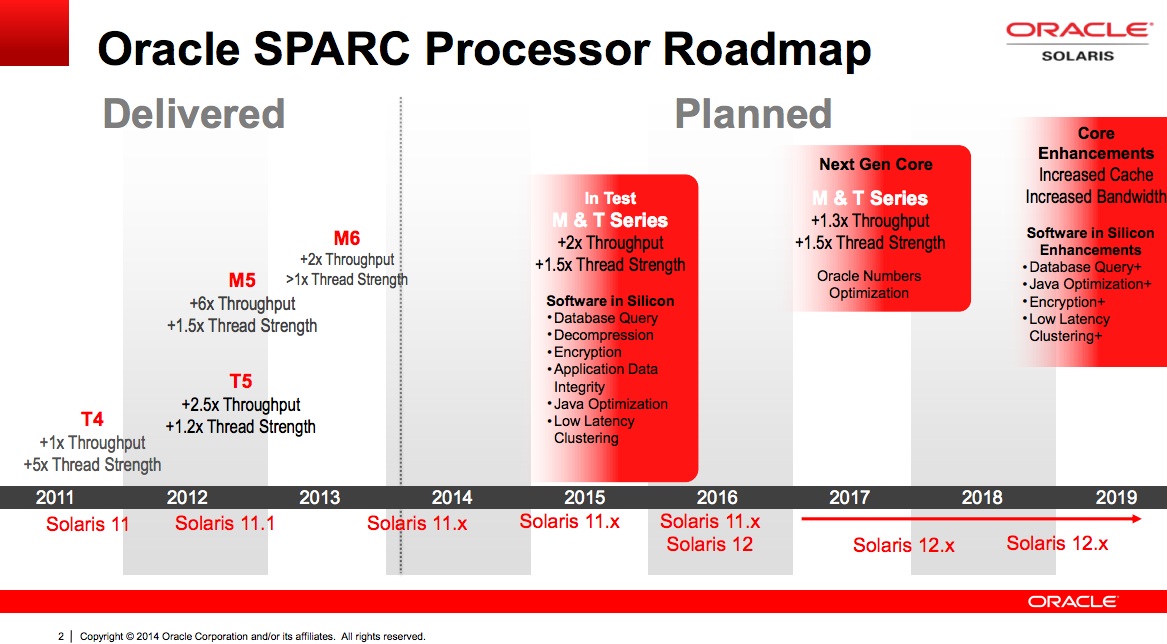 Oracle's SPARC and Solaris roadmap. Bigger version here
What to make of the slide? Optimists will be pleased that Oracle appears to have three generations of silicon in mind and appears committed to SPARC until 2019 and beyond. Pessimists might wonder if the "core enhancements" due around 2019 represent a worryingly vague statement of direction and/or intent. The planned 2017 and 2018 enhancements to thread strength and throughput also look incremental compared to the heftier enhancements planned for 2015 and 2016, which could be worrying for those who need SPARC to scale.
The Solaris release cycle won't turn heads: versions 10 and 11 of the operating system emerged in 2005 and 2011 respectively, so a 2016 release for Solaris 12 represents little or no change in its development cycle. ®