Qualcomm uncloaks new chips for 'ultimate connected mobile computing experiences'
Snapdragon 808 and 810 to deliver 'up to 300 Mbps' LTE
Qualcomm has announced two new 64-bit processors in its Snapdragon line, both aimed at high-end smartphones and tablets, and both "designed to deliver the ultimate connected mobile computing experiences in video, imaging and graphics," the company modestly says.
The Snapdragon 810 and 808 are both based on ARM Cortex-A57 and Cortex-A53 compute cores in a big.LITTLE configuration, in which the heftier A57 handles the more processor-intensive chores such as multimedia and gaming, and the weaker but more power-efficient A53 takes care of less-taxing chores such as reading your email or checking your calendar.
ARM has long been an advocate of running more cores more slowly as a power-saving feature, but since the Cambridge company bills on a royalty-per-core basis, there may be some financial as well as power-saving incentive for this set-up.
The 810 – which Qualcomm calls its "highest performing Snapdragon platform to date" – has four Cortex-A57 and four Cortex-A53 cores, while its little brother 808 drops the A57 core count down to two. The 810 also supports external 4K display via HDMI 1.4 at 30 frames per second and 1080p video at 120 frames per second, while the 808, poor little thing, can only support 2K video.
Both support Qualcomm's LTE Advanced Category 6 multimode broadband, in which bandwidth can come from non-adjacent frequencies. The company says it can provide LTE speeds of up to 300 megabits per second, as explained in a Monday blog post.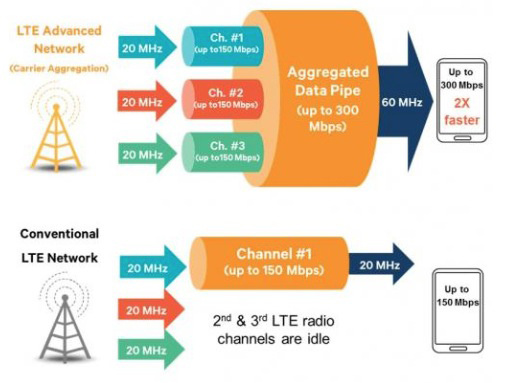 Three times the pipes, two times the throughput
Adding support for LTE Advanced Cat 6, however, will need a network upgrade and for the network to own the spectrum. Olaf Swantee, the CEO of UK carrier EE, said it's coming to London, and since Qualcomm's new Weyr offer 3x20MHz Carrier Aggregation, devices they power should be good for the quoted speeds of up to 300 Mbps – backhaul notwithstanding.
The Snapdragon 810 also offers support for gyro-stabilized cameras, and its dual 14-bit image signal processors (ISPs) are capable of supporting 1.2GP/s throughput and image sensors up to 55MP, with software support for enhanced exposure, white balance, and fast low-light focus.
The 810's integrated graphics processor is the Adreno 430, with the version 8 instruction set architecture. It's designed for 4K displays and supporta for OpenGL ES 3.1, plus hardware tessellation, geometry shaders, and programmable blending.
"The Adreno 430 is designed to deliver up to 30 per cent faster graphics performance and 100 per cent faster GPGPU compute performance," Qualcomm says, "while reducing power consumption by up to 20 per cent, as compared to its predecessor, the Adreno 420 GPU." In addition, they say, the Adreno 430 also provides "a new level of GPU security for secure composition and management of premium video and other multimedia."
No phones are yet shipping with the Adreno 420 – current phones such as the Samsung S5 and Sony Z2 use the Adreno 330.
The 810 also includes support for high-speed LPDDR4 memory, along with Qualcomm's VIVE 2-stream 802.11ac with multi-user MIMO to make Wi-Fi more efficient. Since today's top-flight phones are stuffed with gobs of connectivity, the 810 provides Bluetooth 4.1, USB 3.0, NFC, and Qualcomm IZat core for location services.
Oh, and that 4K display capability? Think external video, not on-handset displays – a 4K (4096-by-2160) display on a 6-inch phone require 770 pixels per inch. Even on a 10-tablet tablet, 463 ppi would be needed – not outlandish, seeing as how today's best 5-inch phones are around 460ppi.
The Snapdragon 808 is marginally less ambitious, designed for WQXGA (2560-by-1600) displays – but that would still require 600ppi on a 5-inch phone. The 808's Adreno 418 GPU, Qualcomm says, is 20 per cent faster than the Adreno 330 GPU.
Two chip companies dominate the smartphone market – Qualcomm and MediaTek – so this announcement of the successors to the chips found in the latest Samsung and Nokia handsets is bound to set the phone world buzzing. Apple, of course, has its own chip designs and can so avoid being reliant on either Qualcomm or MediaTek. Samsung also has its Exynos processors, but mixes and matches between the ones it has built itself and Qualcomm chips. As an example, 3G versions of the new S5 use Exynos while the 4G versions use Qualcomm processors.
The Snapdragon 808 and 810 will both begin sampling later this year, and Qualcomm expects devices with the new chips will ship in 2015. Compared with previous announcements, it's quite early for Qualcomm to go public about their roadmap – but since its major partners will have been privy to the information for some time, this looks like a bid to steal a march on Intel, MediaTek, and particularly Nvidia, which all might otherwise find favor with smaller manufacturers. ®