This article is more than 1 year old
Samsung's thumb-achingly ENORMO Galaxy Note Pro 12.2
When 10 inches just isn't enough to satisfy
Review As if Samsung's Galaxy range of tablets wasn't broad enough with its plethora of Tab and Note machines in various screen sizes, the company has added a new subgroup: the Galaxy Pro.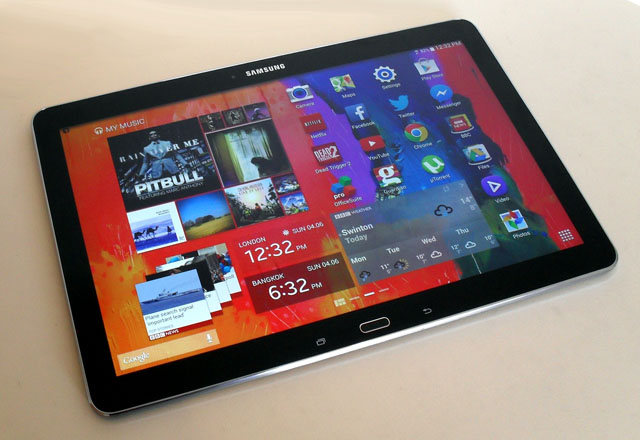 Samsung Galaxy Note Pro 12.2
The line-up consists of both Note and Tab machines – the latter minus the S Pen features. The Tab Pros are available with 8.4-, 10.1- and 12.2-inch displays with the Note Pro currently in 12.2-inch guise. All are available with optional 3G/LTE connectivity.
It's the daddy of the range, the £650 Note Pro 12.2, that's taking up a not inconsiderable amount of space on my desk as I write this and prompts one to ask: does the world really need an Android tablet this big?
So what is it that makes these machines "Pro", other than a desire by the Samsung marketing department to match Apple's Air?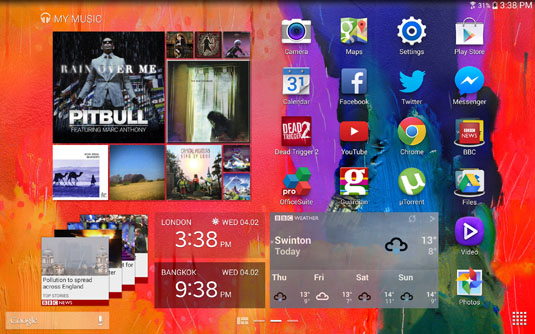 TouchWiz UI homescreen has plenty of room for apps and widgets – click for a larger image
In short, you get some preloaded business-oriented software like Samsung's KNOX security package, a remote Windows PC access app called Remote PC, Hancom Office and e-Meeting, a serverless conference app for collaborative business hijinks. Whether Samsung's Pro software package will help its tablets loosen the iPad's grip on the business fondleslab market remains to be seen, but clearly that's the idea.
For the average punter though, I think the Pro 12.2 still has something rather concrete to offer. My thinking here is that as phones get bigger so surely should tablets. Speaking personally, my 5-inch Nexus 5 has rendered my Nexus 7 almost surplus to requirements but this new big Samsung has got me back into the habit of using a tablet big time.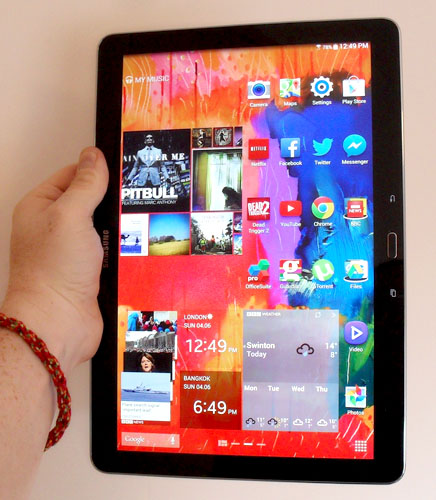 You can hold it in one hand... for a short while
Despite the large screen, it's not actually that massive a device. OK, at 753g (266g more than the new 4th generation Galaxy Tab 10.1) it's no lightweight, and at 295.5 x 204 x 8mm, it's not what you'd call small. Still, you quickly get used to it and unless you have a conventional 10-inch Android tablet or an iPad to hand for comparison, you don't notice the extra size and weight.
The heft does rather preclude single-handed use, but if you plan on holding your tablet in one hand you probably aren't set on buying a 10-incher, let alone anything bigger.
What is continually obvious though is how much screen you have in front of you. My back-of-an-envelope calculations lead me to believe that a 12.2-inch screen has about 45 per cent more surface area than a 10-inch panel.