Samsung's thumb-achingly ENORMO Galaxy Note Pro 12.2
When 10 inches just isn't enough to satisfy
Pen pal
The balance between performance and battery life is hard to fault as the Pro turns in some impressive general benchmark numbers. AnTuTu returned a score of around 34,500 - but the Galaxy Note Pro 12.2 can still easily run for two days on a full charge of its 9,500mAh battery.
Just for grins I tested the Pro's battery by running it from full to flat looping a 1080p MP4 video file and then doing the same streaming content from Netflix and it managed nine hours 50 minutes and six hours 20 minutes, respectively.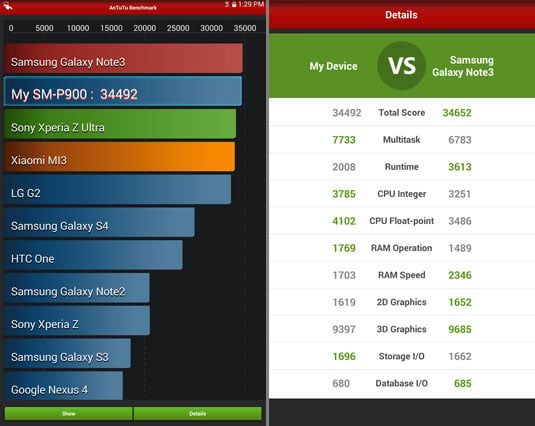 AnTuTu score with Galaxy Note Pro 12.2 and Note 3 compared
Underneath that huge display sits a pretty solid raft of supporting hardware including 32GB of storage, dual band 802.11ac Wi-Fi and Bluetooth 4.0. The cameras are above par for a tablet, too. The 8Mp main camera has an LED flash and takes a more than decent image while the 2Mp webcam can't really be knocked either. The micro USB port supports On-The-Go hosting and MHL streaming though given the Pro's business credentials, a dedicated HDMI port would have been welcome.
This being a Samsung device, the Android 4.4.2 user interface is pretty far from stock and includes lashings of extra functionality, from the Wacom S Pen interface to the likes of Smart Screen, which pauses video playback when you look away.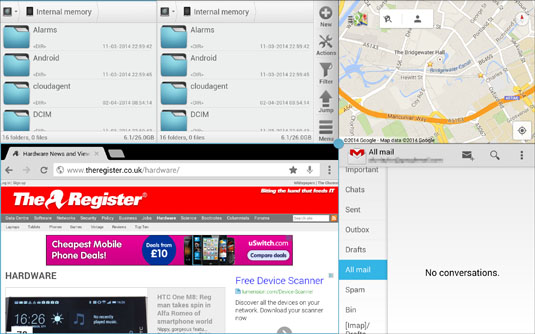 With four windows open there's still enough space for it to be practical – click for a larger image
Regular readers of my scribblings here on El Reg will know that I'm hardly the world's biggest fan of Samsung's TouchWizardry. It's just a bit too much relish for my operating system burger, thanks all the same. But with so much screen real estate to romp about in it seems more at home here than on a 5- or even 8-inch device.
The most obvious benefit is the capacity to run up to four apps in windows. On a screen this big you can clearly see what's in each panel and a handy central locating pin means you can alter the size of all four windows in one deft move. The list of apps you can run in-window is a hardly overflowing – Facebook Messenger and Netflix are annoying omissions – but with the likes of Chrome, Google Maps, Solid Explorer and Gmail covered, it certainly has its uses.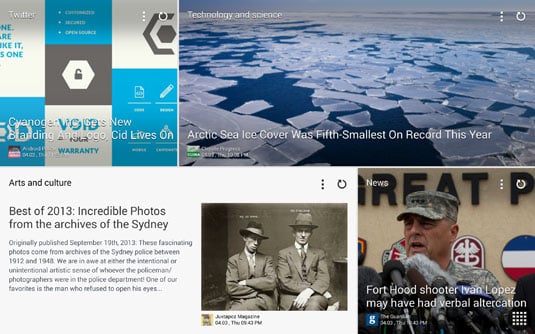 Magazine UI powered by FlipBoard – click for a larger image
Another bespoke feature is the Magazine UI that populates one home screen with up to four Flipboard-powered widgets. The scrollable widgets take up the entire screen, even covering the status bar, and are pretty handy though your mileage will depend on how much truck you have with Flipboard to start with.
If three feeds are enough you can use the fourth box to access Samsung's WatchON TV/remote app or the Pro's gallery, video or S Planner applications, amongst others. Personally I didn't find much use for this last feature but your experience may differ. One final comment, I was rather surprised to discover that Samsung hasn't knocked up a folio-style stand/keyboard for the Pro 12.2. It's a device that cries out for one and given the price, it wouldn't hurt to bundle one as standard.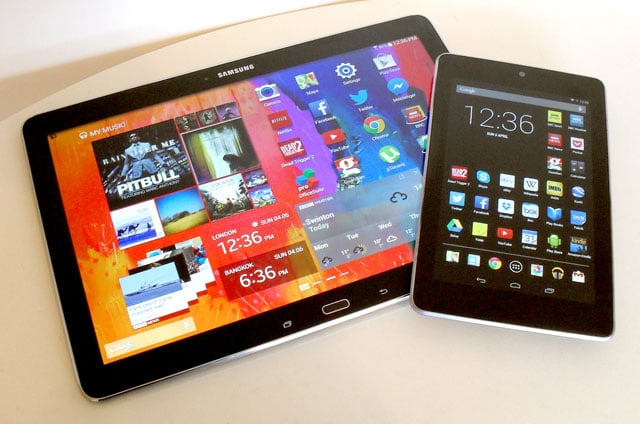 The big picture: side by side with Google Nexus 7
The Reg Verdict
Granted the Galaxy Note Pro 12.2 is a bit on the heavy side, but it's not really all that noticeably larger and heavier than your average 10-inch Android slab and the extra screen acreage does make for a more immersive, flexible and enjoyable user experience.
Sammy's devotion to hardware buttons makes it a strange device to use in portrait mode but I struggle to think of a good reason why you would want to - even as an e-reader it works better in landscape with two pages on show.
At around £650, the Note Pro is not a cheap device. Sony's new Xperia Z2 10-inch tablet costs £250 less though, to be fair, the more comparable Tab Pro 12.2 can be yours for around £550. Still, you do get an awful lot of tablet for your money and the long battery life will be an appealing feature if you are a dedicated slab fondler. Moreover, the pre-loaded business software could find favour among corporates types or those fated to BYOD. ®

Samsung's thumb-achingly ENORMO Galaxy Note Pro 12.2
Android 4.4.2 fondleslab featuring two ARM processors, bundles business apps, S Pen and a 12.2-inch screen.