Dell Wyse Cloud Connect: Pocket Android desktop
Ultrathin client with a lot of baggage. The upside? It's a rogue sysadmin's delight
Review When somebody hands you a dongle-sized computer, you might, for a moment, be impressed. But when they then put it in a bag with a Bluetooth keyboard and mouse and suggest you find a monitor somewhere, you might wonder what exactly it is they are trying to sell you.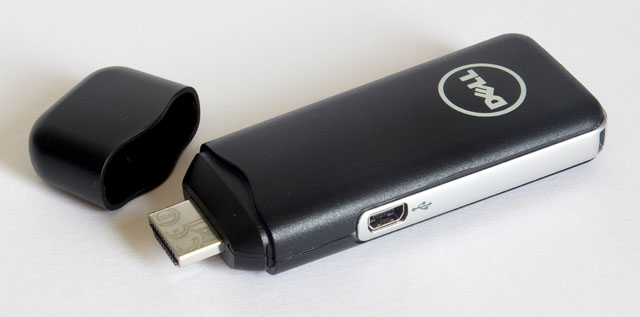 Mini USB – fancy seeing you here – the interfacing that gradually lost favour due to its unreliability
As a few of you might have guessed, I've been using the Dell Wyse Cloud Connect. Yes it is dongle-sized and delivers an Android desktop computing experience by simply plugging it into an MHL or HDMI display. This Ultrathin client taps into a load of services that Dell offers as part of the package and can be managed so that the user doesn't stray beyond the bounds of any company compliance policies.
In effect, from an online portal, the Dell Cloud Client Manager administrator can determine what gets loaded onto these dongles.
Evidently, Dell has that business-friendly feature in mind as well as the hundreds or even thousands of these HDMI sticks it will sell to businesses enabling users to gain access to corporate services, VPNs and virtual desktops. More on that later.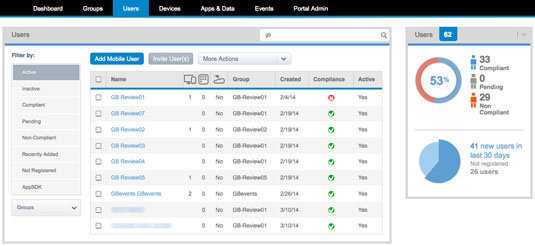 Cloud Connect Manager overview – click for a larger image
What's powering all these fun-packed thrills is little more than a screenless phone and that being so, there's a price to match: it costs £89. That's not too worrying, but the DWCC is a bit like buying a car only to find out the gearbox and the wheels are extra. Display, keyboard and mouse aside, there's no power supply either.
In the box, Dell includes an initially bewildering package of cables, but there is some sound thinking behind this: though it is a somewhat messy way of addressing a design issue.
OK, hands up who has an MHL compliant monitor… that's also a touchscreen? Not many. And hands up who has one made by Dell? Mmm, thought so.
The out-of-the-box startup goes through the motions of connecting peripherals
We've Dell monitors aplenty here at Vulture Central and they're all DisplayPort/DVI/VGA, but the Dell Wyse Cloud Connect is designed to hook up with an MHL monitor – it's the HDMI variant typically found on phones and tablets that uses a micro USB port and has the advantage of delivering power to the device from the MHL display.
Monitoring the situation
Presumably, Dell knows it's not a perfect world and some folk might not have upgraded their kit – splashing out £540 on the company's latest P2714T 27-inch Touch Monitor – so there's a full-size HDMI connector on the device when you take the cap off. Included is a short HDMI extender cable so that you can hang the DWCC off the back of a monitor, and another female-to-female HDMI adapter to enable longer extensions. That micro USB/MHL port on the device will then be used for power only and Dell supplies a cable for this too.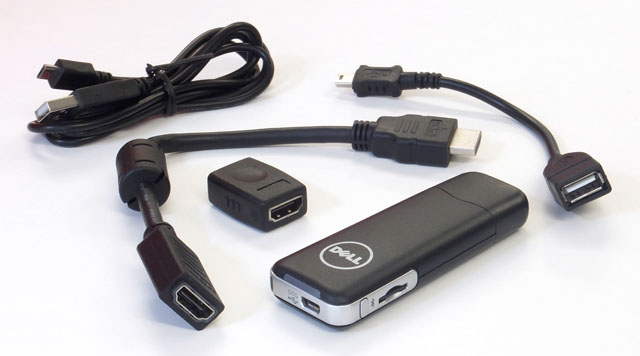 The Dell Wyse Cloud Connect comes well equipped with cables and adapters – you'll need them
Now, if you have a touchscreen monitor too, then the mini (yes, mini) USB port can be used to connect to the display to manage those signals. The same port can also be used to connect peripherals such as a USB mouse or keyboard and again, there's an adapter in the box to convert the mini USB port into a full-size USB socket.
I tried this out with a Logitech USB mouse which worked without a hitch. Alas, connecting a USB 2.0 Ethernet 100Mb/s adapter – which has functioned with ageing PowerBooks to brand new Chromebooks – didn't work at all.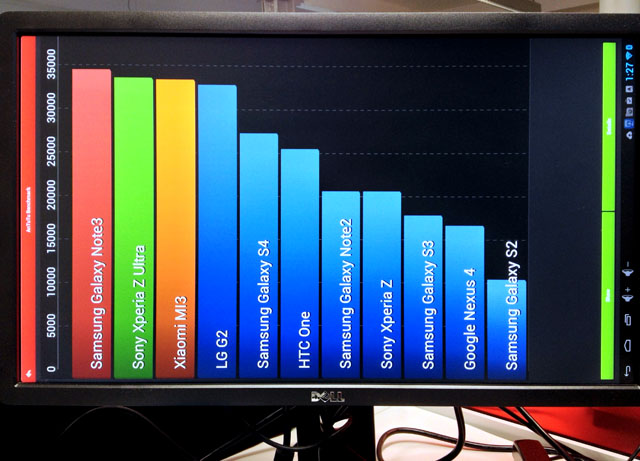 Not all apps want to work in landscape mode and it can be a problem re-orientating the display
AnTuTu results don't even show the device, but at 9372, it's just below the Samsung Galaxy S2
According to the Dell specs, there's 8GB of flash storage on board. Really? Never mind, it'll keep for now. You also get microSD card expansion with a 8GB card supplied. It takes cards up to 64GB, so you could top it up with plenty of storage to play with. The processor is "Multi-core Cortex-A9 ARM" with 1GB of RAM (apparently), which isn't too informative, so I gave the AnTuTu benchmark a try to see what was running the show.
Well, well, we have a processor that's pegged close to the Samsung Galaxy S2 from 2012, an interesting comparison given that this phone was among the first to support MHL and some models did rely on a Broadcom chip. In AnTutu the DWCC appears described as a CS-1A13, and its rating of 9372 was so low, it didn't even show on the score chart featuring current models.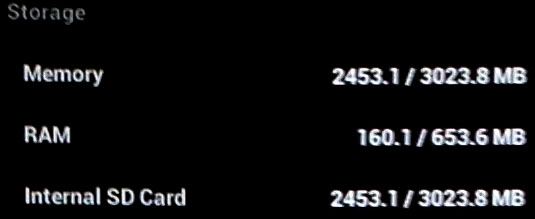 The internal storage and RAM available is at odds with Dell's spec sheet
Yet if AnTuTu is to be believed, we're looking at a Broadcom dual-core 1GHz chip with a VideoCore IV GPU and only 653.6MB of RAM, not 1GB, but maybe the GPU nabs some of it. Although I pondered on pulling it apart, it is glued together, so I'll just hazard a guess that we're looking at at Broadcom BCM28155 here – don't quote me on that though, as there's no 3G connectivity on this device.