Dell Wyse Cloud Connect: Pocket Android desktop
Ultrathin client with a lot of baggage. The upside? It's a rogue sysadmin's delight
---
All work and no Play Store
Further probing suggests there's only 3GB of storage available internally, which is borne out both by AnTuTu and ES File Explorer. Dell's claims that you can max out with 72GB of storage with a 64GB SD card seem a tad imprecise, 67GB, more like.
OK, so now we've got an idea of we're dealing with here, how well does this kit and caboodle perform? Certainly the hardware side of things isn't too taxing, but configuring it can be. That HDMI port might suggest Chromecast plug and play ease of use, but on monitors at home and at work, there was a fair amount of faffing about to get things up and running.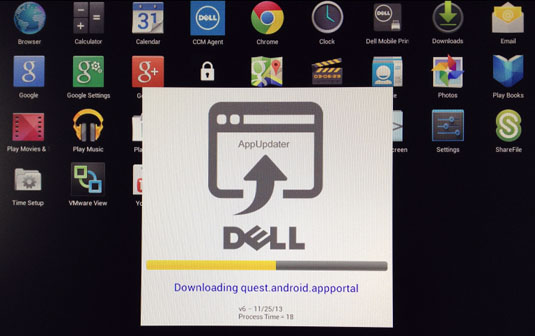 Dell Update Manager dials in to check the app status
On my old Philips Amva monitor featuring HDMI connectivity, the extender cable came in handy. Then I discovered there were no USB ports on the display, so I needed a separate PSU (not supplied, remember?) to power the Dell Wyse Cloud Connect dongle. Setting up the Bluetooth peripherals was simple enough, although the Logitech K810 keyboard layout didn't match the Android positioning of the @ and " characters which might fox some folk as you will need to enter an email address to log in.
Incidentally, the login details originally supplied didn't work, so another URL was dispatched that did the job. It was, however, a bit of an omen for what would follow. Over several weeks I asked Dell if it could recommend a screen grab app and I'm still waiting, so apologies for the screen photos, folks.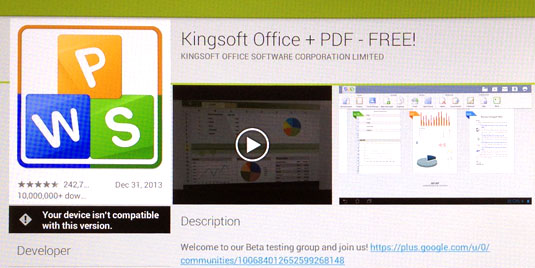 Without a touchscreen, the Google Play Store will list many apps as incompatible
The problem here is that as there is no power button or volume down key, the usual Android screenshot key combination can't be used. The various apps I looked at wouldn't play nice either – all expecting features to be there that aren't. Indeed, the fact that I was not testing with a touchscreen panel had a knock-on effect regarding the apps available on the Play Store.
Inventory control
With few exceptions, the apps on the Play Store show as incompatible, typically because a touchscreen has not been detected, at least that was the reason given to me by Dell. You might be thinking: wasn't the idea of the Cloud Connect administration features to be able to put together an inventory of apps ready to use?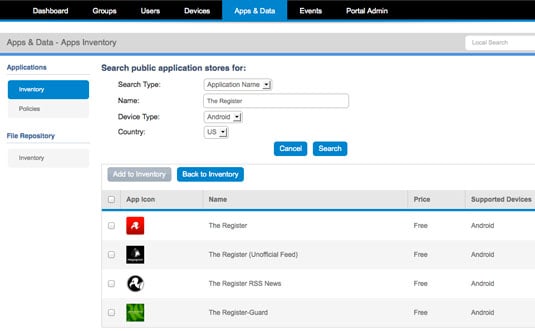 Apps can be located by searching from within the Cloud Connect Manager – click for a larger image
That's true, but if you add apps to the inventory and then make it mandatory for a device, then the user is notified that they must visit the Google Play Store to download the app, which will then show as incompatible. There is a workaround though, which is to create an Enterprise App Store within the Cloud Connect site where .apk installers can be loaded.
Yet as any Android user will know, the simplest workaround is to do a quick online search and source the app's .apk installer file from elsewhere, which is what I ended up doing. And there we are, supposed to be in this walled garden akin to a Kindle-y Dell, only to be roaming the streets of cyberspace, looking for dodgy installers.

Cloud Connect Manager can impose restrictions on users with a couple of clicks – click for a larger image
Admittedly, the Cloud Connect administrator can prohibit such behaviour, preventing any app installation or even disabling existing apps remotely. I tried the latter when watching YouTube on the DWCC. From another computer I drilled into the user Device Level Exceptions and from the Restrictions section – which features Google Play and Facebook, among others – I disabled YouTube. And lo, the 'Tube disappeareth.
It was as if someone had unplugged the telly and I'll admit I was quite bemused by this; the thought of some lazy exec being booted off YouTube by a BOFH on the other side of the planet.
It all happened in a matter of seconds and is restored just as swiftly too, as the app doesn't disappear from the device, just your privileges to use it are revocable.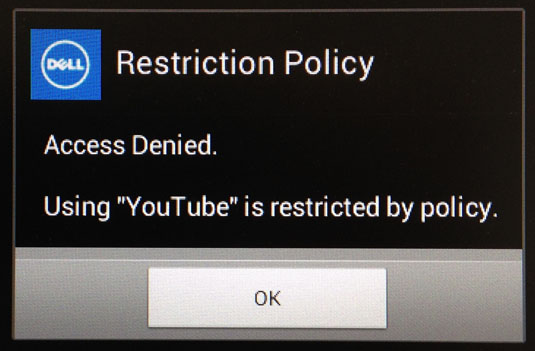 YouTube one minute, no 'Tube the next
Enough messing though, Dell has included some showcase apps with various demo setups outlined in the reviewer guide I was given, which, apart from useful login information, has dubious merits. Needless to say the first example listed, VMWare View, was inaccessible, unusable, just pants really.