Dell Wyse Cloud Connect: Pocket Android desktop
Ultrathin client with a lot of baggage. The upside? It's a rogue sysadmin's delight
---
Cable and wireless
Apparently Dell is aware of this and much like its response to the screen shot app request, there's little evidence that anything is happening. For the record, the VMWare View app reports that there's a Security Certificate issue, but from the feedback I've had so far, I get the impression that this could be the tip of the iceberg.
Before rambling on about the other apps, a few words on portability. Today I've moved from the home environment to the office and I'm plumbing into a fairly recent Dell monitor which has no connectivity compatible with the DWCC – they really thought this through, didn't they?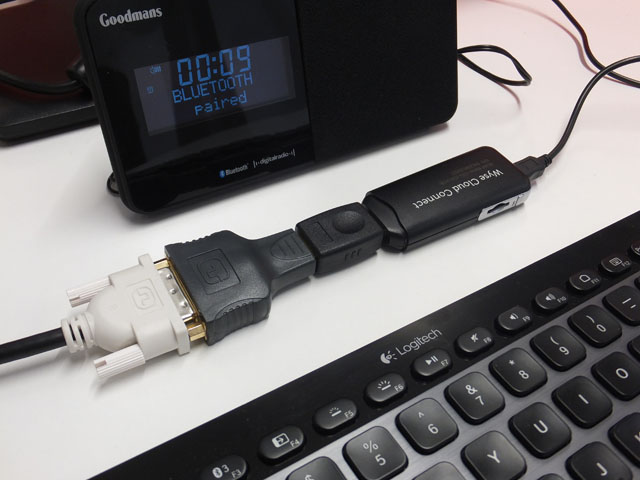 Just to get things going on a Dell monitor required a hunt for adapters and cables
The monitor has DisplayPort and DVI, so I tried the former with HDMI conversion adapters but nothing would show, and the screen would time out after a short while. Interestingly, the DWCC appeared to be getting power from this cable configuration alone. However, I did try powering from the monitor too, but this didn't make any difference.
As I would soon discover – when I switched over to the DVI option with HDMI adapters – there was insufficient power coming from the monitor from its USB ports (yes, I did try different cables too), as it wouldn't even light up the DWCC. And this is from the same port that I use to charge my phone.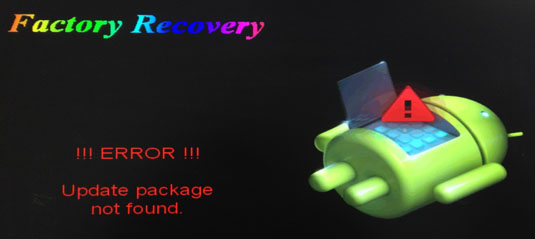 The initial outcome when swapping locations wasn't exactly encouraging
The good news is that I did get the DWCC powered up from an external PSU, only to see a Factory Error message appear on the screen. Thankfully powering off and on again cleared this (booting takes around 30 seconds) and an update ensued. Phew, now we're in business. Admittedly, it was plain sailing at home with an HDMI monitor and an external PSU. Yet Dell reckons you can travel with this set-up and hook it up to screens here, there and everywhere. Good luck with that.
Remote desktops
The Citrix Receiver application offers another demo, but apart from being able to log on and see various MS Office apps and folders that I could add or remove, nothing else functioned. I certainly couldn't get an app to run or a file to open as every attempt would be met with "The requested application is not available at this time."

Citrix Receiver shows familiar apps, but the demo set-up didn't work
And this is just me going through motions on the reviewer's guide. Not something I would normally pay much attention to, but this time I felt it had some novelty value.
There are two PocketCloud apps from Wyse and these are the real deal and enable remote access to different platforms that have the PocketCloud Companion app installed. I tried it on an HP Zbook and it did indeed work. The PC screen itself blanks out and simply shows a log in identity and PocketCloud, by default, delivers a low resolution desktop frame within the Android application.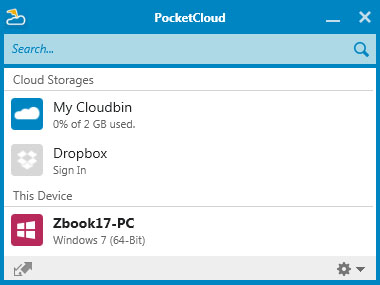 Install PocketCloud Companion and get remote access across platforms
It looked terrible, but fortunately the app's Connection Settings does offer a range of resolution choices, but not full HD. No doubt this is available from the Custom Resolution settings which are part of the Pro version which costs £9.35.
At least with maximum free 1280 x 1024 resolution, you can navigate the desktop and open up programs and files. However if anyone out there fondly remembers the experience of Netscape Navigator on a 14.4kbps modem, then you'll feel right at home with the responsiveness of this remote desktop – you even get drop outs too.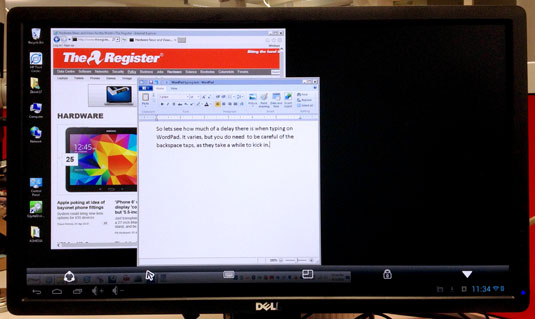 Wyse PocketCloud shows off its remote access tricks linking to an HP ZBook – click for a larger image
The PocketCloud Explorer app is a much simpler and niftier affair. It allows you to browse the files on the Dell Wyse Cloud Connect and one remote platform at a time, which can be a Mac, PC or iOS device. According to the Wyse site, Android support is "coming soon", er, so what's this on the DWCC then?