Dell Wyse Cloud Connect: Pocket Android desktop
Ultrathin client with a lot of baggage. The upside? It's a rogue sysadmin's delight
---
Chrome shines
One way of dealing with this cross-pollination of data is to use the Wyse Cloudbin, which enables the sharing of files too large for emails. That said, the free limit is 25MB and if you want to manage file sizes up 1GB file and have more than the 2GB storage allocation, then you have to Go Premium and start paying. The easiest way to access the Cloudbin is to log in from a browser and upload files from there. Files can then be accessed from other devices or links can be sent via email or to social media alternatives.
Wyse CloudBin accessed from a web browser – click for a larger image
Unlike the Citrix ShareFile app that was installed and did nothing apart from black out the screen – no doubt tinkering with settings in the Citrix Receiver should sort this – the Wyse PocketCloud apps do work with varying degrees of usefulness. On this point, choosing the right browser when prompted can make a lot of difference, as the Android browser is unhelpfully stuck on a low resolution mobile view which ignored the fact that the DWCC was hooked up to a full HD screen.
By contrast, the Chrome browser does enable full HD viewing. You'll find the issue of resolution cropping up on various apps. After bypassing the Google Play store I installed Kingsoft Office suite which appeared oversize in the Writer and Spreadsheet apps, but was still fairly useable. Its Presentation app did at least display PowerPoint files at an appropriate size. If screen scaling options exist, they're definitely not obvious.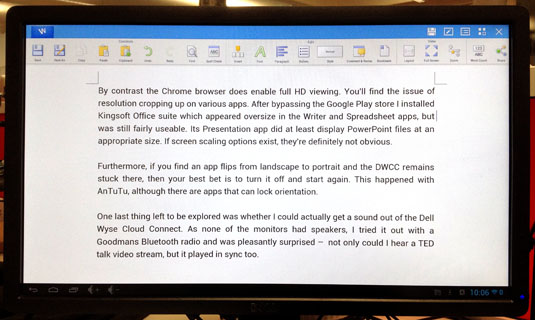 Kingsoft Office Writer appears a bit on the big side, but is still perfectly useable
Furthermore, if you find an app flips from landscape to portrait and the DWCC remains stuck there, then your best bet is to turn it off and start again. This happened with AnTuTu, although there are apps that can lock orientation.
One last thing left to be explored was whether I could actually get a sound out of the Dell Wyse Cloud Connect. As none of the monitors had speakers, I tried it out with a Goodmans Bluetooth radio and was pleasantly surprised – not only could I hear a TED talk video stream, but it played in sync too.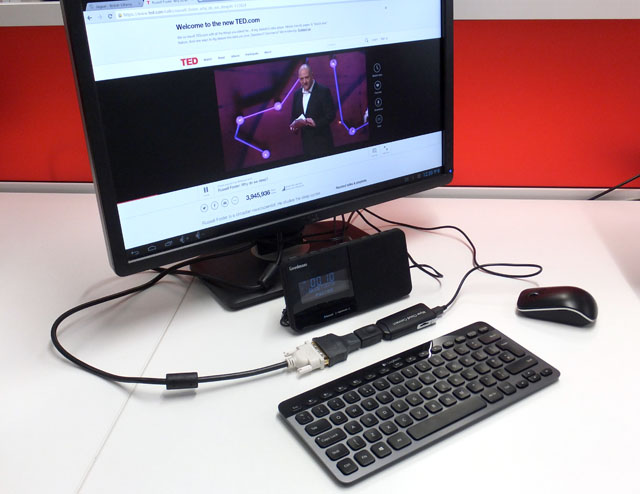 Desktop setup playing video and streaming audio via Bluetooth
I never thought I'd end up beta testing for a PC vendor, but my time with the Dell Wyse Cloud Connect has me thinking that's precisely the experience I've endured here. Indeed, the gradual accumulation of my mutterings and expletives followed by the concerned look from Jude our Super Sub Ed, would seem to bear this out.
Making signs
Perhaps I should have simply tested it in kiosk mode or as a dumb digital signage player instead, as these are among the alternative uses, with Dell also eyeing the cost-conscious education sector too.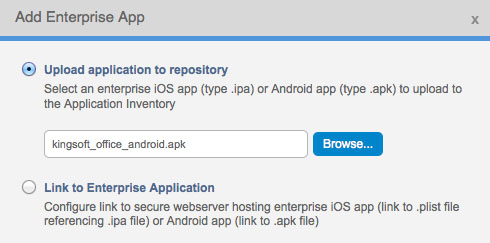 If you upload an app to the Enterprise Store that's already on the inventory, you can't proceed without deleting the existing app and policies. You then have to upload the app all over again to the Enterprise Store
I can see that the Dell Cloud Connect Manager is well thought out for the administration of these devices (and it's not just Android but other platforms too) although it doesn't indicate the version of the apps installed, which seems plain daft. Moreover, I get the impression that everyone at Dell tested out these dongles with touchscreen monitors and didn't consider a more likely real world scenario of just sticking the thing into any display it can function with.
As a desktop environment, the combination of running Android 4.1.2 (Jelly Bean) on an ageing ARM chip does not appear rigorous enough given the occasional network dropouts, resolution and orientation mismatches on some apps and the inaccessibility of others through the Play Store. It seems the only way to improve the latter experience is for admins to take the time to build up an Enterprise Store of installers that bypass the Play Store's foibles.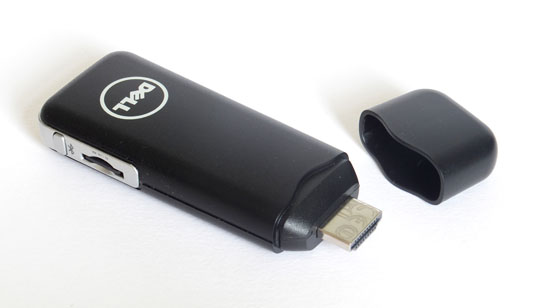 Beyond the desktop, Dell's Android dongle can be configured for kiosk use or digital signage
However, by doing this and replacing Play Store installations for Enterprise Store alternatives involves having to remove the apps first, as duplicates in the inventory are not tolerated. It's not so simple either, as these apps may be tied to user policies and they need to be cancelled before the app can be deleted and replaced – some sort of substitution routine would help here. Add to this complication the propensity for Android app updates to appear minute by minute and you can see how curating an up-to-date Enterprise Store could easily become a full time job.
The Reg Verdict
As a device, the Dell Wyse Cloud Connect suffers from the fact you really must remember the peripheral devices and cables if travelling with it. To be on the safe side, you should bring your own power supply – components that greatly increase the overall cost. The recommended Bluetooth combination of Logitech K810 keyboard and Dell WM524 mouse adds another £110 to the bundle. Moreover, these are just the basics to be considered just to get the thing off the ground as a desktop client, which suggests the interfacing on this form factor could really do with a rethink – a battery even – or just stick with kiosks and signage.
Perhaps what you do with the Dell Wyse Cloud Connect isn't so important. After all, it's an ideal testbed for Dell to showcase how its Cloud Client Manager can function with BYOD devices. This Android dongle might only cost you £89 now, but together with Dell's professional administration services, that sum could easily turn into a whole lot more. ®

Dell Wyse Cloud Connect: Pocket Android desktop
Ultrathin client with a comprehensive administration portal bringing Android to the desktop.