This article is more than 1 year old
IBM Hursley Park: Where Big Blue buries the past, polishes family jewels
How the internet of things has deep roots in the English countryside
IBM's skeletons in the basement
Hardly. A visit to the basement of Hursley opens up an Aladdin's cave of kit that you've either heard of spoken in whispers, or, if you're old enough, will spark memories of long days spent hacking code, or perhaps just hacking recalcitrant IBM kit to bits.
Our host for our visit was curator Terry Muldoon. The ebullient IBM veteran is an enthusiastic pitchman for generations of Big Blue's kit, all the more so given that everything he shows us has been off the catalogue for years.
The museum's story begins well before the birth of IBM as we know it. Muldoon shows off the original Hollerith product range - weighers, punch clocks and the like. This was IBM's bread and butter before it became the Computing Tabulating Recording Company - the firm's name before it rebranded again as International Business Machines in 1924.
Time flies, and before you know it you're looking at punch card machines, and remembering those two summers you spent working at a market research firm in the 1980s, where results were still processed on an armful of heavyweight paper. We see early circuit boards which look more like the innards of 1940s radiograms rather than a PC motherboard, complete with bulbous glass valves. There are plenty of typewriters, of course, to spark any deep-seated Mad Men-type fantasies.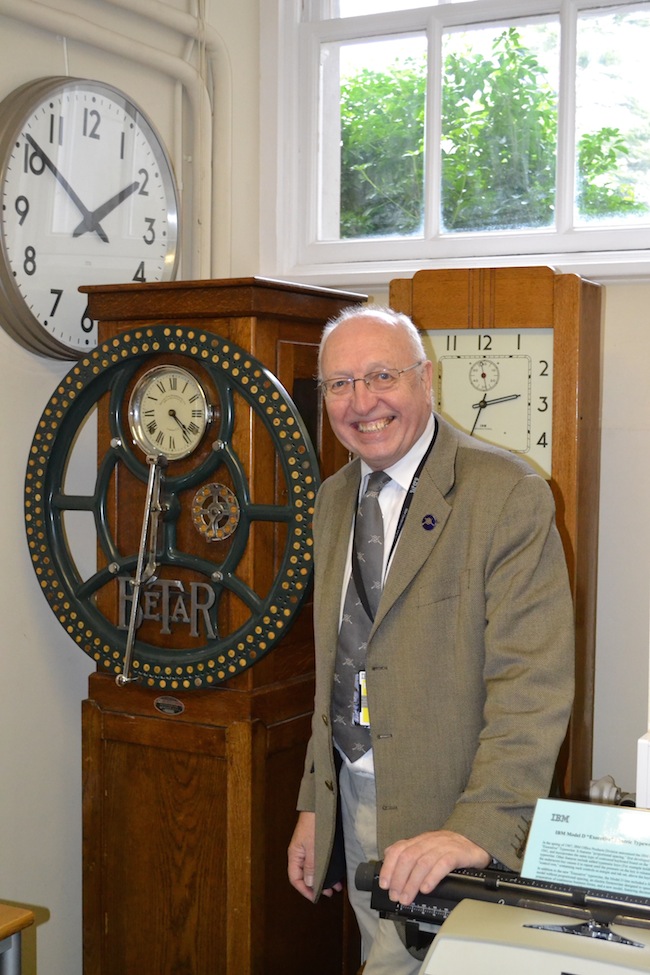 Terry Muldoon: Still clocking on
A side room holds a collection of RS/6000 machines. Muldoon explains that much of the kit was collected after the fact - ex-marketing kit, for example - and that only recently has the firm actually thought to keep an archive of its wares. Why warehouse technology when you can sell it? In another room, Muldoon shows off what must be one of the last token ring networks running in the UK.
There is plenty of heavyweight veteran storage. Storage was one of the site's areas of expertise, and Hursley delivered many storage firsts. However, the estate was not the birthplace of the Winchester drive. While the Ancient English capital is just up the road, the Winchester was so named because it had two storage modules of 30MB each, recalling the 3030 Winchester rifle cartridge. All the same, Muldoon has both the storage and the ammo versions on display.
Where the museum really springs into life – for us at least – is with the onset of the mainframe. One room is kitted out as a service room for a mainframe circa the '60s. From the manuals detailing the software and innards of those early monsters, to a range of tools that would put even the most gadget crazy mechanic or surgeon to shame, it shows just what level of resource the early computing customers were prepared to shell out for to keep their machines – and companies – running.
We particularly liked the fact that the mainframe engineers were provided with a portable toolkit which fitted into a portmanteau, which would have make the bearer look less like a mobile service engineer and more like some sort of crazed gynaecologist.
The only thing missing is a waxwork of an engineer in a blue suit, white shirt and tie diligently working through his fix list procedure, ideally with another waxwork of a a sweaty and increasingly agitated client clutching the door frame. And of course the soundtrack of one of those mighty beasts and its whirring tapes and clunking buttons.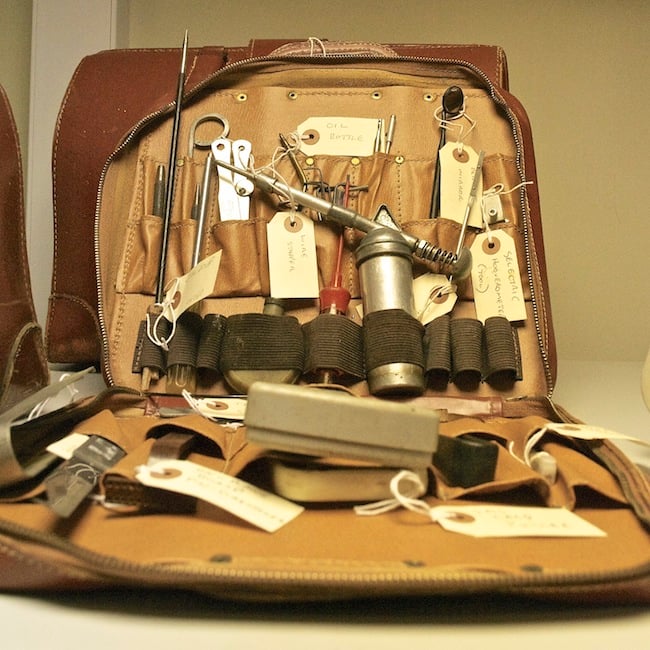 OK mainframe, this is going to sting...