This article is more than 1 year old
IBM Hursley Park: Where Big Blue buries the past, polishes family jewels
How the internet of things has deep roots in the English countryside
Noses against the glass
Our last stop of the day brought things right up to date, as we hit Client Centre, overseen by Mike Sexton. This is what you're most likely to see if you're part of the IBM ecosystem – ie, a reseller, developer or customer. Or at least a potential part.
Whereas the museum covers the IBM customer as it was, the partner centre shows today's customer what their technology could be. The focus isn't really on legacy, but rather on the sleekest top-end IBM kit, including its latest mainframes, as well as its POWER Systems.
It's like looking into Harvey Nicks window for techies: everything is sleek, black, well-lit and behind glass. It's how the data centre of your dreams looks - no boxes of tapes or bags of cables lying around on the floor, no jars of ear-plugs attached to the wall.
However, the aim is to allow customers, partners and developers to experiment and see how IBM software or kit might fit their requirements. If those requirements mean some legacy kit to slow things down - well someone could always haul out a token ring network from the museum if you really wanted.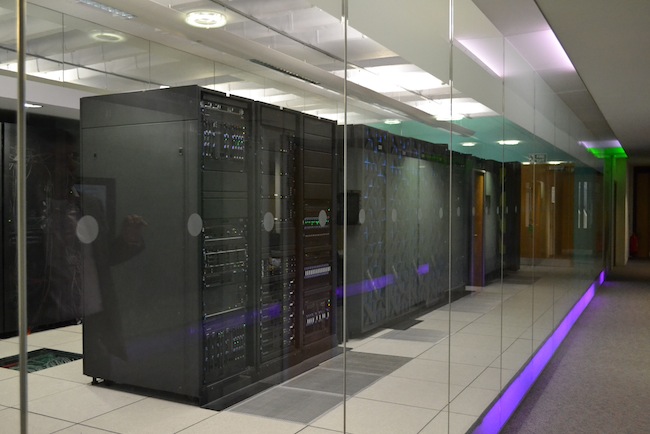 Does anyone's data centre actually look like this?
If that's all a bit bare metal for your liking, the centre has a series of "industry labs" showing just how IBM technology can feed into real world apps.
So you can also fantasise about being a global baddie, or attempting to defeat the same, in the centre's own "situation room", complete with banks of consoles, big screens and conference table. IBM has built a much larger situation room for the municipal government of Rio de Janeiro, so the proof of the pudding will be in the eating during the World Cup and Olympics. Another room focuses on crime, highlighting the predictive technology IBM claims has helped actual cops catch actual bad guys in the act.
IBM's vision of the modern home includes an array of smart meters bursting out of a dresser beneath a flock of geese. Opening one of the cupboards below unleashes a flock of smart meters. It's somewhere between Coronation Street and Brookside, rather than Downton. There's no hint of a robot butler to tactfully suggest one might want to turn down the heating; rather IBM envisions smart meters combining with utility firm's analytics systems to keep you updated via the TV.
Still waiting for the robo butler
If you've shaved a few pennies off your fuel bill, you might want to go shopping. And there is of course a retail lab, showing how IBM tech can underpin the entire retail experience, from campaign management, promotions and e-commerce to point of sale. One of the technologies underpinning the demo is called Tealeaf. It analyses why transactions aren't completed - though of course to this London-based writer, it sounds like a security application at best.
It's slightly eerie, sitting there towards the end of a winter's day, looking at "the future", with shelves full of fake salad and cheese, and sealed but empty wine bottles and cereal packets. You feel that if you opened one of the cereal boxes you'd find blue goo.
But there's another eerie aspect to this ersatz retail experience. Time was when you walked into a shop, it was a fair bet the scanner had an IBM logo on it. Not now. IBM moved out of that business a long time, just as it has moved on from laptops, notebooks and printers, not to mention the display and disk-based storage technologies where Hursley in particular forged ahead.
So, as McLean says, "You have to be willing to change and accept that the market changes and the world changes. Against that backdrop you've got to innovate."
He continues with the happy brutalism of the engineer: "You...have to walk away from things that you potentially invented... When we stepped away from punch cards, we were making a huge amount of money from that business but you know when you look to the future, you have to accept that occasionally you have to walk away from businesses."
And perhaps that that's one of the true wonders of Hursley: a place where the future is designed even as 20-year-old technology is prepared for display in the museum, while just a few feet away, 50-year-old technology is tweaked to ensure today's mobile and cloud-based tech keeps on ticking over.
It's arguably a much more realistic alternative to the all-or-nothing year zero approach of many tech startups. Though we still miss the butler. ®
IBM Hursley Park
GPS
51.0268375,-1.3986139
Postcode
SO21 2JN
How to get there
IBM's directions are here
Entry
You're probably not getting into the whole site unless you're part of the IBM "ecosystem". While the museum is not open to the general public, group visits can be arranged.