G-Tech intros glossy HHD box: Because media 4Kers need external storage too
Feeding the Mac Pro beast
---
NAB G-Technology goes for 4K workstation external storage at NAB with glossy curvy and black hard drive boxes plus a portable SSD to round out its product set.
Digital media workstation users are the new elite and 4K workflows are the driver for higher capacity and higher-speed storage to feed the cylindrical cool for workstation compute: Apple's glossy black Mac Pro. HGST's G-Technology unit has launched glossy black Studio products that look tailor-made to hook up with Apple's sexy svelte personal server.
First up is the G-SPEED Studio, a quad-drive, Thunderbolt 2-using box with up to 24TB of capacity.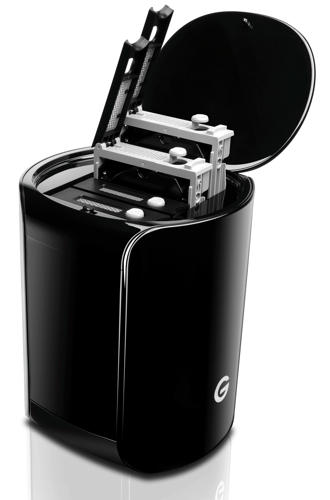 Quad-drive G-SPEED Studio
It features HGST's He6 drives, the helium-filled wunderkinds with up to 6TB of capacity spread across seven platters spinning at 7,200rpm. This came out before Seagate's 6TB Enterprise Capacity drive with its six platters - we first thought it was five but it's actually six - meaning Seagate's drive has a higher areal density of 1TB/platter vs HGST's 868GB/platter.
This 4-bay Studio features:
Built-in RAID controller offering RAID 0, 1, 5, and 10
Thunderbolt 2 connectivity
Sustained 660MB/sec transfer rate with RAID 0 (striping)
Daisy-chaining through dual Thunderbolt 2 ports
Hot-swap drives
We're told it can "support multi-stream compressed 4K and 2K workflows. In a RAID 5 (data redundant) configuration, the G-SPEED Studio RAID can easily handle up to 30 hours of 4K footage in ProRes 4444 and can seamlessly edit three streams of compressed 4K."
The obvious comparison is with LaCie's 5big which has five bays and up to 30TB of capacity, RAID 0, 1, 5, 6 and JBOD, plus a transfer rate of up to 1,050MB/sec, putting it in a different class. However the G-SPEED has the glossy black curved look instead of being a silver-coloured rectangular box.
The G-SPEED's little brother is the dual-drive G-RAID Studio.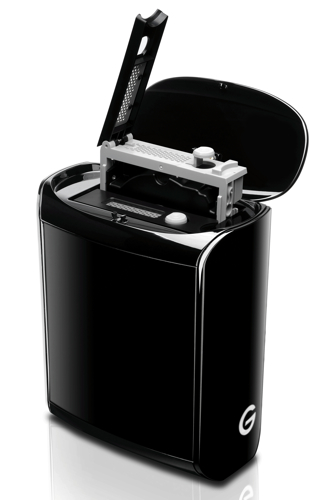 Twin-drive G-RAID Studio
It has:
up to 12TB capacity from two hot-swap drives
RAID controller with 0, 1 and JBOD levels
Thunderbolt 2
Transfer rates up to 360MB/sec
How does that compare to LaCie's 2big? It transfers data at up to 420MB/sec, some 17 per cent faster. Oops – no contest in the speed stakes. The RAID levels and capacity max are the same.
Interesting speed difference. Seagate must be better at getting data off six platters than HGST with its seven platter to scour. Still the HGST drive has a 2 million hour MTBF rating versus Seagate's 1.4 million hours. That drive might spaff out data faster but HGST's drive can do it for longer.
Still, G-Technology is also announcing a portable G-DRIVE ev SSD, an external SSD which can pour data out at up to 480MB/sec "when paired with the Evolution Series G-DOCK ev with Thunderbolt 512GB capacity." The G-DOCK ev docking stations can be used to dock G-DRIVE ev SSD and a 1TB or 500GB G-DRIVE ev external drives with USB 3.0 connectivity. The "ev" stands for Evolution series.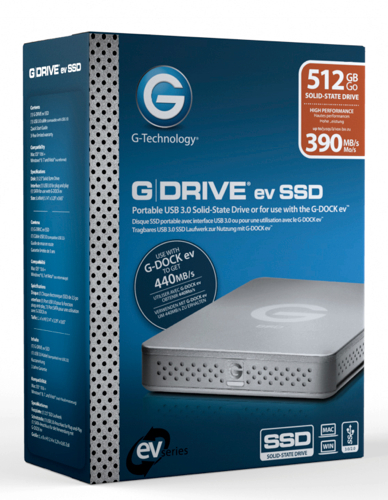 G-DRIVE evSSD box
The G-DRIVE ev SSD features;
512GB
up to 400MB/sec transfer rate with USB 3.0
Bus-powered through USB 3.0
3-year limited warranty
Plug and play set up on Mac and reformattable for Windows
Time Machine-compatible
The G-SPEED and G-RAID Studios will be available in May. The 512GB G-DRIVE ev SSD will be available this month. ®