This article is more than 1 year old
Cheat Win XP death: Your handy guide to keeping snubbed operating system ticking over
Little-known tool to save you from the XPocalypse
How to Windows XP's date with destiny has passed. As of Tuesday, Microsoft will NOT be releasing any new security updates. With one in five PCs still running Windows XP, there's a chance you are among those whose computer is now running an unsupported operating system. What now?
Doing an in-place upgrade to Windows 7 isn't a good choice. Yes, it will keep all your apps and settings, but it'll also preserve all the clutter and crud that slows down an old Windows install, and you're limited to 32-bit Windows 7. You really need to nuke and start over.
But there's another, little-known way to replace your old, unsupported OS with a new one that's safe, current, gets updates and comes free of charge. The answer: run Windows XP as a zombie OS on something else.
Chances are you're using WinXP for a particular application that's incompatible with 64-bit Windows; backwards compatibility with legacy code was dropped to keep the size and complexity of the operating system down. Vista was the first 64-bit version of Windows to see much adoption, and its users suddenly found that some of their beloved but ancient apps didn't work any more.
So, Windows 7 introduced a workaround: Windows XP Mode. This is a free download for Windows 7 Pro and above, comprising two files: a compressed virtual machine containing a complete, pre-installed copy of XP Pro, and a copy of Microsoft's free desktop hypervisor, Virtual PC, preconfigured to run that copy of XP with desktop integration – so XP windows appear on Windows 7's desktop and so on.
This has been dropped in Windows 8.x – the newer OS has its own built-in hypervisor, and by now, you're meant to be running 64-bit native apps anyway.
However, XP Mode remains a free download, and with a little work, you can get it running on the cheaper editions of Windows 7, on Windows 8.x – and even on Linux (Ubuntu in my case). All you need is a different hypervisor.
If you're a committed VMware user, then the freeware VMware Player will do, but otherwise, Oracle's VirtualBox is free and open source. You only need proprietary code for the extension pack, which adds USB2 support among other things – but it's still gratis.
You can download the XP Mode VM freely from Microsoft's website, but to do so, your PC needs to pass Windows Genuine Authentication – so here's a handy list of direct links that will serve you the file directly, whatever OS you're running. Once you have the file, you'll need a grown-up archiver to unpack it, such as 7Zip.
You need an XP licence, of course – the copy in the VM is keyed against VirtualPC's emulated hardware and will fail when running on VirtualBox, so you're going to need a valid XP Pro licence key. Microsoft handily includes a key in the download file ("sources\XPM\KEY"), but the chances are it won't work. Of course, you may well have one on a sticker on your PC case or knocking around somewhere.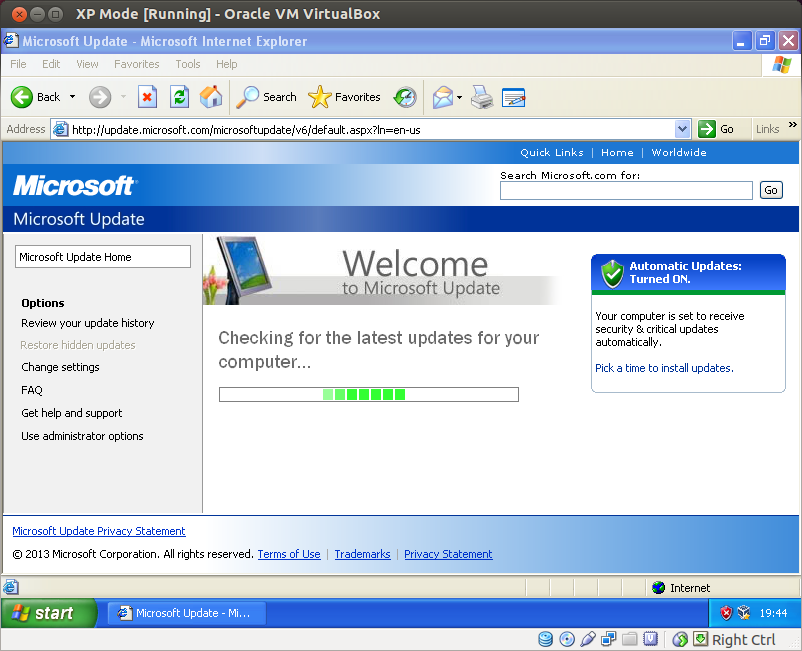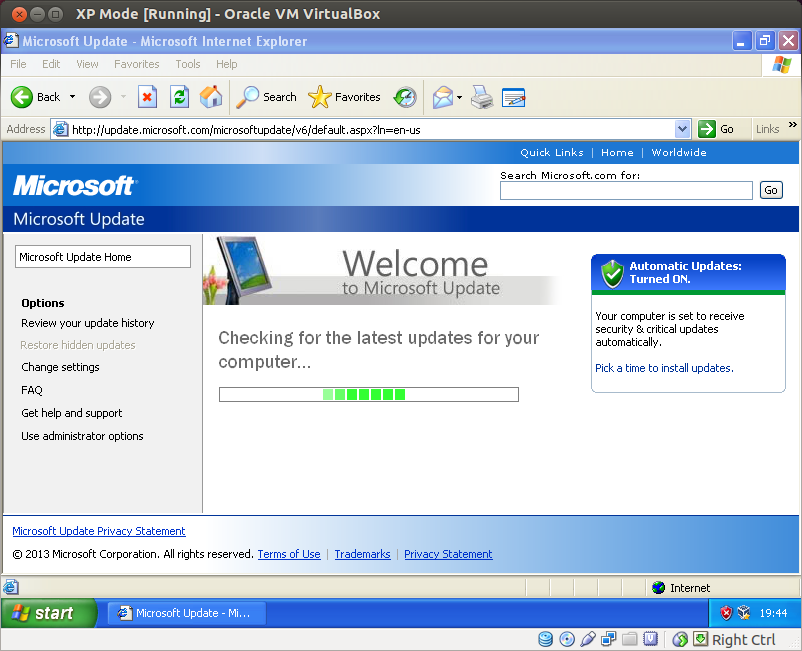 Just in case you thought running Linux had banished Windows Update forever... (click to enlarge)
Once you've unzipped the download file, you'll find another archive ("sources\xpm") inside it. Extract that, too. In there is a VirtualPC VM image and its virtual hard disk ("VirtualXPVHD").
Next, create a new Windows VM – I called mine "XP Mode". Move VirtualXPVHD into your new VM's folder ("~\VirtualBox VMs\XP Mode"), insert a full stop in the appropriate place ("VirtualXP.VHD"), and when VirtualBox asks whether to create a new virtual HD or use an existing one, choose it.
Now you can boot your new VM. It has to go through the final stages of setup – that's your chance to set it to a UK keyboard etc – and then it will finish loading. The snag is that the VM has the "VirtualPC Integration Components" pre-installed, and they won't work under VirtualBox, meaning that the VM will lock up.
You'll have to forcibly power off the VM, restart it, uninstall the VirtualPC gubbins, try to shut it down, watch it freeze again, close it, and reboot it again. It should restart OK, at which point, you can install the VirtualBox additions and reboot it again. Now, you're in business, and you also remember why you wanted to get rid of XP in the first place.