This article is more than 1 year old
Gimme a high S5: Samsung Galaxy S5 puts substance over style
Biometrics and kid-friendly mode in back-to-basics blockbuster
Review Samsung is the world's dominant mobile phone manufacturer – but does that mean it's the best? Its latest release is the Galaxy S5, a mainstream phone designed to sell in huge numbers. It's big, with a 5.1-inch screen, measuring up at 142 x 73 x 8mm, so it won't suit smaller mitts.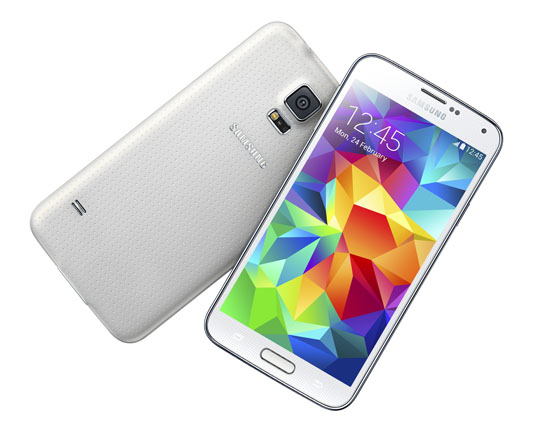 Samsung's Galaxy S5: eye-catching features but less so the design
Samsung has often been criticised for its low-rent looks, using glossy plastic to the max where other premium manufacturers have opted for metal- or glass-dominated designs. This year there's a classier styling with a soft-touch back, though the pattern of perforations adorning the back will surely divide opinion.
Still, there's plenty of colour choice, including vibrant blue and the now-inevitable golden variant described as Copper, as well as white and black.
That big 5.1-inch display is manageable but the handset is less comfy in the hand than the HTC One (M8) with its curvier back and slimmer edges. Like the Galaxy Note series, this phone is more easily operated with two hands, especially if you use the fingerprint lock. This is a scanner hidden under the home button which works best when you stroke it vertically; tricky with one hand.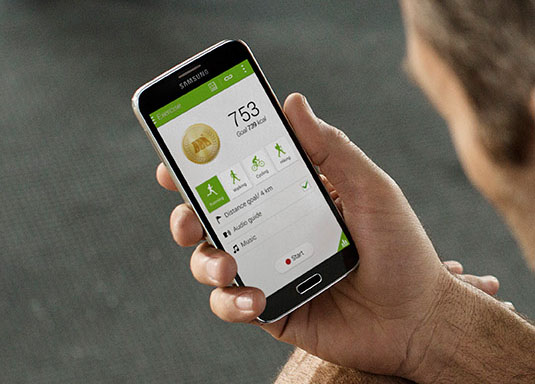 Samsung must have requested the modelling agency provide a guy with big hands for this shoot
That fingerprint scanner, by the way, could be a game changer. Unlike the one on the iPhone – which is used just to wake the screen and to save you typing in a password for iTunes – here, there's certification from PayPal. This should prove a useful gateway into making purchases using your mobile without the need for passwords.
The display itself is vibrant and richly colourful. This is another of what Samsung calls its Super AMOLED screens, though the risk of this type of screen – over-saturated colours, brightness that makes you squint – seem less evident here. It's realistic rather than over-bearing. The resolution of 1080 x 1920 pixels is the same as the Galaxy S4, though the bigger screen means the pixel density has slightly dropped to a still-respectable 432ppi.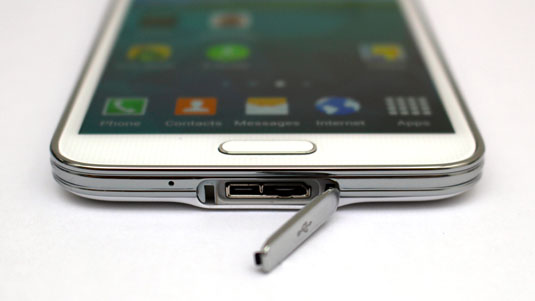 You'll need to get used to dealing with the charging socket cover that keeps the water out
Like the latest Sony Xperia handsets, you can drop the phone into water without harm, though this handy feature has drawbacks. Mostly it means you have to make sure the back panel is precisely attached so the internal rubber seals work. But it also means there's a pesky covering panel over the charging socket.
It's a slight faff opening and closing this every time you need to recharge. It's water-resistant to depths of one metre for 30 minutes. To make sure you don't forget, a message appears onscreen after you remove the charging cable. Water-resistance is a good thing. All phones should have it, surely?