Boost boast
What's striking about the S5 is Samsung has chosen better innovations to implement than last year's curiosities. The Galaxy S4 had a system that watched your eyes and scrolled a web page automatically when you had read to the bottom. It also had a humidity sensor built in! This time, Samsung has gone back to basics, focusing on battery life, camera performance and so on. Much better.

Fitted with a removable higher capacity battery, it still stays quite slim
Battery life is improved thanks to a 2800mAh cell, though this is no match for the Xperia Z2's 3200mAh power pack. Yet it's bigger than the 2600mAh one in the HTC One (M8). The HTC phone lasts a day easily, and so does this phone. Unlike those rivals, the Galaxy S5 has a removable battery, so you could carry a spare. But you likely won't need to.
There's also an Ultra Battery Saver mode that reduces available apps and switches the display to black-and-white. Which looks cool, actually, and promises to add days to standby time. Of course, with a premium phone like this, you'll want it to be a performer, working flat out to deliver the goods, but it's handy to have this mode if you really, really need it.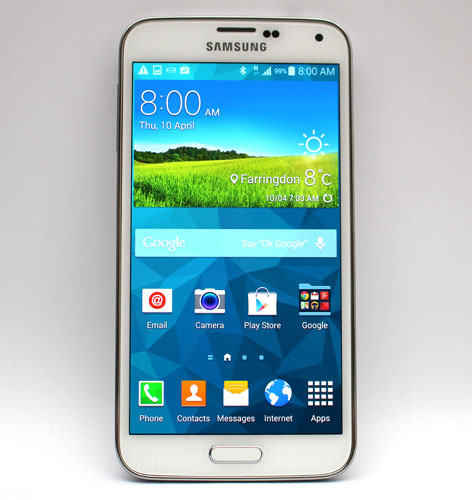 Samsung's TouchWiz isn't going away any time soon
Samsung's Android overlay is called Touchwiz (I know, I know) and here it looks a little neater than usual. There are handy touches such as a toolbox which hovers on every screen revealing at one touch a row of five shortcuts such as camera, as chosen by you. But the icons are generally less subtle and more mainstream than some rival systems, except for the settings icons which look bright, colourful and flat – a bit like parts of Apple's iOS 7.
Other features such as Smart Stay, which keeps the screen on while you're looking at it, are still present but less boldly featured than before. As ever with Samsung, there's a bunch of its own apps included, such as the excellent S Translate and S Voice which aims to be like Siri but isn't as advanced.
You can also use the S5, as you could the S4, with gloves on and activate the screen by hovering a finger near it rather than touching it. Handy if your fingers are wet or dirty.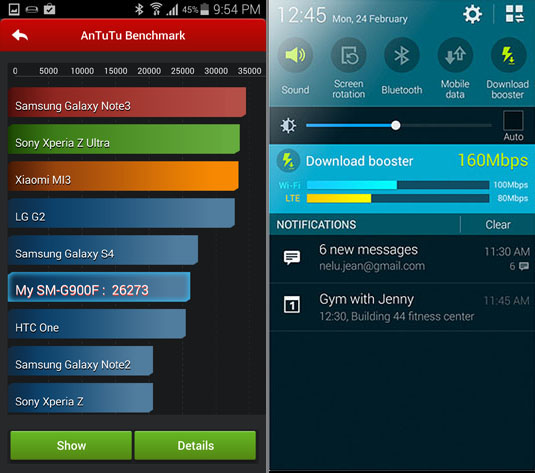 AnTuTu benchmark results and Download Booster
Performance on the S5 is pretty nippy. The Qualcomm MSM8974AC Snapdragon 801 Quad-core 2.5 GHz Krait 400 processor and 2GB of RAM carrying the burden smoothly enough. AnTuTu Benchmark's results weren't top of the tree, but in average to concentrated use, the Galaxy S5 was fluent and speedy.
A Download Booster feature combines the speeds of 4G and wi-fi to make data traffic fast – a clever idea which may deliver great benefits when big files and programs need to be transferred. And there's My Magazine, a Flipboard-like setup of configurable content which updates when you open it, though a lack of granular control makes this less successful than HTC's BlinkFeed.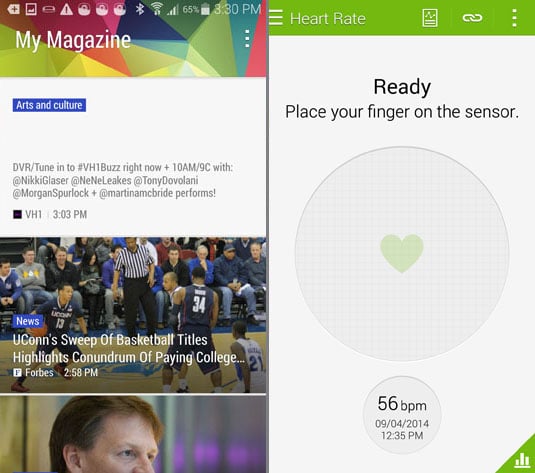 My Magazine and S Health heart rate monitor
There's also S Health, which functions as a pedometer and more. It ties in with the heart rate monitor which sits underneath the camera on the back of the phone, ready to calculate your heartbeat. You can also enter food information to work out your calorie intake as well as your activity output. S Health may not be as appealing as some fitness wearables but it's well-designed and comprehensive.