Child friendly
Samsung has also built in an attractive kids' mode which ensures your littl'uns can't have access to your entire life when they borrow your phone. You choose what they can use and an endearing crocodile with a saw for a snout adorns the screen. Your password is what returns the phone to its full capabilities.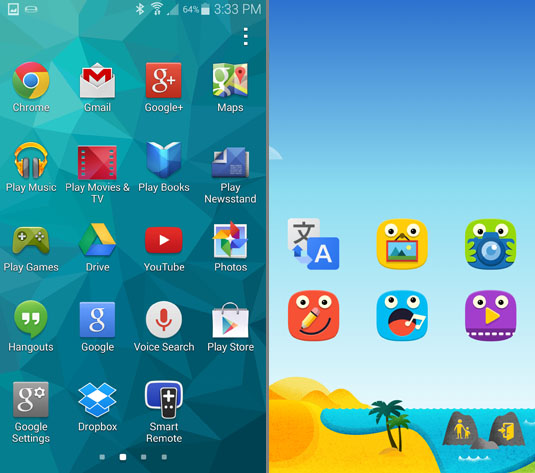 App listing for grown-ups and a special mode for kids
The camera on this phone is a 16Mp model, less than the 41Mp offered by Nokia's camera-oriented Lumia 1020. But what Samsung's boasting about is autofocus, claiming it can shoot in as little as 0.3 seconds. It sure is fast, though sometimes actually launching the camera takes too long. Still, once it's up and running this camera has almost no shutter lag.
There's also a Selective Focus feature so you can refocus images after you've shot them, constraining the depth of field so the background is blurred, say. But this is not as good as on the HTC One (M8) which manages the same effect faster and in a more versatile way. Sometimes the phone is unable to work out what you want to do with the image, which is frustrating.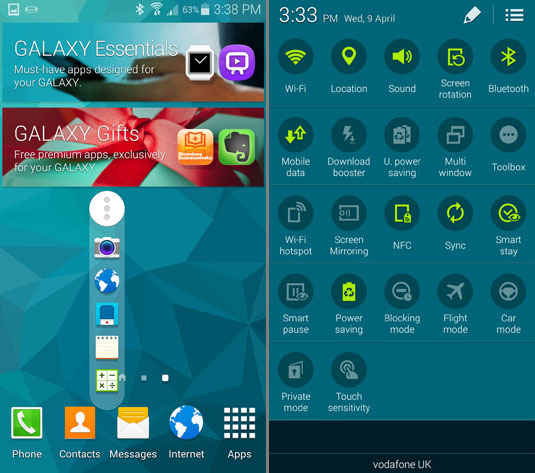 A neat row of shortcuts can be shown and menu options abound
Still, there are other effects which are much more impressive and usable – such as panorama, and the interface for the camera has a complex but manageable menu which lets you configure features into a row of shortcuts for quick use. Actually, the strongest feature is HDR (high dynamic range). Not so much for its presence – that's standard on many smartphone cameras now – but the way you can preview the effect HDR will have before you shoot.
Video recording on the Galaxy S5 includes an Ultra High Definition mode. This 4K resolution is, of course, too high to be visible on the phone's display – or any Full HD telly. But it means that video of Junior growing up can be recorded in such detail as to embarrass him even more when he watches it back on a 4K screen when he's older.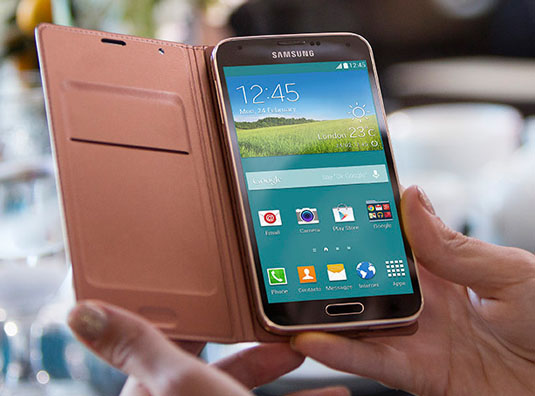 Innovative and practical enhancements, although its size won't suit everyone
Audio is not a patch on the BoomSound stereo effect, for instance. It's certainly good enough for a blast of Angry Birds but it doesn't do justice to movie playback. On the other hand, you'll probably have headphones at the ready to make the most of that.
The Reg Verdict
Make no mistake, this phone is going to be very popular. It has plenty of cool innovations and decent features, from the efficient fingerprint scanner to the heartbeat monitor. And more usefully it includes improved battery life, good water resistance and a better camera. The HTC One (M8) is more glamorous, the Xperia Z2 feels more solid. But this is powerful and good-looking enough to persuade Samsung loyalists and floating voters with ease. ®

Gimme a high S5: Samsung Galaxy S5 puts substance over style
Waterproof 5.1-inch KitKat Android handset with a quad-core Snapdragon 801 processor, microSD expansion, removable battery and health monitoring features to boot.