Apple again dominated all Silicon Valley competition in 2013, so much so that in the San Jose Mercury News' SV150 annual ranking, it raked in more revenue than numbers two and three combined, and more profits than the four below it, taken together.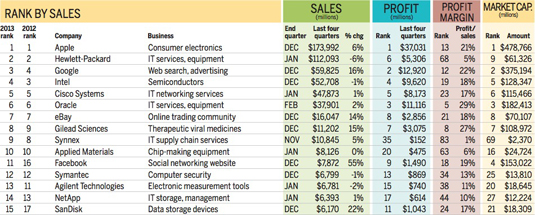 The top 15 companies in the SV150 (click to enlarge)
Apple's revenues (sales) of $174bn in its four most recent quarters were more than the $172bn of Google and HP combined, and its $37bn in profits were more than the $36bn combined take of Google, HP, Intel, and Cisco.
"For all the attention and scrutiny it gets and for all the speculation and debate it sparks about whether it's done innovating, Apple remains fundamentally a very successful formula," IDC analyst John Jackson told the Merc.
These numbers may not be surprising, considering that as of Monday morning Apple still held the title of the world's most valuable public company in terms of market capitalization at $463.78bn, according to MarketWatch, still ahead of ExxonMobil at $417.95bn, and with Google coming on strong at $359.54bn.
In the SV150, in which the Merc ranks public technology companies headquartered in Alameda, Contra Costa, San Francisco, San Mateo, and Santa Clara counties – a wide swath of the lower San Francisco Bay Area – Google is also coming on strong: in 2012 they ranked number four behind Intel; this year they leapfrogged Chipzilla into the number three spot.
In addition to the straightforward ranking, there are some other numbers of interest tucked away inside the SV150's searchable database. For example, Apple outspent HP in research and development, $4.7bn to $3.2bn. Intel was number one in R&D with a $10.6bn spend, with Google number two at just under $8bn.
Apple also returned more money to its investors than any other Silicon Valley company: directly with $10.8bn in dividends and indirectly in just under $26bn in stock repurchasing. Number-two in dividends Intel was far behind at $4.5bn, and the number-two repurchaser Oracle spent less than half as much as Apple in this stock value–increasing stratagem at $10.6bn.
Apple's tax bill was also a surprise – at least to this observer – considering its hefty offshore cash holdings. According to the Merc, Apple paid $13.2bn in taxes, far more than Intel's $3bn, Google's $2.3bn, Cisco's $1.9bn, and HP's $1.5bn. In fact, Apple paid more in taxes than those companies combined, plus eBay and Oracle.
Speaking of Oracle, here's one last statistical tidbit: its profits of $11.1bn ranked it reasonably close behind the number-two earner, Google, which posted $12.9bn in income.
The quarterly earnings reporting season is now getting underway, with Intel set to announce its numbers tomorrow and Apple next Wednesday. (Oracle and HP are on a different cadence: Larry's folks announced their results last month, and Meg's bean counters reveal theirs next month.)
Tune in to The Reg after the New York markets close on earnings days to get the latest scores in this ongoing high-roller sweepstakes. ®