This article is more than 1 year old
Audio fans, prepare yourself for the Second Coming ... of Blu-ray
High Fidelity Pure Audio – is this what your ears have been waiting for?
Pics Apparently, 60 per cent of the population has access to Blu-ray players. Who'd have thunk it? Really, if you include the Sony PlayStation consoles and now the Xbox One, it all adds up... possibly. The statistic came from Olivier Robert-Murphy, global head of new business at Universal Music Group, during an event held at Metropolis Studios in London last week.
Getting across the notion that we're constantly tripping over Blu-ray players is an essential message for the interested parties gathered to remind us that a couple of weeks ago, the 2014 edition of Elton John's classic album Goodbye Yellow Brick Road was launched.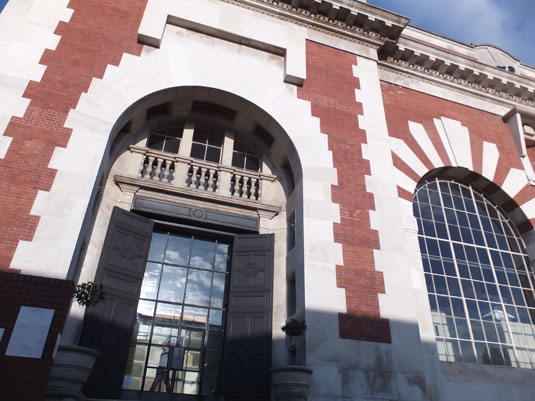 Metropolis Studios is driving the HFPA mastering effort
Truth be told, this somewhat tardy event wasn't so much about an excuse for the press to get a surround sound blast of Bennie and the Jets in the Metropolis listening room courtesy of its 2-metre tall PMC speakers, but an opportunity to wave the flag for Blu-ray as the next generation audio format.
Yes, that's right folks: forget downloads. Discs are where it's at, though not CD of course: it's time to form an orderly queue for High Fidelity Pure Audio.
Since last summer, this format has been touted by Universal along with Sony Music. What makes it interesting, practical and even plausible for consumers is that High Fidelity Pure Audio discs simply take advantage of the existing provision for sound on the Blu-ray format. Apart from a menu screen you won't see any video, something which the packaging is at pains to point out.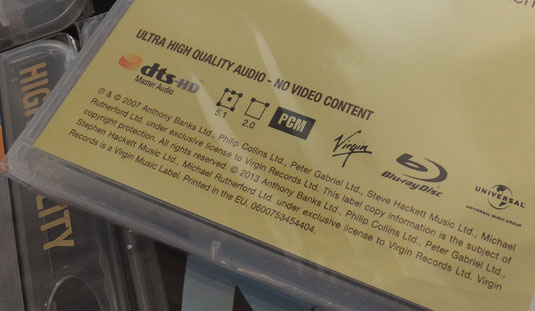 High Fidelity Pure Audio mix options – no Dolby True HD on this title
What you do get though, are high resolution versions in PCM stereo (uncompressed) and surround mixes in Dolby True HD and DTS-HD Master Audio – the latter two relying on lossless data compression techniques. You might get only one of the surround formats or both, it just depends on the title.
Regardless of the playback choice, the prerequisite for all audio to be released in this format is a minimum resolution of 24 bits – which delivers a massive dynamic range – and 96kHz, a frequency response well beyond human hearing. That said, 192kHz recordings are accommodated and being mastered on High Fidelity Pure Audio (HFPA) discs too. A higher sample rate delivers greater accuracy when digitising analogue audio, reducing quantisation errors.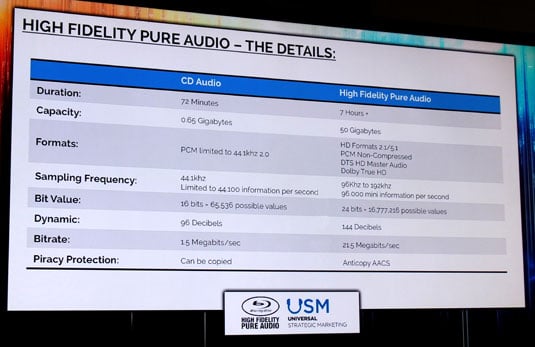 CD and High Fidelity Pure Audio compared – click for a larger image
Last year, the album count on HFPA's launch was around 30 titles, but that has since grown to 100. Metropolis Studios is behind the conversions to the new format, reviving analogue tape for remastering and remixing – a process covered in El Reg's history of magnetic tape – as well as preparing new material for duplication.
One aspect to this is repurposing existing back catalogue remasters that were prepared for CD. While these would have been released in CD's 16-bit/44.1kHz resolution, the studios would have created higher resolution versions and these are being drawn upon to use on the new format.
Elton John's Goodbye Yellow Brick road album is a case in point, with Bob Ludwig behind the 2014 remaster of the stereo audio for this higher resolution format. However, the 5.1 surround sound mix was the work of Greg Penny in 2003, which was destined for Super Audio CD (SACD).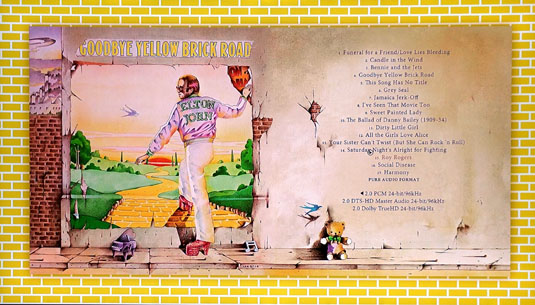 Music menu: High Fidelity Pure Audio stereo mix options on a £150 Blu-ray player – click for a larger image
As a format, SACD failed because it demanded that listeners shell out around £400 for a player capable of handling it. By contrast, HFPA relies on readily available equipment that's a fraction of that cost and installed in many homes already. The catch here is: do these households have home theatre surround sound systems that would do justice to the 5.1 selling point, let alone a hi-fi that would reveal any difference over CD from 24-bit/192kHz stereo playback?
Arguably, the Blu-ray players are out there, but are we really going to see folk rush to revamp their audio gear? Especially, when many of them will have recently coughed up for the convenience of a soundbar for the telly featuring Bluetooth to hook up to a phone for MP3 playback.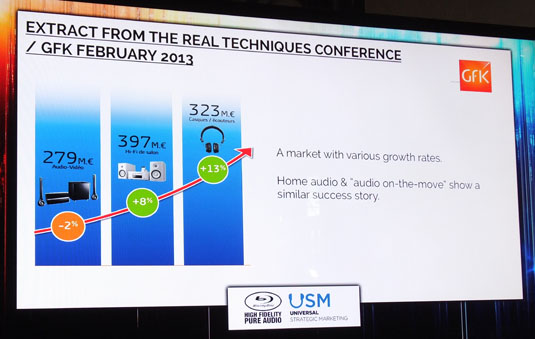 AV separates on the decline compared to compact systems and portable audio – click for a larger image
If the chart shown by Olivier Robert-Murphy is anything to go by, the purchase of AV separates capable of doing justice to the format is on the wane. So is High Fidelity Pure Audio just a ruse to raise awareness of quality and sell high end systems so that folk will feed them with the new format to justify the purchase? Isn't that what we were supposed to do with Blu-ray video once we'd bought our HDTV?
Yet rather than buy big panels, viewing on tablets has taken hold, 3D didn't convince and now the supposed immersive experience of a curved panel is the latest enticement to invest in the big picture, with smart TVs all geared up for video streaming.