Audio fans, prepare yourself for the Second Coming ... of Blu-ray
High Fidelity Pure Audio – is this what your ears have been waiting for?
---
Token gesture
Although high resolution audio is to be welcomed, as a fillip to quality audio gear sales, probably the best that can be hoped for with this format is that punters will buy into it with a mind to upgrade to a home theatre system one day, but will make do with the stereo mix for now.
For those with concerns about music on the move, the format can't be ripped or so we're led to believe. However, you get a free download token inside each HFPA title. In France, you're entitled to FLAC 24-bit lossless tracks but in the UK it's a 320kbps MP3 at the moment, as Joshua Phillips, UMG's high fidelity pure audio product manager explained.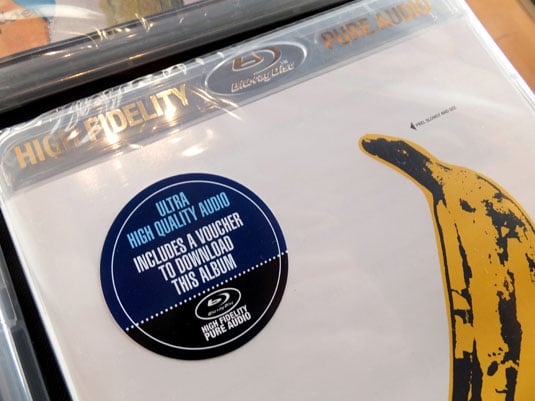 Voucher for MP3 downloading in the UK – the French get FLAC though
"It's something we are interested in rolling out worldwide, we're kind of, a little bit torn at the moment in terms of internal policy on how to proceed with such a thing. At the moment, we're content with MP3, purely because of the portability aspect which is the main perk of this [voucher scheme]. We're aware of the demand and constantly reminded [regarding the FLAC option]."
Time will tell who gets the FLAC, but perhaps the lure of high definition audio will see some movement in demand for surround audio systems among ardent fans, who are tempted by the notion that this listening experience would be akin to the band playing in your living room. Certainly, the remasters played at Metropolis were robust and squeaky clean, but for those intimately familiar with the original mixes from the 1970s, the 5.1 material offered quite a few surprises.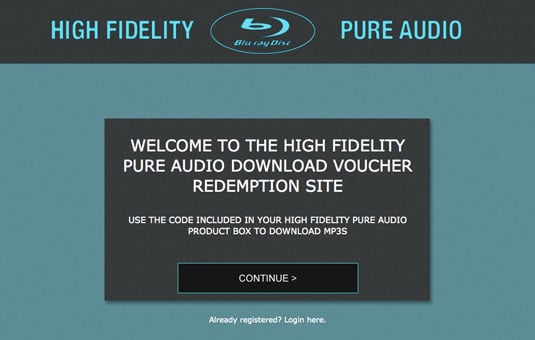 Redemption Song: registering intrusively demands date of birth and gender
Unlike the stereo remasters from the back catalogue that will enhance the original mix – taken either from original analogue tapes or high resolution digital copies – the 5.1 surround content consists of brand new mixes created using the digital copies of the analogue multitrack master tapes.
So it's highly unlikely you're getting any of the original personnel manning the faders here, just some carefully chosen engineer whose work goes through a process of approval from (surviving) members of the band or studio production team.
In effect, the surround content is a Mix MkII with none of the original equipment, everything is emulated – the sound engineering equivalent of being a tribute band with better recording gear than the original artist. Another way of looking at it is that it's like getting hold of a Bill Brandt negative, scanning it and then putting it through Instagram to make it seem more authentic. By contrast, remastering is more akin to scanning the original photographic print and digitally processing it so that it can be enlarged it without noticeable artefacts.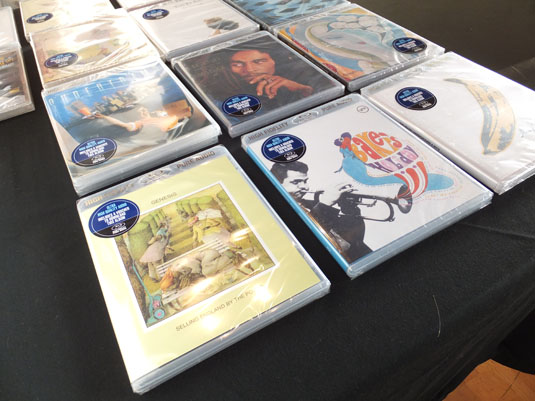 A selection of High Fidelity Pure Audio discs on show at Metropolis
To those gathered checking out tracks from Selling England By The Pound by Genesis and brilliantly engineered by Rhett Davies back in 1973, the quirks in the 5.1 mix with an over enthusiastic top end, elevated minor details and slightly extended outros were distracting rather than enhancing.
You'll have to make up your own mind whether Mix MkII is for you. I would prefer to say "Mix two point oh" but that could be confused with 2.0 that appears on the packaging to describe the stereo content. Still, these inconsistencies regarding the sound created by the band's esprit de corps in the studio at the time and the 5.1 mixes by someone who wasn't even born then will be a matter of personal taste. It's a form of versioning and not everyone is going to buy into it.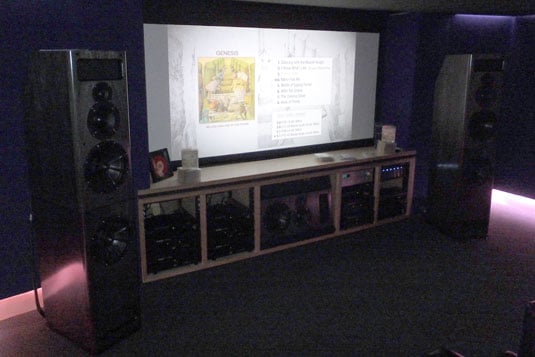 Home theatre? The Metropolis listening room has 2 metre tall speakers, with a surround array in the walls
That said, for new material, High Fidelity Pure Audio does offer the artist some obvious benefits to deliver a product of fantastic quality, technically speaking at least, with the additional creative expression of surround sound mixing. Indeed, George Michael's Symphonica is the current flagship HFPA title among the new releases.
It goes beyond 5.1 too, as Auros3D can deliver 9.1 content from within HFPA format, you just need an Auros decoder on your amp/receiver to take advantage of the extra four channels. The idea of having four extra speakers on top of 5.1 is to deliver height in the spatial mix.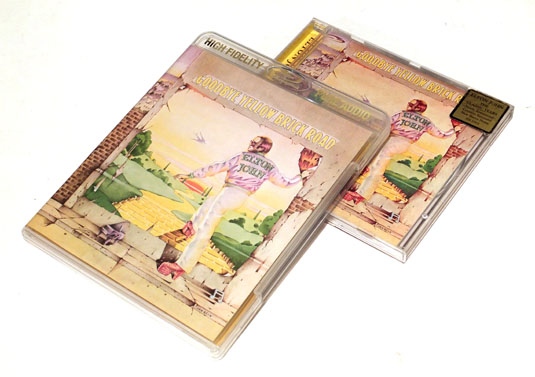 Pay it again, Sam: High Fidelity Pure Audio Blu-ray disc alongside the remastered CD
It's difficult to say whether High Fidelity Pure Audio will endure but Josh Phillips sounded hopeful, "We're now also seeing releases being made available from all the other major record labels as well, which is very encouraging for the future of HD music, especially in a physical format." Adding that 3/4 million units had been manufactured, he wouldn't say how many had been sold.
Admittedly, I still buy CDs as I'm a sucker for sleeve notes and I prefer PCM audio because of the freedom it offers regarding encoding for mobile use. However, much as I admire the engineering talents of Alex Sadkin on Nightclubbing by Grace Jones, I don't think I'll buying it for a third time – vinyl, CD… HFPA?
The reason is one that seems likely to sound the death knell of HFPA unless somebody in marketing wakes up. Who wants to pay £17 for an album they've already got? Not me. And in a world of streaming services, what about £17 for a new release? Knock off a fiver and you might be getting close. ®