Microsoft's Nadella: SQL Server 2014 means we're all about data
Adds new big data tools in quest for 'ambient intelligence'
---
Microsoft's new CEO Satya Nadella made his third trip in as many weeks to San Francisco to announce the third piece in the puzzle that's Microsoft's future strategy: it's all going to be about data, he said.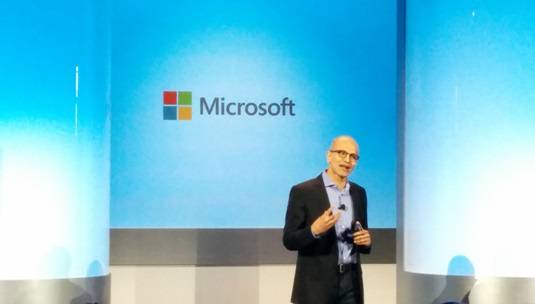 It's all about the data
"The era of ambient intelligence has begun, and we are delivering a platform that allows companies of any size to create a data culture and ensure insights reach every individual in every organization," Nadella said.
He introduced SQL Server 2014, an application he said had been "born in the cloud," and one with which companies can analyze data with unprecedented speed and accuracy. The new build of SQL is designed to handle all data in-memory, a shift that would increase processing times by a factor of thirty, Nadella claimed.
He also announced a limited beta of the Microsoft Azure Intelligent Systems Service; a tool for analyzing data from – you guessed it – the Internet of Things. He cited Microsoft's own use of the service to pull in data from over two million sensors on the Redmond campus to manage real estate controls, but said any business could see a benefit.
Big Data also got a mention, in the form of the newly released Analytics Platform System from Microsoft. APS can pull in data from relational warehouses as well as code stored in Hadoop for analysis, and grew from Redmond's SQL Server Parallel Data Warehouse.
Microsoft Office applications provide the interface for all this data, Nadella told the assembled press and customers, and gave Redmond the ability of provide one framework for collection, storage, analysis, and display of data across the enterprise.
Tuesday's announcements tied together the strands of Microsoft's future path, Nadella explained. Last month's Office for the iPad announcement took the application suite to all devices, while the thrust of Build 2014 was linking Azure into all Microsoft's existing portfolio.
Now Redmond is pushing tools for pure data, using both Office and Azure – and Microsoft will be eating its own dog food on this, Nadella said. From now on, Microsoft is going to be all data-driven, all the time, he said.
"This is the most paramount thing inside Microsoft," he said. "It's not going to happen without a data culture, with every engineer looking at usage data, learning from that data, and questioning what new things to test with our products, and move on the improvement cycle that is the life's blood of Microsoft." ®