Sorry London, Europe's top tech city is Munich
New 'Atlas of ICT Activity' finds innovation isn't happening at Silicon Roundabout
---
The European Commission has decided Munich, not London, is Europe's top technology hub. The judgement is delivered in a new Atlas of ICT Activity in Europe released this week.
The Atlas rates Europe's "ICT Poles of Excellence"using an "empirical framework" that considers over 40 factors to measure the following:
R&D activities: Research and development comprise creative work undertaken on a systematic basis in order to increase the stock of knowledge and the use of this stock of knowledge to devise new applications (OECD 2002). R&D is often scientific or for the development of particular technologies and is frequently carried out as corporate or governmental activity (OECD 2008a).
Innovation activities: Innovations comprise implemented technologically-new products and processes and significant technological improvements in products and processes (OECD 2005).
Business activities: These activities relate to the production of tangible and intangible goods and services that are produced and meet the needs of consumers in the market and encompass the aggregate economic activities of the commercial and manufacturing sectors of an economy.
Once the numbers are totted up the Commission eventually spits out a European ICT Poles of Excellence (EIPE) ranking score between zero and 100. "Poles" that score 81 or more earn tier one status, those between 61 and 80 are tier twos. A score of 41 to 60 lands you in tier three and beneath that you're not excellent enough to count.
"München Kreisfreie Stadt" (more or less the local government area of Munich) scored 100 to take the crown as Europe's most excellent Pole. "London East" was three points behind and Paris was a further two points adrift.
Other British locations to make the cut among the 34 poles identified were:
Cambridge, a second tier Pole with 78 points
Oxfordshire, in tier three with 51, tied with Edinburgh
Berkshire with 48 points
Surrey, 45
Hampshire, 43
London East seems to have suffered because there's not much "innovation activity" going on. As the graph below shows, England's capital is tops for business "activity" but a long way behind its Tier 1 rivals on the innovation front. Which looks like ammunition for Silicon Roundabout critics.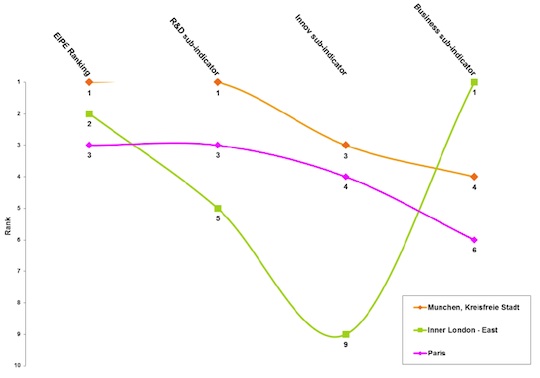 Silicon Roundabout is a good place for business, not so much for innovation
The news isn't all bad for London or Britain, because the Atlas also notes that Poles of Excellence tend to cluster. But Germany is the clear leader in terms of number of Poles within its borders, at 12. ®
Similar topics
Broader topics