KILLER SPONGES menacing California coastline
Surfers are safe, crustaceans less so
---
The nearest most of us get to a sponge is when it's sitting on the bathroom shelf, but scientists at the Monterey Bay Aquarium Research Institute (MBARI) have found four new species of carnivorous sponge that are chomping their way through undersea life off the coast of California.
Most sponges filter particles of food from water by moving water through their bodies using tiny hairs known as choanocytes, but a few look for larger prey, explained MBARI marine biologist Lonny Lundsten.
"To keep beating the whip-like tails of the choanocytes takes a lot of energy. And food is hard to come by in the deep sea. So these sponges trap larger, more nutrient-dense organisms, like crustaceans, using beautiful and intricate microscopic hooks," he said.
There are seven species of carnivorous sponge in the northern Pacific that we know about, but now four new types have been described – and some of them could have been around since the time of the dinosaurs.
The first species, Asbestopluma monticola, has evolved tiny hooks along its body that entrap small crustaceans as they touch the sponge. Once they're hooked, the sponge's cells then grow around the unfortunate creature, slowly absorbing all the nutrients from their victims and leaving the hollow carcasses embedded in the body of the sponge.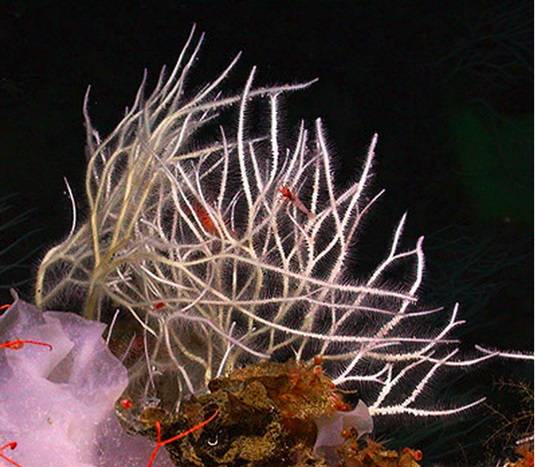 Asbestopluma monticola, the hook-armed killer of the deep
A second sponge, named Asbestopluma rickets in honor of the marine biologist Ed Ricketts who appeared in John Steinbeck's book Cannery Row, which was located near the Monterey Bay Aquarium, was found hunting next to herds of clams and tubeworms. While no bodies were found in the sample plucked by a MBARI submarine, the boffins think it feeds of nearby bacteria and possibly larger prey.
The third and fourth species of killer sponges target chemosynthetic animals that live near deep undersea hot vents and metabolize carbon and hydrogen sulfates. Both samples were found with numerous victims embedded in their bodies.
The MBARI team says that the newly discovered sponges resemble those found in the fossil record from the early Jurassic period around 200 million years ago, suggesting that these kind of organisms are particularly well-suited to their environment. More submarine trips are planned to expand our knowledge of the species. ®