Nutanix is going up against some of the biggest tech vendors in the game with its turnkey, scale-out clustered, converged server+hybrid flash/disk storage box for enterprises.
Its job is persuading customers to buy into its data centre future view and purchase its souped-up converged servers instead of separate servers and storage gear from the likes of Cisco, EMC, Dell, HP, IBM, NetApp and so forth.
The storage across Nutanix systems is aggregated into a virtual SAN and its servers can run VMware, Hyper-V and KVM. Version 4.0 of its OS has just been announced. Nutanix says it's adding a bit extra to make its Virtual Computing Platform product more appealing.
Corporate comms director Declan Waters says NOS 4.0 represents a "huge leap forward in features, performance, and scale."
We're told NOS 4.0 has:
Prism Central - Multi-cluster management in the control fabric
Tunable Redundancy
MapReduce deduplication
Prism Central is a single console/pane of glass from which to manage multiple Nutanix clusters in multiple locations. It "provides administrators with an aggregate view of health and resources across all clusters, while still allowing individual, per-cluster management".
A Prism Central module called Cluster Health gives admin staff "the ability to proactively monitor system resources end-to-end, and to diagnose and resolve potential issues with the intuitive visual navigation interface."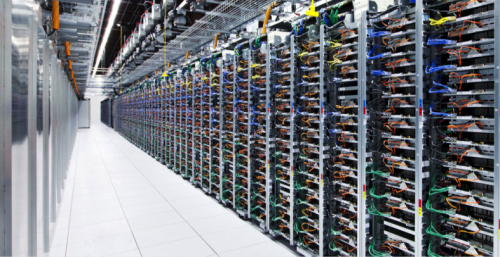 Nutanix view of web scale data centre
Nutanix systems already have real-time deduplication. V4.0 NOS adds MapReduce dedupe, which we reported on here.
MapReduce dedupe is a post-process (after data has been written) operation. It is "distributed and automatically runs on all nodes in the cluster, allowing functionality to scale out as the cluster grows." It's claimed to boost the effective storage capacity of the cluster and runs in parallel on the cluster nodes.
The company says its two dedupe technologies make its boxes good for "persistent virtual desktop infrastructure (VDI) deployments, virtualised server workload environments and backup/archiving environments."
Tunable Redundancy lets admins choose levels of fault tolerance. There can be different redundancy levels at a per-app level in a cluster. We're told "system policies that define which applications get what level of redundancy are late-bound and applied dynamically to achieve different levels of resilience and fault tolerance." This means admins can "dynamically set redundancy levels for different applications in their cluster at runtime."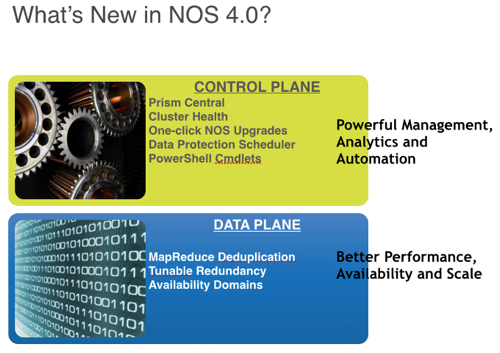 NOs 4.0 also brings:
1-click zero-touch upgrade of the OS in clusters of any size with zero downtime
Integrated backup and disaster recovery from a single pane of glass
Windows PowerShell Cmdlets based on the Nutanix REST API, letting Windows users programmatically manage their Nutanix clusters&lt
What we have here is easier and better management of multiple Nutanix clusters, more efficient use of storage in a cluster, and the ability to have apps receive different levels of redundancy while running in a single cluster.
There's no single Big Bang item here. Instead we see a steady development of cluster management, storage and admin efficiency that will make expanding Nutanix clusters – and adding new ones – no big deal. It might seem boring - but not if you have to purchase and operate an IT infrastructure using Nutanix kit. Then it would be vital.
Here's a question: is it it more efficient and easier to acquire, manage and operate a set of Nutanix clusters to run a set of enterprise applications compared to running them on the equivalent set of vSphere/VSAN nodes? The answer has to favour Nutanix, we reckon, using El Reg storage desk's highly calibrated gutfeelometer, but Nutanix is being chased by VMware and needs to keep running to stay head, with hypervisor-agnosticism being one track of the Nutanix tank.
There's more info on the v4.0 software here. Read a Nutanix blog about its web-scale IT ideas here.
Nutanix OS 4.0 will be available at the end of April for customers with maintenance contracts. ®