This article is more than 1 year old
Kingston DataTraveler MicroDuo: Turn your phone into a 72GB beast
USB-usiness in the front, micro-USB party in the back
Current affairs: Why power consumption matters
No doubt the compatibility list is set to grow, although it's likely that power consumption is the consideration here rather than connectivity. Plumbed into a Mac, the computer's System Information utility revealed there was 500mA current draw, not unheard of for USB flash drives but still on the high side; this was the 64GB microDuo model, and no doubt lower capacities will consume less power. Incidentally, I tried out a Kobo Arc tablet which doesn't claim USB OTG support and somewhat predictably, it didn't identify the microDuo.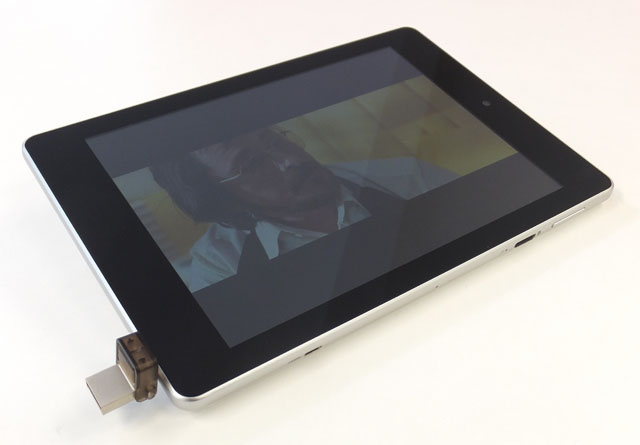 On the compatibility list, an Acer A1 Iconia
Still, there are quite a few devices on Kingston's list already, and one of the two I tried didn't play as well as expected. Tests with an Acer A1 Iconia tablet worked perfectly, but the Samsung Galaxy Note II proved very sluggish when replaying full HD video. The battery was running quite low though, so I gave it another try on a full charge and it was fine.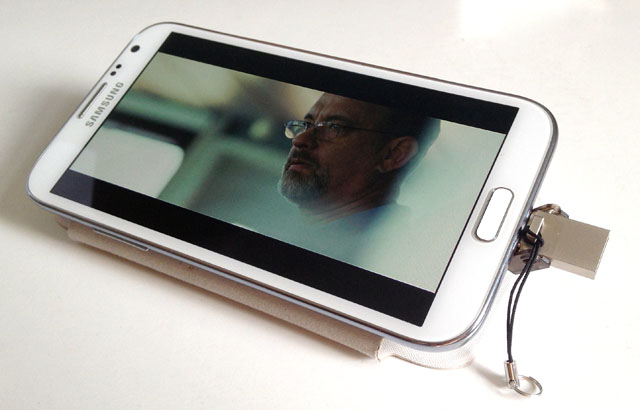 The power draw could prove to be an issue when phones are running low
Now, the USB 2.0 interfacing is all very well for a phone, but plan ahead if you're going to stuff the microDuo with content to keep the kids quiet over Easter. Given the CrystalDiskMark and ATTO benchmarks' write performance figures, it would take about an hour and 20 minutes to fill up the 64GB drive.

USB 2.0, still going strong: CrystalDiskMark and ATTO benchmarks – click for a larger image
Kingston includes a lanyard for keyring use, and the micro USB end is protected by a plastic cover that you pull out and flip over to reveal the connector. It works, but it would have been more elegant if it could somehow be reversed to cover the full size USB end, rather than protruding at 90 degrees, which can prevent a phone from lying flat. Still, this didn't turn out to be a major problem, and while the somewhat bulkier Sandisk Ultra Dual USB drive covers the connector shafts, it doesn't protect the open ends.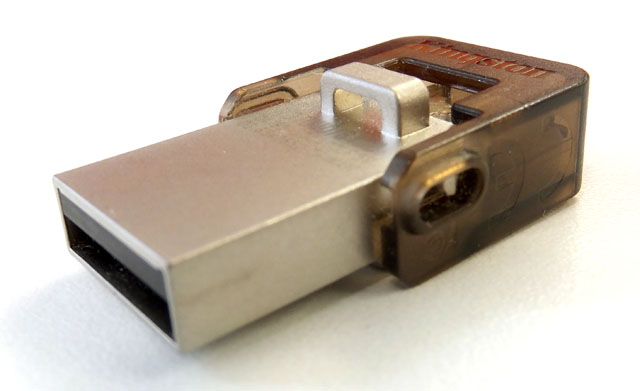 Not necessarily a perfect shape, but definitely handy
The Reg Verdict
You may wonder why bother with a review of a USB 2.0 storage device, but the fact is, everyone in the office who's seen the Kingston DataTraveler microDuo has remarked that it's a neat idea and they want one. If you've got a USB OTG device with fixed storage, then it's worth a punt given the price. Even if your phone or tablet isn't on the list, if it has a decent battery and supports USB OTG, then it should work. Even if you're unlucky and it doesn't, you'll still have a handy USB flash drive. ®

Kingston DataTraveler MicroDuo: Turn your phone into a 72GB beast
Compact and convenient USB On-The-Go storage featuring full size and micro USB connectivity.
Price:
£4.65 (8GB), £7.50 (16GB), £14 (32GB), £33 (64GB) RRP