Red Hat has announced that a release candidate (RC) of the next version of its flagship enterprise Linux OS has already been distributed to its strategic partners and will be made available to the general public next week.
Red Hat Enterprise Linux (RHEL) 7 has been in beta since December 2013. With this new testing release, which was announced at the Red Hat Summit taking place in San Francisco this week, it inches closer to general availability later this year.
Shadowman says tens of thousands of customers have downloaded the RHEL 7 beta so far, and that the RC represents the "near-final" version of the OS that is the result of beta program feedback.
The OS also recently went through a "high-touch beta" program, during which select customers were asked to test specific new features and give Red Hat weekly feedback. At a panel discussion at the Summit, participants in this program said their experiences with the new version had mostly been smooth, although in-place updates to RHEL 7 from earlier versions can still be touch-and-go.
Among the new features of the release are integration with Active Directory domains, support for file systems of up to 500TB with XFS as the default file system type, improved susbsystem management with OpenLMI, and support for migrating virtual machines from RHEL 6.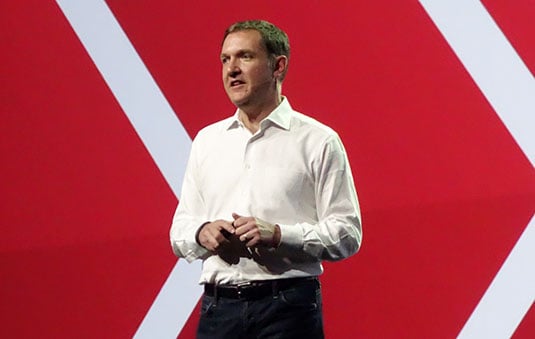 At this year's Red Hat Summit, CEO Jim Whitehurst touted containers as one of the key features of RHEL 7
RHEL 7 RC will also offer customers their first look at Red Hat's new "Project Atomic" application containerization technology, which was also announced at the Red Hat Summit, although only some of the touted features will be available.
"[The release candidate] will have some of the core enablement for containers," said Red Hat president of products and technologies Paul Cormier at a press conference on Tuesday, "but we'll have yet another update that will come later that will have the full container story and the Atomic edition, which is slated to release together with RHEL 7 because it is RHEL 7."
The current version of Red Hat's enterprise platform is RHEL 6.5, and Shadowman says it is also planning a 6.6 maintenance release for customers who aren't planning to make the move to RHEL 7 right away. Work has also already begun on RHEL 8, which the company says it has been "thinking about for at least a year."
The RHEL 7 release candidate is available now to equipment manufacturers and independent software vendors (ISVs) for integration testing, and Red Hat says it will offer it as a download for all customers the week of April 21. A shipping date for the final version of RHEL 7 has not been announced. ®