This article is more than 1 year old
Red-faced LOHAN team 'fesses up in blown SPEARS fuse fiasco
Standing in the corner, big pointy 'D' hats
Vid It's while standing in the corner of the room wearing pointy hats emblazoned with a big "D" that the Low Orbit Helium Assisted Navigator (LOHAN) team admits today that the blown fuse which scuppered our recent Punch test flight actually went pop back in September last year.
Yes indeed, during the test flight of our custom igniter in Spain (see video, above), while the Special Project Electronic Altitude Release System (SPEARS) board performed its task of firing the igniter at a predetermined altitude, its safety fuse went pop at the same moment.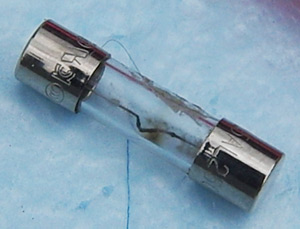 The blown SPEARS fuse
Prior to last weekend's Punch test flight in Blighty, when SPEARS was tasked with performing the same function, albeit with the igniter packed into the rear end of a full-fat rocket motor, nobody checked the fuse, so the entire mission was on a flight to nowhere.
Dave Akerman gamely 'fessed up to the outrage in Reg comments earlier this week, explaining:
Igniters can short circuit when they blow, plus the battery supply erred on the "let's make sure this goes" side, resulting in an igniter current about 3 times the fuse rating.

So, for next time, "check the damn fuse" gets added to the check list. Also, the SPEARS firmware has been updated to check the fuse and other items so it will report over the radio if there's an issue, and the receiving end will display a "DON'T LAUNCH" message in such a case.
Well, the firmware has now been updated, and will show two possible alerts states: fuse blown; or no pyro battery: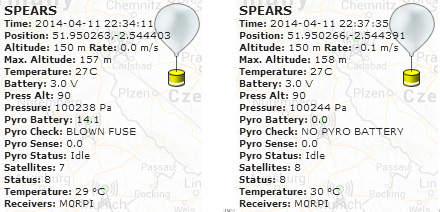 In fairness to Dave, the responsibility for checking the fuse wasn't specifically his, and in the traditional headless-chicken-style rushing about before the Punch launch, it simply slipped off everyone's radars.
It's a case of too few people trying to do too much in too short a space of time, so in future we'll allocate specific responsibilities, with checklists for every vital step in the pre-launch procedure.
As an example, we'll be flying at least five cameras for LOHAN. Each of these has to be charged, the SD cards have to be checked for previous footage, which must be removed if present, and then just before launch, each camera must be fired up, checked one last time for correct record mode, etc, stuck in its case, and the case then enclosed in insulation.
You can imagine that amid all the excitement, it'd be pretty easy to turn on a GoPro but then forget to hit record, or stick it in stills mode by accident.
So, you learn the hard way, but then test flights are designed to expose problems before you reach the big day.
Regarding the Punch flight, it's an inconvenience and a right royal pain in the backside, but nothing more than that. We're regrouping to get "Punch 2" in the air as soon as possible, so we'll keep you posted. ®
---
More from the lovely LOHAN:
---