Quick review Hearthstone is a game that I've been a bit obsessed with lately.
Hearthstone is a free game from Blizzard for PC and iPad. Free to play to be specific, but there is definitely no requirement to actually pay money – I'll get into why later.
Using World of Warcraft themes and art style, it's an online turn-based card game. No, wait, come back. Yes, it's a card game, but it's actually good. I've never played anything like Magic: The Gathering or Yu Gi Oh, but I'm told they are of the same genre.
When you first launch the game, you're greeted with a fairly basic menu:
Some options will be greyed out at the start, but the "Practice" section is where anyone new should head. The game starts off with some training and simple games against AI-driven players. This is a great warm-up and walks you through the basics without feeling too slow or too rushed.
Once you start to get the hang of the basics (which are fairly straightforward), you'll start to realise some of the strategies and choices you'll need to make when playing.
The game basically involves a deck of 30 cards and a choice of nine characters (each with their own cards as well as cards that can be used by anyone), and you take turns trying to do damage to the opposing player. You do this by ordering your hero character to attack your adversary, or summoning minions to do the job, throwing in spells, weapons and so on to get the edge over your enemy. Cards cost mana to use, so one must juggle their mana budget.
What cards you play, how you play them, and the effects the cards have on the gameplay is what makes Hearthstone so interesting. Once you're getting confident, you can start to play against randomly selected human opponents online under the "Play" option. You can play casual matches, or "Ranked" games. Ranked games let you get closer and closer to Rank 1 if you beat people, but if you lose and you'll drop in rank.
Daily quests also pop up, which are very straightforward. You can have up to three going at once, but you won't get a new one until the next day: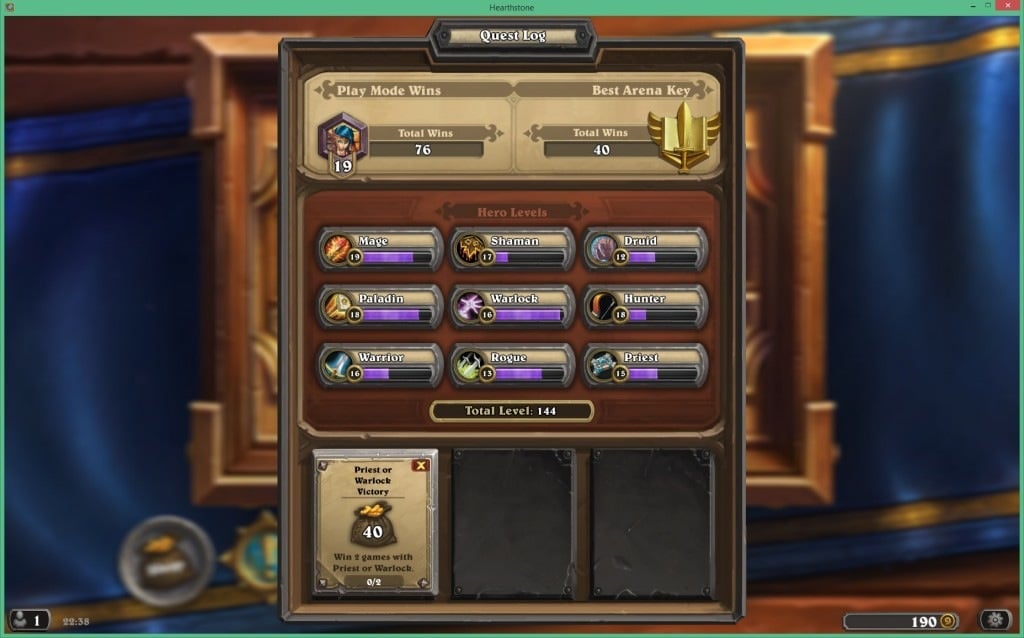 Level up ... Your quest log in the game (click to enlarge)
The quest I have above is "Priest or Warlock Victory" meaning I have to win two games as a Priest or Warlock. If I lose, it doesn't matter, I just have to eventually win two and get 40 in-game gold rewards. Gold can only be spent on two things: packs of cards, or an entry into the Arena. Packs of cards cost 100 gold for a single pack, or you can pay real money ($2.99, AU$2.99 or £1.99 for two packs, and it's cheaper if you buy in bulk).
This is where Blizzard makes its money on the game, but most players will never spend a cent. As with most free-to-play games, it's only a small percentage of the player base that gives the creators all the money.
So, why do you want a pack of cards? For the rare finds. Like in Magic: The Gathering and similar systems, the more interesting or powerful a card, the more rare it is; on the other end of the scale, basic cards are rather common. When you get a new pack, five random cards pop out for you to keep. Mostly they're "common" type cards, but you have a chance of getting a card that's either "rare", "epic" or "legendary". Every pack has at least one "rare" card, so there's an incentive to crack open packs.