Battling real opponents in the Arena
Coming back to the other thing you can spend money on, the Arena is where the most interesting part of the game is for me. Using your hard-earned coins, you can enter the Arena for the princely sum of 150 gold (or $1.99, AU$1.99, €1.79 or £1.48).
The Arena gives you three lives – that is, you can lose three times, and then you're out. Each time you win though, you work towards better randomly selected rewards. Rewards can be packs of cards, gold, Arcane dust (you can destroy cards to get dust, then use the dust to make other cards you need) or even single cards may pop up as prizes.
The Arena doesn't rely on you having collected great cards, though: you're shown three cards, you pick the one you want, then another trio is shown, and this is repeated 30 times. Sometimes the cards are great, other times they're horrible. This is where you'll need to pick cards that work well together.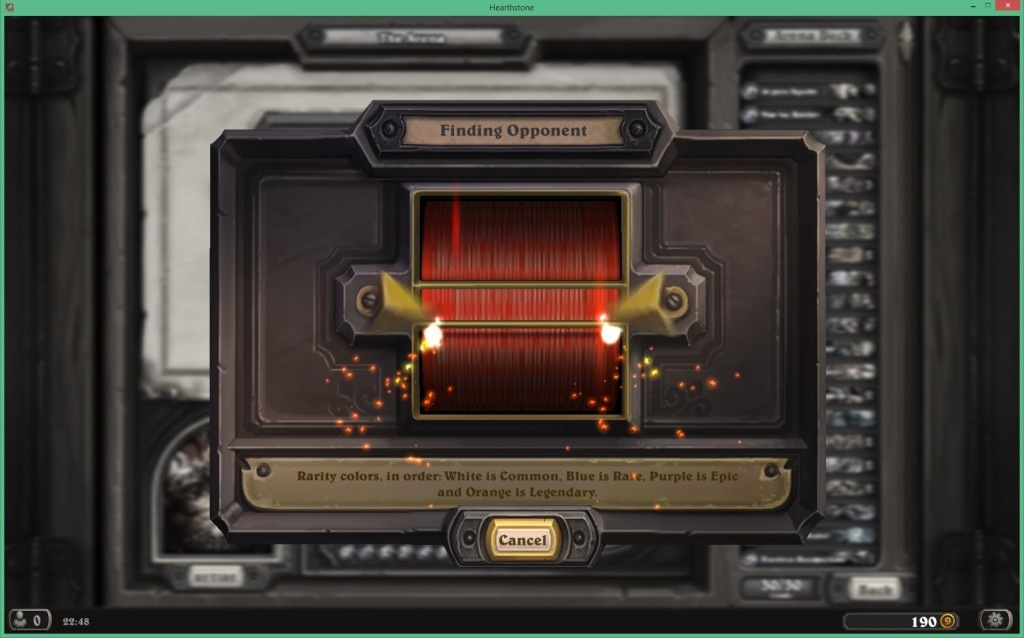 Finding an opponent ... the suspense is killing me (click to enlarge)
While waiting to be matched with someone, you get a pretty spinner that does nothing apart from tell you when you've found a "worthy opponent". Finding an opponent is really quick though; it's rare you'll wait more than 20 seconds. I won't get into the full rules as you can do this yourself for free. But here's what the play field looks like when you're actually playing: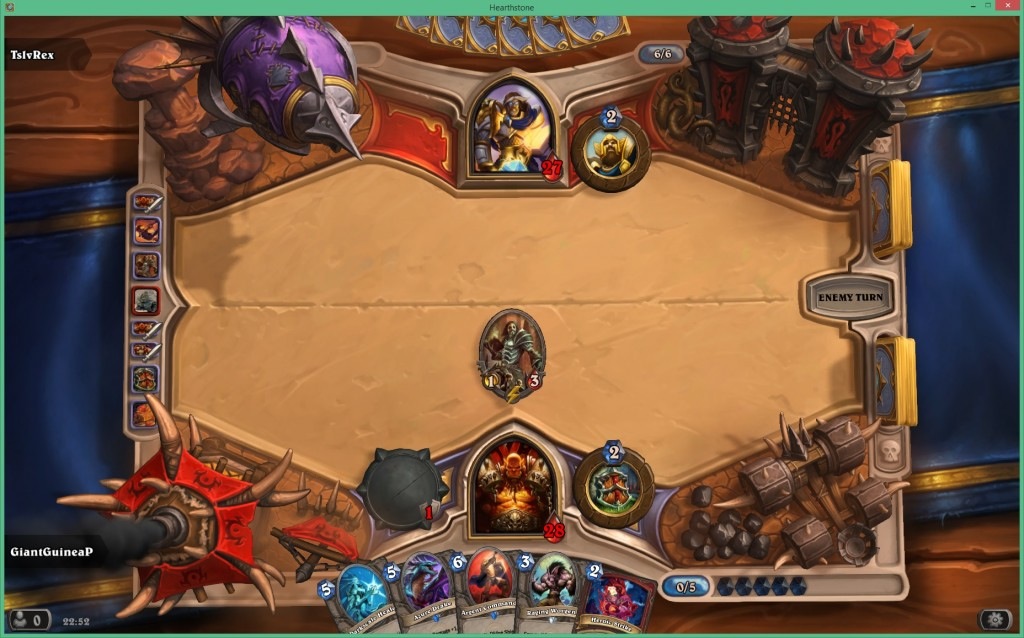 Feast your eyes on the carnage and sheer terror of war ... Once the game begins (click to enlarge)
One interesting thing is now that the iPad version is out – it was released on 2 April – PC and iPad players can play against each other. It doesn't matter which platform you're on, and your settings and progress carry across between the two. The iPad version looks exactly the same as the PC version: they've done a great job of porting across the software between the two, and you can barely tell the difference: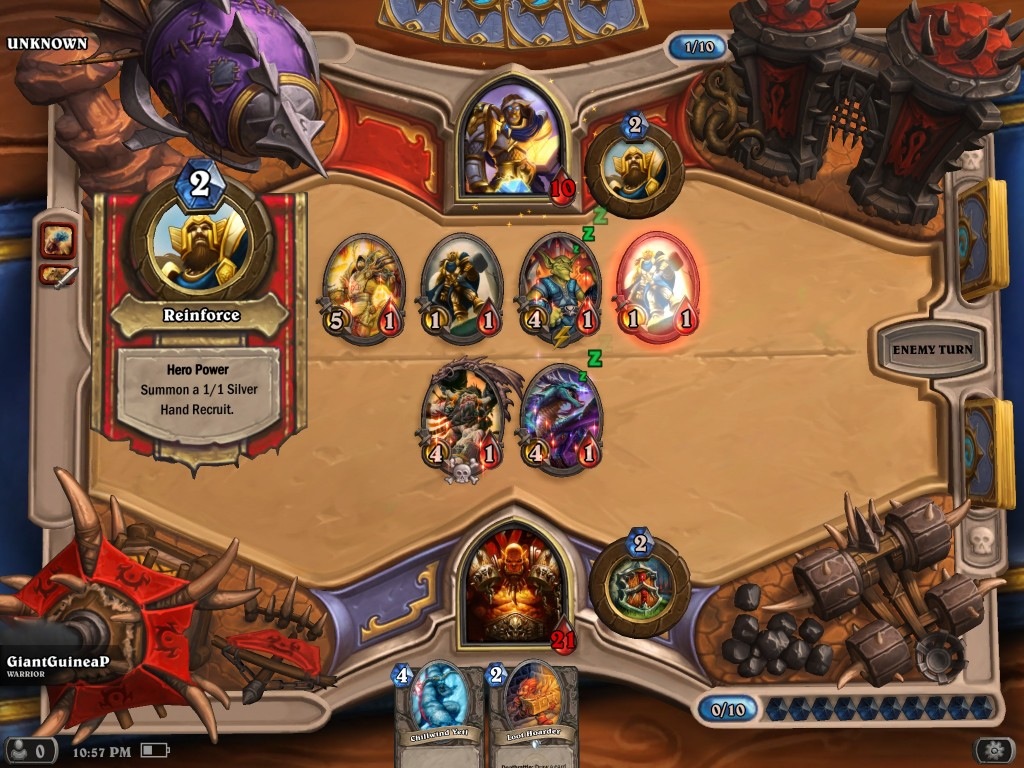 Beat your rival about the head with this slab ... the game running on an iPad (click to enlarge)
I suppose Blizzard will make more money from the iPad version; many Apple slab-fondlers are used to micro-payments in their games, and will probably have iTunes credit sitting there just waiting to be spent. Interestingly, for Australia at least, where your reviewer is based, the costs are more expensive on the iPad - for example, $2.49 on iPad instead of $1.99 on a PC for Arena admission. This is probably due to Apple's in-app sales tax that Blizzard will have to pay for each transaction, but the end, the player picks up the extra cost. On PC, payment is done via Paypal.
The Reg verdict
Hearthstone is a visually appealing game, for just being a set of cards being played against another person. If you're a fan of light strategy, and playing against random people who can't abuse you seems like a dream come true (you can pick from a list of provided sentences to send to each other and that's it), then there's no reason not to give this a shot. (Unless you're the type that's easily addicted to short games, but you're doomed anyway.)
Games take between 10 and 20 minutes on average to play, so Hearthstone is a great one to just sit down and play without feeling like you need to commit hours in a single sitting. Finally, a tip: if you play this on the PC and then the iPad, you'll be awarded a free pack of cards. ®

Hearthstone: Heroes of Warcraft – A jolly little war for lunchtime
A non-taxing turn-based strategy card game that's free, you can avoid the in-app purchases, and you can play online without mouthy trolls ruining the game.