Interested in Google Glass but worried that you'll look like a dork wearing it? The Chocolate Factory is testing out a new pilot program to help ease your mind.
Reddit user "clide" says he was recently selected to participate in an at-home trial in which he was allowed to try on a few different styles of the high-tech specs before committing to buying one.
The trial kit he was sent included all four of Google's new titanium frames, each with an attached Glass unit in a different color: white, red, blue, and gray.
We know what you must be thinking, but not so fast. The headsets didn't actually work. The at-home trial kit appears to be meant strictly to help you decide which version of Google's much-maligned headsets best suits your fashion sense.
According to clide, the headsets seemed to be lightly used models that had been returned to Google. They appeared to be functional, but none of them had enough power left in their batteries to boot up. What's more, Google had destroyed their USB ports, rendering them impossible to recharge.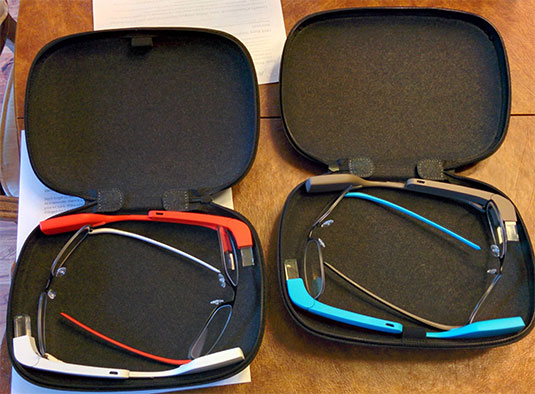 The full kit and kaboodle: Google's trial offers all four frame styles and all four colors (credit: clide)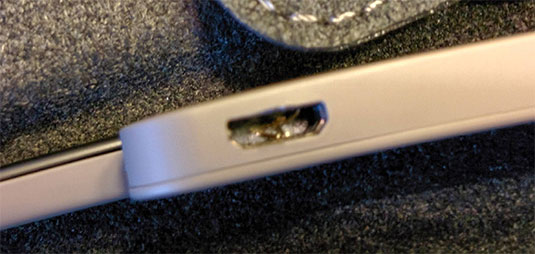 Golly, Google, what did that poor USB port ever do to you? (credit: clide)
You can see more photos of the kit over at clide's image gallery, here.
So far, Google hasn't advertised the program and only select Glass Explorers have received email invites. Clide suspects he was chosen because he had earlier sent Google feedback that he wasn't interested in Glass until frames for prescription lenses were available. Even then, getting hold of the kit wasn't easy.
"To sign up I went through a series of phone calls where I had to give them information in small chunks," clide wrote on Reddit. "One call to say I was interested, another to give them the best time to call me, another to give them my address, and a final one to give them my billing info for a $50 hold on my card."
Participants only end up paying that $50 if they fail to return the kit. Otherwise, the trial costs nothing – although once you make up your mind you'll still need to plonk down $1,500 for a working headset.
And that's only if Google lets you. The online advertising giant briefly opened its Glass Explorer program to the public on April 15, but all of the available slots were quickly snapped up. Google says it's sold out of the headsets for now, but it's planning to start accepting new applicants again later this year. ®