This article is more than 1 year old
Spanish village called 'Kill the Jews' mulls rebranding exercise
Not exactly attractive to the Israeli tourist demographic
Residents in the Spanish village of Castrillo* Matajudíos (Castrillo Kill the Jews) will vote on Saturday on whether it's time to change the name of their small hamlet in the province of Burgos to something a little less offensive.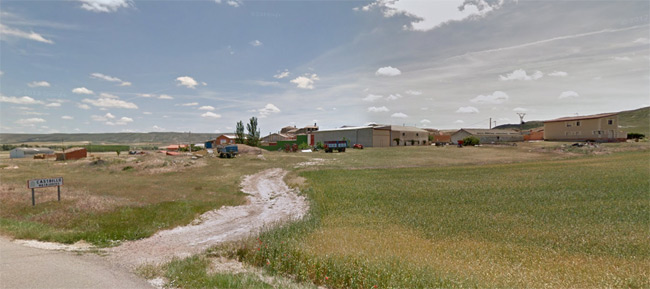 A sign of the old times: Castrillo Matajudíos as seen on Street View. Click on the snap for embiggenment
According to the Diario de Burgos, mayor Lorenzo Rodríguez has called a meeting of the 60 inhabitants to put the case for adopting the village's original moniker - Castrillo Mota de Judíos (Castrillo Hill of the Jews) - after which locals will decide one way or the other.
Archaeologist Ángel Palomino explained that the place was dubbed Castrillo Mota de Judíos in 1035, after Jews from neighbouring Castrojeriz took refuge there to escape a pogrom.
The Jewish quarter of Mota de Judíos thrived until the Jews were expelled from Spain in the 15th century, after which Palomino believes that the remaining population declared its "Kill the Jews" sentiment – supposedly as a commitment to the Christian faith.
An alternative explanation is that Mota de Judíos simply evolved naturally into Matajudíos over time, showing a traditional disdain in Castilla y León for proper enunciation and sensitivity.
In the city of León, Easter is traditionally marked in the bar-packed Barrio Húmedo (Wet District) by the practice of "matar judíos" - hitting the taverns and downing copious quantities of limonada, a type of sangría.
Legendarily, this debauch has its roots in Good Fridays past, when the city's Christians would descend en masse to the Jewish quarter to beat the residents – purportedly for their part in Christ's death.
Although drinking alcohol was prohibited during Easter, the alarmed powers that be decided to allow taverns to sell limonada, originally a mix of red wine mixed with water, lemon and sugar.
The authorities believed the belligerent mob would, having quaffed a good measure of booze, forget their brutish intentions. Unsurprisingly, others have asserted that the limonada simply provoked the locals to greater thuggery.
Back in Castrillo Matajudíos, Mayor Rodríguez described the ultimate outcome of Saturday's poll as "unclear", but confirmed that the decision would be respected "even if it's by just one vote". ®
Bootnote
* A diminutive of castro - hill fort or iron-age settlement.