Photos have surfaced that purport to show Apple's next iPad having a bonded LCD and front-panel glass display, allowing it to be even thinner than the current 7.5mm (0.29-inch) thick iPad Air – or perhaps the same thickness, but with a larger battery.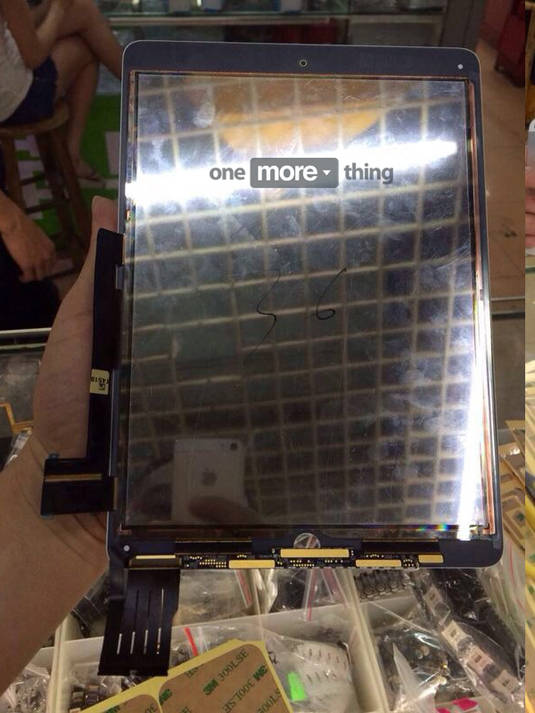 Here's the back of the purported new iPad's bonded LCD and front-panel glass ... (source: One More Thing)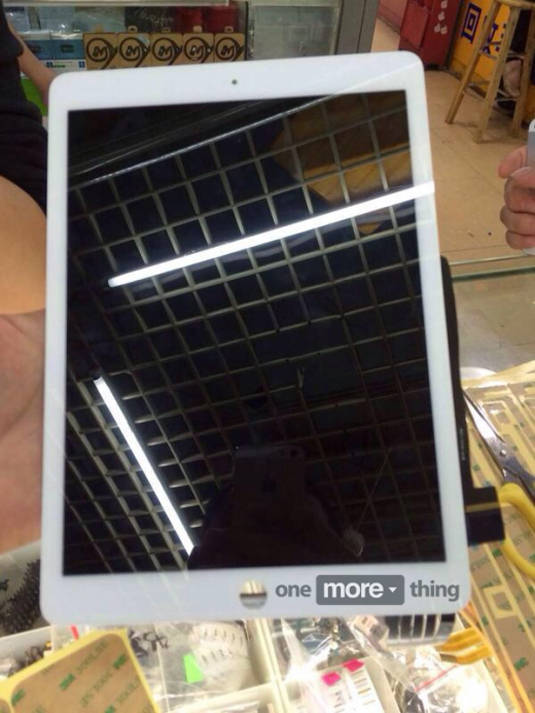 .... and here's the front, with the familiar holes for the camera and Home button (source: One More Thing)
The photos were published by the Dutch-language website One More Thing (Google Translate), which reports that they were leaked from China – China gelekte – and presumably were shot by a component supplier.
The iPad Air's svelte dimensions are already a vast improvement over that of the original iPad, released in April 2010. At 13mm (0.5-inch) thick and weighing in at a pound and a half, that market-defining fondleslab was too meaty for many – including your a-few-centimeters-shy-of-two-meters Reg reporter.
But even the one-pound iPad Air isn't as slim as it can be, seeing as how its LCD display and front-panel glass are separate units.
The iPhone has had a bonded LCD-to-glass assembly since the iPhone 4 and its introduction of the Retina display. The iPhone 4 was 9.4mm (0.37-inch) thick, while its predecessor the iPhone 3GS was 12.2mm (0.48-inch) thick – a slimming of 2.8mm, or a smidgen over a tenth of an inch.
All things being equal – and they certainly aren't, but stick with us, in any case – a bonded display could allow the next-gen iPad to slim down noticeably.
Other info in One More Thing's purported next-gen iPad photos is of interest, as well. For one, the fondleslab in question appears to be a standard 9.7-inch unit, and not the 12.9-incher that was once rumored but subsequently de-rumored.
Also, the front-panel bezel appear to be about the same size as that of the iPad Air, so if you were hoping for an edge-to-edge display, fuggedaboudit.
But those surmises, of course, depend upon One More Thing's photos being genuine – and there is, of course, no way of knowing their veracity.
One thing is certain, however: if Apple does introduce its next-generation iPad with a bonded display, that'll make it even more difficult to repair – not that iPad repairability has ever been among Apple's concerns. ®