This article is more than 1 year old
True optical zoom coming to HTC smartphone cameras
Time to ditch that heavy DSLR? Maybe in a year, year and a half
An HTC spokesman says that smartphone camera technology is advancing at such a rate that it may soon catch up to "real" cameras in one critical feature that separates pro shooters from snap shooters: optical zoom.
"Optical zooming in a smartphone is not too far off at all for HTC," the company's camera honcho Symon Whitehorn told Vodafone Social. "I can't give too much away, but within 12-18 months we'll see huge advances in phone optics."
Everyone wants optical zooming, he says – and if you spent any time at all with photography, you know why. Digital zooming merely interpolates pixels and crops images captured in a single resolution to make them appear as if the image has been zoomed, while optical zooming uses, well, optics to enlarge the image falling on the image sensor – or, for you traditionalists, on the film.
To even the mildly discerning eye, optical zooming simply makes an image look better than fake digital zooming ever could.
Whitehorn doesn't believe that smartphone cameras will replace digital single-lens reflex (DSLR) cameras – for a while, at least. "We're trying to match the performance of dedicated cameras where one piece of glass inside it costs £3000 alone," he said. "We're never going to match that in the short term, but we are getting towards those effects."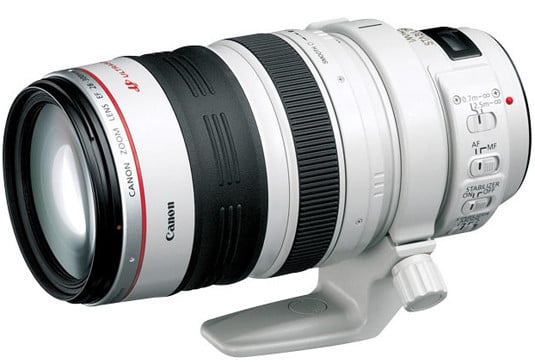 Mr. Whitehorn, do you expect us to believe your phone will outperform this Canon 28-300mm f/3.5-5.6 zoom?
"Two years ago," Whitehorn says, "I would have said that phones will never replace DSLRs. Now I'm not so sure. I think there'll always be a role for a dedicated camera, like for sports etcetera, but I think you'll see the gap closing."
Undoubtedly the gap will narrow – after all, smartphone cameras have improved markedly since the first muddy, washed-out, blurry images appeared on them years back – but this Reg reporter and pro-am shooter doesn't see it ever closing entirely.
But for most casual photographers, the convenience of having an HTC One M8 with a good-enough image-capturing device in their pocket at all times vastly outweighs the hassle of lugging around a heavy DSLR and a couple of possibly heavier lenses. Adding true optical zoom to a handset will make those good-enough images better-enough.
Even those of us who find ourselves drooling over that $17,896.95 Nikon AF-S NIKKOR 800mm f/5.6E FL ED VR Lens in the B&H Photo catalog would – will? – welcome that development.
Bootnote
It's not just the outwardly facing camera on HTC's smartphones that Whitehorn is focused on – the one pointing at your face is of interest to him as well. "HTC wants to own the selfie market," he said. "You'll see a lot more investment in that area."
All well and good, but his next comment just saddened us: "In some markets, 90 per cent of pictures taken are selfies."