This article is more than 1 year old
LOHAN and the amazing technicolor spaceplane
Our Vulture 2 livery is wrapped, and it's les noix du mutt
Picture special Cue the traditional portentous drumroll and fanfare of trumpets as we reveal today the finished livery of our Vulture 2 spaceplane – a provocative combination of paint job and vinyl wrap which is, frankly, the mutt's nuts.
Fans of our Low Orbit Helium Assisted Navigator (LOHAN) project will recall we asked readers back in October last year to pitch their motif suggestions, which resulted in a plethora of possible design.
Then, out of the blue, Stelios Zacharias got in touch to insist his four-year-old daughter Ariadne could do better, and attached a sketch to prove it.
This met universal approval, leading the following final scheme: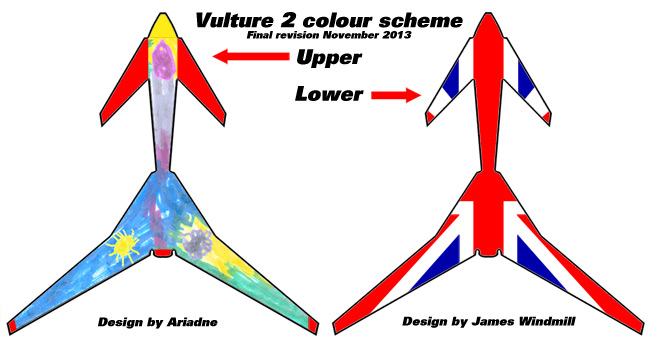 You can click on any of the photos here for a larger version.
The question of just how to render young Ariadne's design onto our spaceplane was answered when Chris Pyper of Space Graphic Solutions (SGS) dropped us a line to say his team would vinyl wrap it onto the aircraft, an offer we certainly could not refuse.
And so it came to pass, because here, ladies and gentlemen, is the SGS team with the wrapped rocket ship, posing with locals outside The Fish at Wixford, where the Easter decorations provided a suitable backdrop for the shot: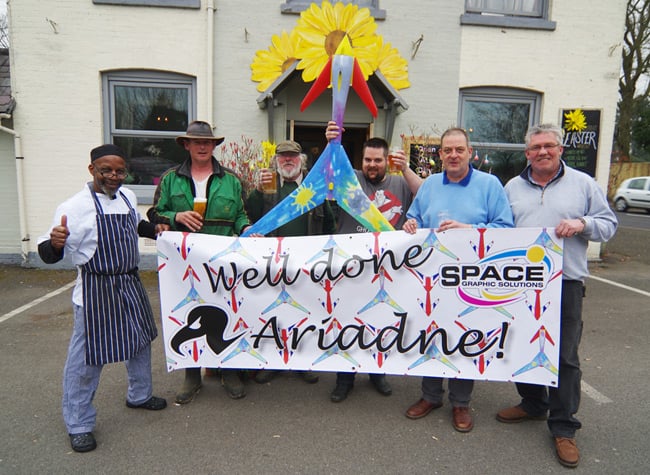 Here we have, from left to right, The Fish's chef Everton Lawson, locals Adrian Brookes and Ron Betteridge, Chris Pyper, Chris's dad and SGS founder Dean McGauley, and SGS vinyl wrap supremo Pete Cox. The banner is a masterstroke by Chris, who reasoned that since he had the means to print it to hand, it would be foolish to pass up the opportunity.
So well done indeed Ariadne, and here's the LOHAN team during the recent Punch and Judy test flights putting the banner to further good use: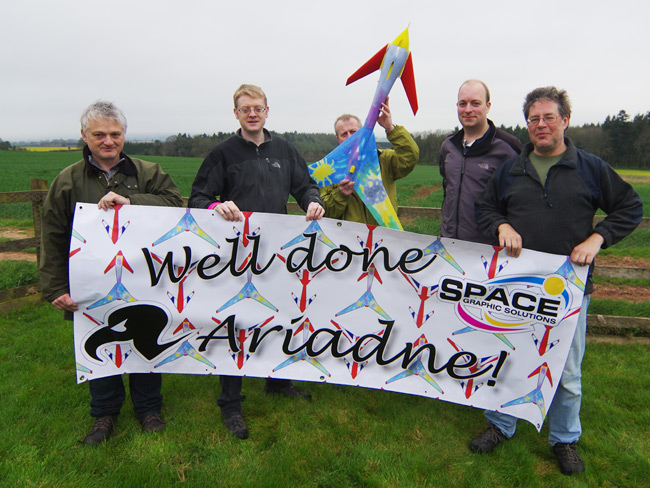 From left to right, our motley space crew comprises Drew Cullen, Anthony Stirk, Paul Shackleton, Rob Eastwood and Dave Akerman. Here's the same mob, slightly rearranged, to give you a better view of the wrap. Fear not for the canard, which wasn't bolted on and had slightly detached...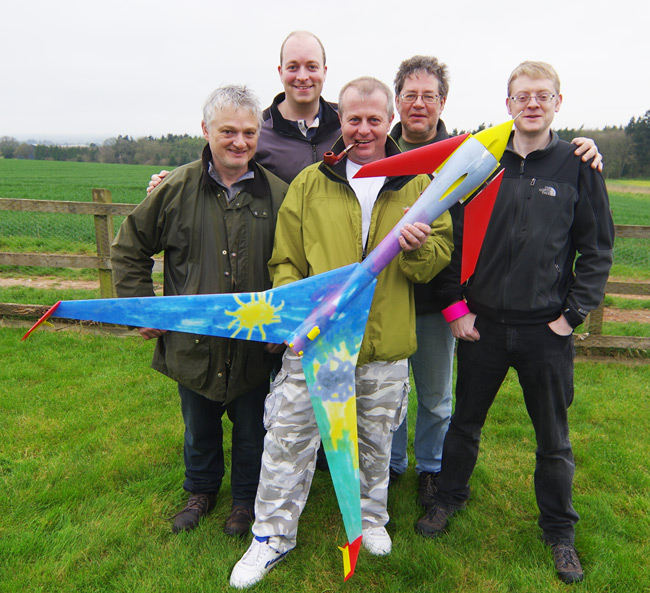 Later in the article we'll return to the wrap and just how it was done, but first you'll want to see the Vulture 2's underside: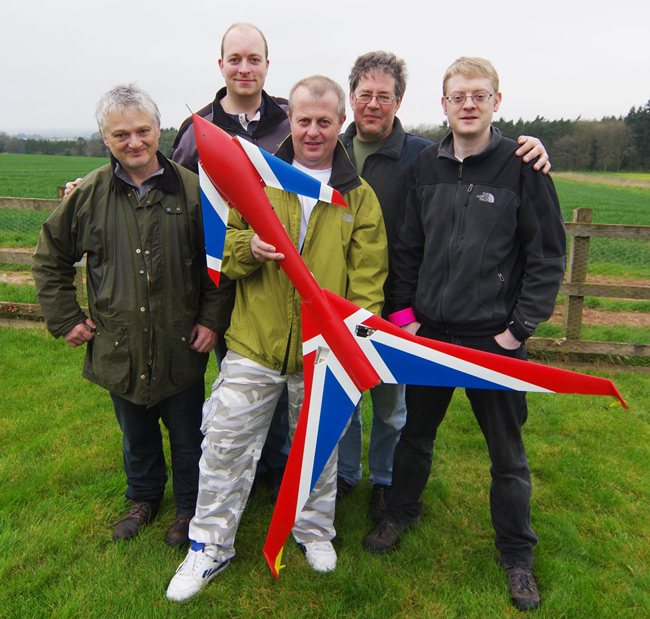 Yup, it's a real "gawd bless yer ma'am" moment and no messing, so we'll give patriots a moment to dab the tears from their eyes before proceeding to a photo round-up of how we flew the flag.