AMD's stock rose by as much as 13 per cent on Monday morning when the Wall Street moneymen returned to work after their Good Friday holiday and rewarded the microprocessor and graphics design firm for its upbeat financial report for the first quarter of 2014.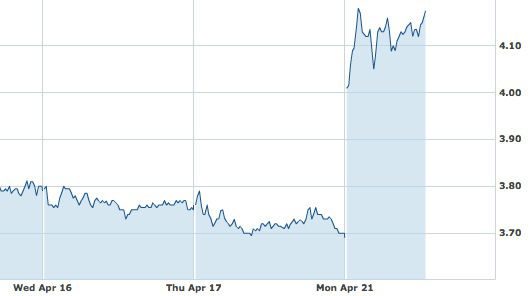 We can hear the champagne corks a-poppin' at AMD's headquarters from here (source: Yahoo Finance)
Some of that gain, however, should also be considered to be a result of statements by both AMD CEO Rory Read and Intel CEO Brian Krzanich that perhaps the PC market is mildly de-toiletizing.
"We are seeing signs that the [PC] market decline is slowing and potentially stabilizing, as some of the softness in consumer [demand] is being offset by demand for commercial PCs," said Read in a conference call after releasing his company's financial result's last Thursday.
Krzanich sang much the same tune during his conference call after releasing Intel's Q1 2014 results last Tuesday, when he said that he saw "signs of improvement in the PC business."
Read was careful to explain that he didn't see the PC market to be on the upswing, however, it's just that the downswing is slowing. "I think the PC market will be down. No question," he said.
What's happening is that the commercial PC market is marginally stronger than anticipated based on the Windows XP end o' life and a somewhat improved global economy, Read said, "and I think that's offsetting a bit of the pressure that we're continuing to see in consumer from tablets."
Neither is Read predicting a rapid resurgence in PC sales: he's merely revised his previous estimation of a 10 per cent decline this year to a 7-to-10 per cent decline.
How's that for hedging your bets? No matter – Wall Street seems sufficiently pleased and more upbeat about AMD's future.
But not all members of the moneymen community are so sanguine, of course. Bernstein Research analyst Stacy Rasgon, after admitting to his clients in a research note that he had been wrong about AMD's Q2 revenue projections, did get in a dig about the company's prospects.
"AMD's competitive position remains fairly awful," he wrote, "regardless of near-term upside."
Stay tuned... ®