Antique Code Show During the finale of this season's King of the Nerds, one of the nerd challenges was to complete the first level of Pac-Man in a set time. I was delighted to see they were playing the original arcade version, albeit on an iPad.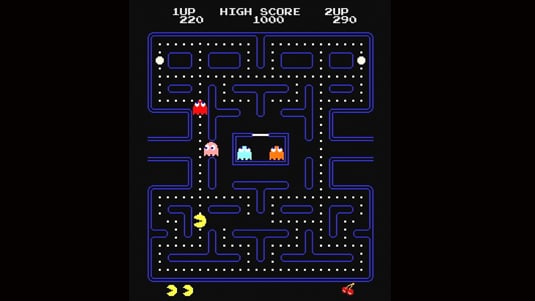 Pac-Man: original and best?
Pac-Man is 34 years old this year. With the release of Pac-Man Museum on Steam and Pac-Man and the Ghostly Adventures for console, there suddenly seems to be some little yellow ball nostalgia.
Yet, truth be told, the Pac-Man of today is completely unrecognisable from the Pac-Man I knew and loved as a nipper.
My first experience of Pac-Man was receiving a Tomytronic handheld Pac-Man that was a raised yellow disc with a small screen which stayed true to the arcade format. It would gobble batteries like nobody's business as I competed against myself for Hi Score on long journeys, eventually lulled to sleep in the back of car by it's pacifying "wakka wakka wakka."
I suspect it's because I'm a child of the 1970s that I much prefer the idea behind a collection of classic games like Pac-Man Museum to capitalise on my long-term nostalgia rather than a Pac-Man 2.0. Most of the games included in this supposedly definitive compilation aren't dependent on reaching an end goal, such as 'beating the boss'.
Instead, it's all about competing for the high score and comparing those scores with friends. After all, arcade games always brought out my competitive edge and gobbled all my money. Unfortunately, this is something contemporary gamers don't get, so Pac-Man and the Ghostly Adventures doesn't appreciate with its emphasis on 3D environments, hamburgers and vending machines. Oh, and Chameleons!
On downloading Pac-Man Museum, I was glad to see the vanilla Pac-Man game in addition to some more familiar titles, such as Super Pac-Man, Pac-Land and four player Pac-Man Battle Royale. These games were immediately recognisable.