Most Americans doubt Big Bang, not too sure about evolution, climate change – survey
Science no match for religion, politics, business interests
---
A recent poll brings bad news for those who trust in scientific consensus: over half of Americans doubt the Big Bang theory of the inception of the universe, and about four out of ten doubt evolution, that the Earth is 4.5 billion years old, and that humans exacerbate global warming, despite overwhelming evidence for all four.
"Science ignorance is pervasive in our society," said 2013 Nobel Prize in medicine winner Randy Schekman of the University of California at Berkeley, "and these attitudes are reinforced when some of our leaders are openly antagonistic to established facts."
Schekman was quoted in a press release announcing the AP-GfK poll [PDF], which surveyed 1,012 American adults 18 or older in late March, and reports a margin of error of plus or minus 3.4 per cent at a 95 per cent confidence level.
The survey methodology was rather straightforward. Survey participants, chosen to represent a cross-section of Americans, were presented with a series of statements such as "Overusing antibiotics causes the development of drug-resistant bacteria," and asked to express their confidence in those statements' accuracy.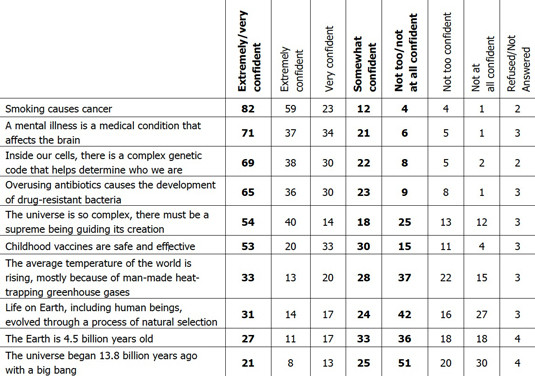 Few Americans doubt that smoking causes cancer. Big Bang? Not so much (click to enlarge)
As might have been predicted, "Political values were closely tied to views on science in the poll," the AP-GfK reports, "with Democrats more apt than Republicans to express confidence in evolution, the Big Bang, the age of the Earth and climate change."
Religious beliefs also correlate with attitudes towards scientific consensus. The more firm a respondent's belief in a supreme being, the poll reports, the less likely they are to have confidence in evolution, the Big Bang, the age of the Earth, and human-influenced climate change.
Unsurprisingly, the poll found that "those who regularly attend religious services or are evangelical Christians express much greater doubts about scientific concepts they may see as contradictory to their faith."
"When you are putting up facts against faith, facts can't argue against faith," said 2012 Nobel Prize winning biochemistry professor Robert Lefkowitz of Duke University.
Lefkowitz also cited "the force of concerted campaigns to discredit scientific fact" as even more powerful than personal faith or even personal experience, speculating that political, business, and religious groups may have a strong effect on a lack of public confidence in scientific consensus on such matters as vaccines, climate change, and evolution.
Anthony Leiserowitz, director of the Yale Project on Climate Change Communication, agreed with Lefkowitz that such campaigns are a challenge, but suggested that they could be overcome with sufficient public pushback, as was done with smoking and its link to cancer.
"That gives Leiserowitz hope for a greater public acceptance of climate change," the AP-GfK reports, "but he fears it may be too late to do anything about it." ®