Notoriously secretive Apple has always kept its beta builds of OS X out of the hands of the hoi polloi by limiting their availability only to registered developers, so it is with some surprise that said polloi can now get their own hands on said builds through a new OS X Beta Seed Program.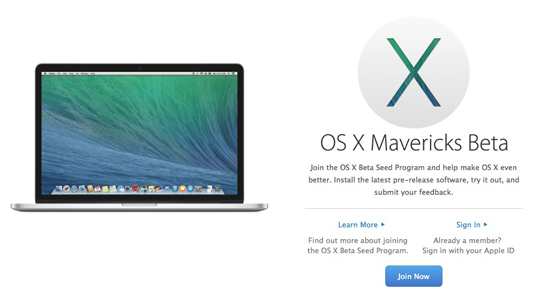 You too can be an unpaid quality-assurance drone OS X beta tester
Apple charges $99 per year to join its Developer Program, but the OS X Beta Seed Program is free of charge to all comers. All you need to do is "be of the legal age of majority in the jurisdiction in which you reside," sign up using your Apple ID, and agree to the nine-page OS X Beta Seed and Confidentiality Agreement.
Yes, you'll be bound to confidentiality:
You agree that the Pre-Release Software and any information concerning the Pre-Release Software (including its nature and existence, features, functionality, and screen shots), the Seeding Tools, and any other information disclosed by Apple to you in connection with the Seeding Program will be considered and referred to in this Agreement as "Confidential Information."
Notice that you'll need to agree to not divulge the "existence" of any beta software that you'll receive. The first rule of OS X Beta Seed Program, it appears, is you do not talk about OS X Beta Seed Program.
Or, as the program's FAQ explains in less legalistic lingo:
... don't install the pre-release Apple software on any systems you don't directly control or that you share with others, don't blog, post screen shots, tweet or publicly post information about the pre-release Apple software, and don't discuss the pre-release Apple software with or demonstrate it to others who are not in the OS X Beta Seed Program.
Yeah, like that's going to work...
The purpose of the program is to provide you with the "the opportunity to run pre-release software," Apple says. "Test-drive beta software and provide quality and usability feedback that will help make OS X even better," a noble goal that will undoubtedly warm the cockles of any true Apple fan's heart.
After accepting the license agreement, you'll be presented with a Beta Access Utility, which will enable pre-release versions of OS X to show up in Apple's App Store app's Update section. A Feedback Assistant will appear in your Dock, which you can use to tell Apple of your findings, suggestions, and most heartfelt yearnings for the future of OS X. And if you should decide that you want to quit the program, Apple will release you.
But you won't want to leave. Being on Apple's QA team is going to be wonderful.
Just don't tell anybody about it. ®
Similar topics