Reg man builds smart home rig, gains SUPREME CONTROL of DOMAIN – Pics
LightwaveRF and Arduino: Bright ideas for dim DIYers
---
Feature Reg reader Ben Lamb was so impressed with how his recent Lightwave RF installation turned out, he put pinkie to keyboard to share his experiences with us. In his own words, here's how he got on.
Until recently, home automation solutions were a kludge. Unless you were starting from scratch you'd have to place devices in-line with existing light switches, resulting in a battle between the home automation configuration and the light switch. In short, it was an exercise in frustration.
These days the workarounds are more sophisticated, yet not that difficult to instal. While shopping for a dimmer switch on B&Q's website, I discovered a range of LightwaveRF products from a company called JSJS Designs. The products are drop-in replacements for existing light switches and offer push button dimming. They can also be remotely controlled from simple handsets much like you'd use for a TV.
These remotes do the job but, as I'll explain later, I also tried my hand at putting together my own iOS app that linked to a radio transmitter connected to an Arduino Micro board. A much cheaper and far more satisfying option than paying over the odds for the separate JSJS Wi-Fi Link box.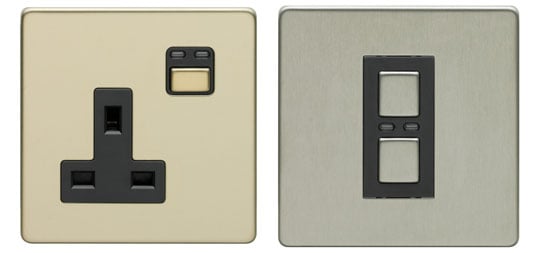 LightwaveRF socket and dimmer: practical choices in a growing range of home automation components
Other options for remote controlled lights include Insteon, KNX/EIB, X10 – popularised in Europe by Marmitek, Zigbee and Z-Wave. I chose LightwaveRF for simplicity, you only need to replace the lightswitch to get the remote control functionality, and it looks stylish compared to some of the alternatives. The deciding factor was it was half the price at the time.
However, since I bought mine, the manufacturer, JSJS Designs has announced a partnership with Megaman UK that makes low-energy lightbulbs. The products have been slightly modified to work better with Megaman's bulbs and should be back in stock in April. Sadly they appear to have increased the prices so the dimmer switch is now about £30.
Many websites such as Vesternet and UK Automation, sell a wide range of the different technologies available, so you can compare the choices.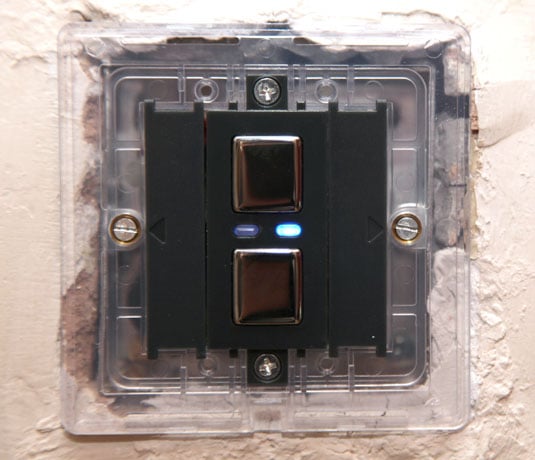 Fixing is straightforward but you should check the depth of the Lightwave dimmers before installation
Let's get back to basics first though. The lighting units start at £25 £30 for the single switch variant. Two-, three- and four-switch options are also available. They look elegant, comprising two buttons with two separate LEDs between them. A blue LED indicates the light is on and amber that it's off. The LEDs are not so bright as to be distracting in a dark bedroom but are incredibly useful for locating the light switch.
Available with a choice of five different metal faceplates: stainless steel, chrome, black chrome, brass and white. These clip over the plastic dimmer unit cunningly hiding the screws in the process. Electrically, the installation is trivial: turn off the power and screw in the two wires that went into your old light switch. The catch is that dimmer switches are, in general, deeper than normal light switches.
The thick of it
If you're replacing an existing dimmer this might not be a problem, as they can be put into a 25mm deep wallbox. However, 35mm provides more space for the wires and if you don't have one you might need to drill out bits of your wall to fit a replacement. I live in a solidly built Victorian house; newer constructions might make this process easier.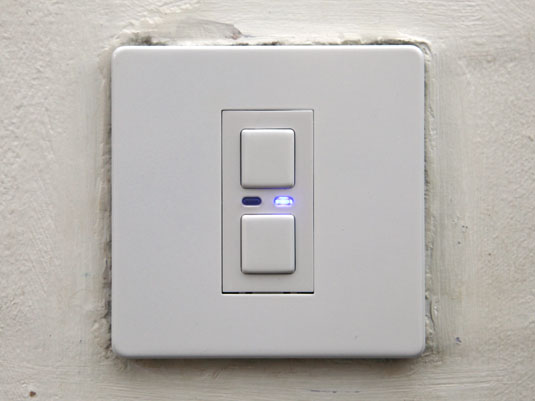 A variety of different face plate styles are available
Operation is simple, tap the top button and the light turns on, gently fading up to its previous level. Tap the bottom button and the light fades off. Once the light is on holding either button raises or lowers the level of the light.
So far so good. I have a light switch that is as convenient to use as any other light switch. The magic happens when you start adding remotes.