Photo evidence The Loch Ness monster presents one of the greatest mysteries of recent times. After all, who in their right mind would believe a great green beastie was lurking down at the bottom of a midge-ridden Scottish lake?
Now the answer has been revealed, after it emerged Apple fanbois can use their fondleslabs or iPhones to peer at this legendary monster.
We're all aware of the reality distortion field that turns ordinary Apple computers into the most covetable objects since the Holy Grail. But El Reg was hitherto unaware this effect could also turn a dark shadow on a lake into the mythical Loch Ness Monster.
According to reports over the weekend, Nessie popped up on Apple Maps – but no other mapping services.
Peter Thain, from Northumberland, and Andy Dixon, from County Durham, noticed a dark shape in the lake at a location just south of Dores.
They pair immediately alerted the Official Loch Ness Monster Fan Club, which was delighted to get the first glimpse of its favourite imaginary friend in more than 18 months.
Nonetheless Dixon, a 26-year-old charity worker from Durham, was adamant he had seen the elusive monster.
He said: "It was purely by accident that I came across the image. I was trawling through satellite transmissions of different parts of the country and I thought I would try Loch Ness.
"I could see something big under the water and I saved it to my phone. My first thought was that it was the monster and I contacted Gary Campbell of the Official Loch Ness Monster Club.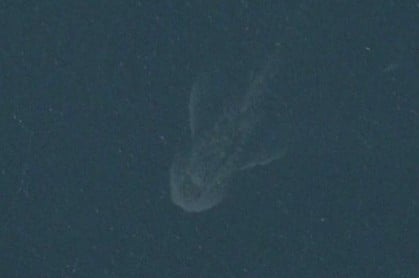 iNessie: Visible only to Apple fanbois, is this the first verified sighting of the Loch Ness Monster? (hint: no)
"I was a believer in Nessie even before this but I had never been. Now I am so excited, I can't wait to get up north and pay a visit - with a camera, of course."
Campbell was understandably excited about the discovery, because it has partially vindicated his fascination with the imaginary monster.
He told the Record: "We first received Peter's information at the back end of last year but took some time to try to work out what it was. We finally managed to locate a device that had the image on it and asked some boating experts to look at it.
"They confirmed that while it looks like a boat wake, it cannot be a boat as there is no hull or superstructure visible."
Meanwhile, blogger Andrew David Thaler thoroughly dismantled the claims of a Nessie sighting:
1. The photographs in question were taken in January, 2005. They came from DigitalGlobe, which means they were either taken by the QuickBird satellite, or purchased from another company.

2.Satellites take pictures that are then stitched together, like when you take a panoramic picture with your phone.

3. Stitched photos aren't perfect: if one picture has a boat that's totally washed out and another picture is just blue water, then you'll be left with the ghostly blue outline of a boat, which is clearly visible on the "Nessie" picture.

4. Both the boat in the northern picture [as shown on Thaler's blog] and the "ghost boat" in the monster picture are about 20 meters long. There are no 20-metre-long catfish. There are no whale sharks in Loch Ness. It's a boat.
Have you seen iNessie? Let us know. ®