This article is more than 1 year old
Slip your finger in this ring and unlock your backdoor, phone, etc
Take a look at this new NFC jewellery – why, what were you thinking of?
Pic An NFC Ring does exactly what it says on the tin: it's a piece of jewellery with two NFC tags embedded in it that pass information to nearby phones, tablets and other gadgets by radio.
Given that NFC has been a bit of a flop, this may seem a little pointless. Even the technology flag-wavers have stopped claiming that "next year will be the year of NFC".
But as a ring it starts to make a little sense. For a start, it turns the model around. Rather than expecting you to use your phone to pay by bonk, it uses the ring to control the phone.
Most importantly, it can replace the lock code or swipe pattern with just holding the phone while wearing the tech trinket. Tap the ring against the phone and you're in: the code to unlock the device is sent wirelessly from the ring. It's a much more human thing to do.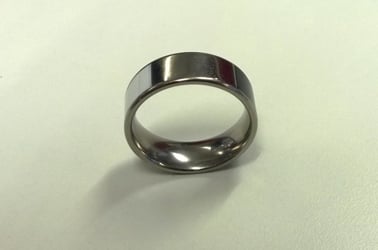 Ring job ... the NFC jewellery
The NFC Ring is the brainchild of Bradford-based John McLear, who is also behind the open-source online document editing tool Etherpad. McLear explained that he's not "a jewellery kind of guy" and that he appreciates that at some time he's going to get married and that will necessitate wearing a ring. And if he has to wear a ring, it will have to do something other than advertise his marital status.
Thus was the NFC Ring born, here in the UK. Initially mooted as a 3D-printed thing, the first prototypes turned out to be plastic and horrible; McLear said it did nasty things to his skin.
An NFC ring can, in theory replace a contact-less payment card, but these things are never quite that straightforward. McLear wants to support payments, but that will need expertise in global payment-card standard Europay-MasterCard-Visa (EMV), and is therefore a work in progress.
It can't be used as an Oyster card as that's proprietary MiFare technology, although the London Underground is also moving to EMV which is why Tube-dwelling Londoners are regaled with constant warnings to keep their payment cards and Oyster cards separate. It would be a race against time to try and support MiFare as by the time NFC Ring got the rings out the technology used, even by the slow-moving Transport for London, will have moved on. You can already use EMV cards on the capital's buses.
Other applications include NFC door locks. There are a few around, principally targeted at the hotel market, but Yale has shown off a domestic version. With two chips in the ring, one can be used for public functions, such as handing over a Bitcoin wallet address, while the other can be private. The two chips are denoted by white and black areas on the ring. McLear is applying the Etherpad open-source ethos to NFC Ring, opening up the tech for third-party developers.