This article is more than 1 year old
A premium smartie lump: Oppo N1 CyanogenMod Edition
Monster phablet rooted at the factory for your pleasure
Review While most Chinese smartphone OEMs started life making cheap tat and then slowly began moving upmarket, Oppo has taken a slightly different tack. Its devices have been fairly high-end from the get-go and the N1, initially released running Android 4.2 back in September 2013, made quite a splash.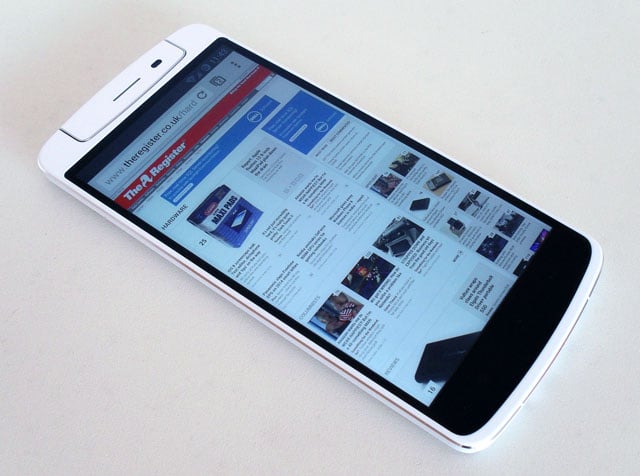 Oppo N1 CyanogenMod Edition
Now the N1 can be bought with a factory-fitted CyanogenMod ROM, combining Oppo's highly individual hardware with what, by general agreement, is the best community Android ROM currently available. Sort of a CyanogenMod Nexus device, then.
Hardware first. If you like small smartphones, look away now because the N1 is a bit of a monster. Granted, it has a 5.9-inch screen so it was never going to be petite, but the only phablet that's larger (albeit much thinner) is Sony's Z1 Ultra, and that boasts a 6.4-inch display.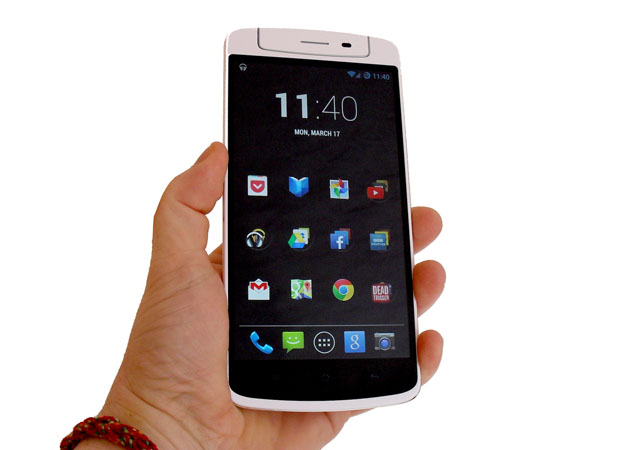 You'll need the hand span of Rachmaninov to get a good grip on this phablet
Measuring up at 171 x 83 x 9mm and weighing 213g the N1 makes the Samsung Galaxy Note 3 look like a child's toy, and that despite the Note only giving away 1/5-inch in screen size. Slip the N1 in your suit jacket pocket and you will come over a bit Quasimodo.
Like most large phablets, the N1 is a challenge to use with one hand. I've got fairly small hands, so that reaching the far edge of the screen with my thumb was often impossible. On the positive side, the volume and power buttons are well placed, while on the back you'll find a 40 x 30mm touch pad called O-Touch which you can use to scroll the display. It's certainly handy if you want to shuffle down a web page or flip through a picture album without your finger getting in the way.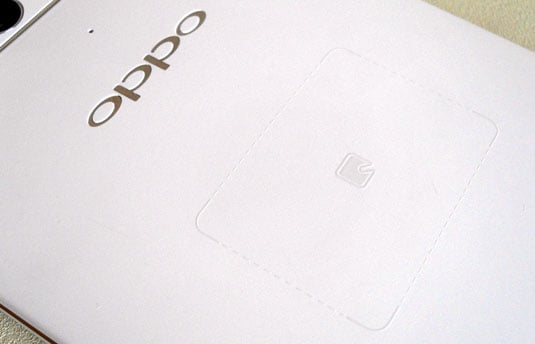 Blink and you'll miss it: the O-Touch touchpad makes an understated appearance on the back
The N1's 1080 x 1920 display is rather a good one, and viewing photos on it is a delight. It's vivid, bright and supports very broad viewing angles. This IPS panel is close to the top of the class and thanks to its 373ppi pixel density, it's as sharp as a tack. The panel is rather reflective though, so performance in direct sunlight is no more than average. That's its only failing.
The N1's bulk isn't just down to design waywardness. It is a very solid and well made lump and has a premium feel to it. That's just as well in one particular area: the camera. Rather than having two – front and back – the N1 makes do with one 13Mp snapper fitted into a rotating housing at the top of the device.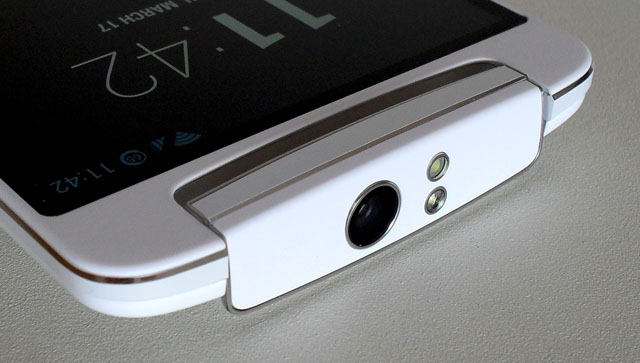 A camera with a twist: it even works at half rotation
It's a design that may give some potential purchasers pause for thought, but the hinge feels very well engineered. Oppo reckons it has been tested without failure to 100,000 swivels – that's five a day, every day for more than 54 years.
The camera is a solid performer too. In daylight it takes richly coloured and highly detailed images, while at night the dual-LED "flashes" and the slow shutter option produce some pretty impressive results.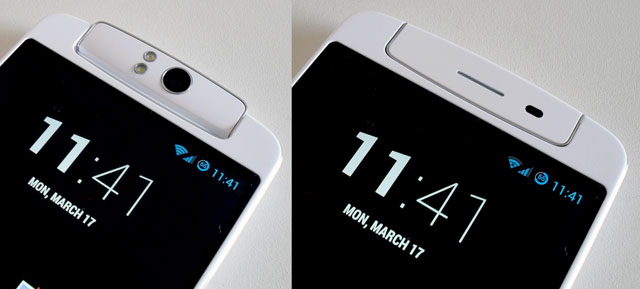 The swivelling camera makes the most of the megapixels for selfies
The ability to take 13Mp selfies should provide sufficient instant gratification to have the N1 personally recommended by irredeemable narcissists everywhere. Low light photography is further helped by a curious little gadget that comes bundled with the N1 called O-Click