This article is more than 1 year old
Got Windows 8.1 Update yet? Get ready for YET ANOTHER ONE – rumor
Leaker claims big release due this fall as Microsoft herds us into the CLOUD
The Windows rumor mill is buzzing yet again, with word that Microsoft is planning yet another update to Windows 8.1 that will ship in the fall, possibly to be followed by a new, cloud-centric version of Windows that will be available free of charge.
This latest scuttlebutt once again arrives care of Russian pirate group "WZor," as first reported by digital storage site Myce on Monday.
According to the robo-translated text of the latest leak, the main feature of the autumn update will be Redmond's redesigned Start Menu, which was briefly teased during a keynote at the Build 2014 developer conference earlier this month.
The new version of the menu isn't exactly a return to the classic navigation style of Windows 7 and earlier. Rather, it appears to be a hybrid of the old Start Menu and the new Windows 8 Start Screen, complete with miniature versions of the Start Screen's Live Tiles alongside old-style launcher icons.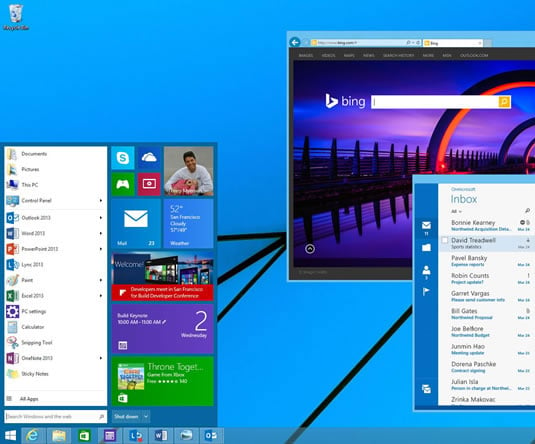 Feast your eyes on the new Windows Start Menu – maybe coming sooner than you thought
If the rumor is true, it could mean Microsoft is planning a twice-yearly release schedule for major Windows updates. Windows 8.1 shipped in October 2013, nearly one year to the day after the release of Windows 8. The oddly named Windows 8.1 Update arrived approximately six months later, on April 3. If we assume six months between releases, the rumored future update would again arrive in October.
Just what that release might be called isn't clear. WZor claims there's active debate within Microsoft over whether to call it something like "Windows 8.1 Update 2" or to drop the confusing new nomenclature and go back to sequential version numbering.
Two big updates in one year would certainly mean Redmond is delivering on ex-CEO Steve Ballmer's promise of a "rapid release" schedule. The problem is that many Microsoft customers will find it hard to cope with such a pedal-to-the-metal product strategy.
So far, Redmond has tried to bully customers into applying the Windows 8.1 Update by threatening to cut them off from future security updates if they don't. But it hasn't worked; after botching the update rollout and getting an earful from big customers, it has been forced to extend the cutoff deadline for enterprises into August. What are the chances that customers who wait that long will be ready to apply yet another update two months later?
Subscription Windows?
Even more perplexing is the other thing that WZor claims is in the pipeline: a stripped-down, free-as-in-beer version of the Windows client that may or may not end up being called Windows Cloud.
The details here are extremely sketchy. To hear WZor tell it, out of the box this version of the OS will offer a level of functionality comparable to or below that of Windows 7 Starter Edition – the low-fi version of Windows that shipped with some netbooks – but it will gain new features when coupled with online subscription services from Microsoft.
WZor claims the ability to download Windows Cloud will be baked into new PCs at the BIOS level. Exactly what that means and what benefit such a design might offer we leave as an exercise for the reader.
In fact, this whole Windows Cloud business sounds a bit fishy to your humble Reg hack. But WZor has had it right before. Most recently, the group leaked the first screenshots of the Windows 8.1 Update, and it has released multiple prerelease versions of Windows in the past.
Naturally, Redmond takes a dim view of such activities. Earlier this month, former Microsoft staffer Alex Kibkalo pleaded guilty to leaking prerelease Windows 8 updates, rather than face a maximum prison sentence of 10 years and a fine of $250,000 – so if WZor's information on the so-called Windows Cloud seems thinner than usual, that's only understandable. ®