US scientists have tackled two main stumbling blocks to the development of injectable nanomachines for medical and scientific use.
The breakthroughs were announced in a paper entitled "Virus-Inspired Membrane Encapsulation of DNA Nanostructures To Achieve In Vivo Stability", published in the journal ACS Nano on Tuesday.
Scientists from the Wyss Institute for Biologically Inspired Engineering at Harvard said they had worked out how to protect DNA nanostructures from nuclease degradation (when an enzyme found in blood breaks the bonds which hold DNA together), and also how to stop them triggering inflammatory immune system responses.
This gets rid of one of the main roadblocks to a future when illnesses such as cancer are treated via targeted "smart" medicine rather than extremely blunt tools such as chemotherapy, and people can augment their own bodies with swarms of nano machines: rejection by the body.
Here on El Reg's science faction desk we've spoken to boffins about breakthroughs such as programmable synthetic circuits and nanomotors that can be inserted into cells.
But as exciting as these breakthroughs are, they're worthless if the injectable nanomachines set off immune responses as they flow around the body – and it's that barrier which the Wyss researchers think they have overcome.
The boffins made this breakthrough by taking inspiration from how naturally occurring viruses are able to infiltrate the body.
They were able to cloak the nanomachines by creating a "DNA NanoOctahedron" scaffold which had a diameter of around 50 nanometers, which was then coated it in a lipid layer (a "liposome").
They refined this design by giving the NanoOctahedron some "outer handles" to better bind the lipids onto it. This design ultimately proved resilient to nuclease degradation and also stopped immune system flare-ups.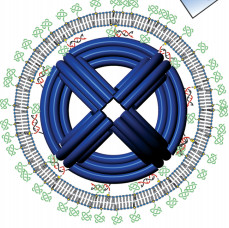 This DNA NanoOctahedron may wear a natty
lipid jacket to let it sneak into your body
"People have been interested in using lipid bags to deliver drugs for the past 40 years or so with some varying success," explained Wyss Institute faculty member and paper coauthor William Shih in a chat with El Reg. "We're giving the liposome a backbone."
This means that scientists can now control "the shape and size" of the structures, Shih said, which may let them create differently shaped scaffolds that have different properties. "What if they had a better ability to get into cells or avoid destruction or filtration by our body's defenses? The backbone could provide better mechnical properties," he explained.
As for the future, Shih and the team are performing research in two related areas: one is adding "transmembering features" to the outside to let them attach additional "guests" such as sensors, receptors, or actuators on the outside of the DNA endoskeleton, and another area is trying to see "if we could use the endoskeleton backbone to coordinate response of different sensors".
If this research is successful, the team could theoretically create an extremely low-level analog computer, Shih confirmed, in which a specific combination of inputs could lead to a spatial reconfiguration of the endoskeleton that yielded a specific output, like spurting out a certain drug in response to sensing a particular combination of chemicals.
The technique could also be used to put other components into the DNA endoskeleton, crafting microscopic drugs carrying a payload of crafty nanomachines. "In order to do these very sophisticated interventions you need to be able to put together lots of active elements like motors and pumps and manufacturing sites in a coordinated fashion to get that sophisticated fine-tuned behavior," Shih explained.
We wish Shih and the rest of his team the best of luck in working out how to make gloopy computers a reality. ®
Similar topics
Narrower topics