Violin, Microsoft slip Windows, SQL Server, apps, flash into box
Keep your enemies close, keep your databases closer
---
Violin Memory has turned its converged server-storage 6000-series flash array into an engine for SQL Server which is capable of putting data directly into an app server's memory – thanks to a little help from Microsoft.
The 6000-series all-flash array runs Windows Storage Server 2012 R2 on two integral blade servers. It connects to SQL Server 2014, in in-memory mode in an app server, with database data stored in its flash vault.
Two such 6000 nodes can be clustered across 10GbitE, scaling up to four nodes. This provides up to 256TB of high-availability flash capacity, supporting a number of application servers.
Stepping back, we have here a networked flash array which accesses data faster than a networked disk array. Instead of app servers connecting to a SQL database server which connects to a networked array, meaning two network hops and latency, the SQL software is executed inside the array, cutting out one network hop and roughly halving latency.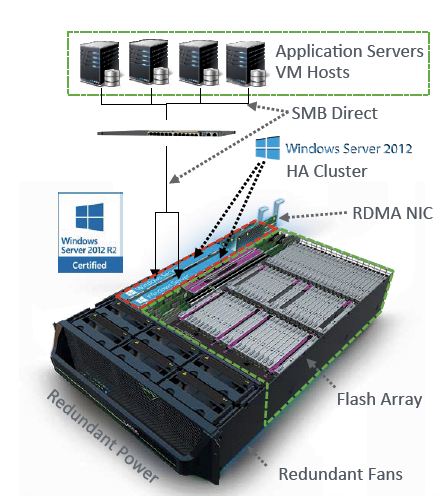 WFA components
The SQL software runs in-memory, making it faster than before, and loads requested data directly from the WFA into the app server's memory instead of using the standard network link, adapter and IO stack to get data there. The network latency is the same but the end-to-end data access latency is cut.
The Violin Windows Flash Array (WFA) is the only all-flash array to do this, according to Violin, and the company has been working with Microsoft for twelve months to provide custom code to tie its hardware and software together. This, Violin marketing head Eric Herzog says, gives them an advantage over other all-flash arrays used as a SQL Server 2014 data store; think EMC XtremIO, Pure Storage and so forth.
We think it also gives Violin an advantage over server flash card implementations of SQL 2014, such as that of Fusion-io, because it scales up to 256TB and provides high-availability and resilience with failover between server blades and cluster nodes.
In this particular SQL Server 2014 use case, Violin is competing with other converged server-storage suppliers such as IBM's Pure systems, VCE, NetApp and Cisco's FlexPod, and startups Nutanix and Simplivity.
The WFA can also be used as a Windows virtual desktop host running Hyper-V, and Violin will sell it for this use case while still selling the joint Violin Atlantis VDI set up, supporting VMware, with the Atlantis software running in an attached server.
The WFA will be available later this month. ®