New HDS array: It's a G1000 Jim, but not as we know it*
'Most reliable hardware on the planet' ... is not a BlackBerry lookalike mobe
---
HDS has updated its 2010 vintage high-end VSP array with the VSP G1000 and a new operating system, together providing the "highest performance and most available unified storage system in the industry," and claiming it's "the most reliable hardware on the planet."
There are three mainstream high-end enterprise arrays; EMC's VMAX, HDS' VSP, and IBM's DS8000. VMAX was introduced in 2009, and updated in May, 2012 with the 4PB VMAX 40K. That was then 60 per cent more than HDS's biggest VSP array and 74 per cent more than IBM's DS8000.
The DS8000 line was boosted with the DS8870 product in October 2012 which featured with POWER7 controllers delivering three times more performance than the then current DS8800.
Now, two years on, the VSP G1000 is HDS' riposte to both the EMC VMAX 40K and IBM DS8870 announcements.
At an event in Amsterdam today HDS announced the VSP G1000 and new operating software under a Continuous Cloud infrastructure rubric.
A CCI, that's private cloud we understand, rich in marketing yadda-yadda, seems to be "Business Defined IT", and is always available, automated and agile. Suppliers love the word "agile" because it sounds modern and great but doesn't commit them to anything in particular. We think it means that SVOS systems can be upgraded and modified non-disruptively, with a data-in-place process, and they are available all or most of the time.
VSP G1000
HDS says this is "the most reliable hardware on the planet," and the "highest performance and most available unified storage system in the industry," which are pretty strong claims. It has a 100 per cent data availability guarantee. Non-disruptive microcode upgrades are completed without affecting application quality of service.
Performance-wise it is claimed to provide a threefold increase over the VSP, as well as being more power-efficient.
It is, HDS says, "a single platform for all data," block, file and object, and a scalable and powerful one, offering:
More than 3 million block storage IOPS
More than 48GB/sec of usable bandwidth
More than 1.2 million NFS operations/sec
Architecturally the VSP has multiple system controllers sharing a global cache linked by a non-blocking, crossbar architecture switch to the back-end storage. The G1000 has 896 GB/sec aggregate internal bandwidth with a 7th generation Hi-Star crossbar switch-based architecture.
The array can have up to 2,304 2.5-inch disk drives (400GB, 800GB), or 1,152 3.5-inch disk drives (300GB to 4TB), with a maximum capacity of 4.6PB, or up to 256 flash drives and 192 Hitachi Accelerated Flash Modules (1.6TB, 3.2TB). See a spec sheet here and another here.
There can be from two to 16 Virtual Storage Directors (VSDs) or controllers, twice as many as the VSP. These share a global cache.
The system controllers can be up to 100 metres apart.
The VSP could have up to 2,048 disk drives, so there has been a modest, 12.5 per cent, increase in that number.
The system controller (VSD) processor blades use Intel Xeon Quad-Core 2.33GH processors. Each Host Adapter and disk adapter in the VSP G1000 is equipped with a Hitachi data acceleration ASIC.
External storage can be virtualised by the G1000:
HDS AMS and WMS
HDS Lightning, Thunder
Hitachi USP, VSP
DDN SFA10000
Dell Compellent Series 40
EMC CLASiiON, Symmetrix, VMAX, VNX
Fujitsu ETERNUS
HP EVA, P8500, XP, 3PAR
IBM DS3000, DS4000, DS5000, DS6000, DS8000, SVC, XIV, Storwize V7000
NetApp FAS3000, 6000 and 6200, E5400
Nexsan
Pillar Axiom
SGI
Sun StorageTek, StirEdge
Xiotech and X-IO
That is quite a list, and it's not exhaustive.
Host connectivity comes from up to 192 Fibre Channel 8Gbit/s or 96 Fibre Channel 16Gbit/s host ports or 176 FICON 8Gbit/s host ports or 176 Fibre Channel over Ethernet (FCoE) host ports and 4 x 10 GbitE per file module.
SVOS
The Storage Virtualisation Operating System (SVOS) is the sixth generation of HDS' enterprise storage array operating software and runs on the G1000. It is described as standalone storage virtualisation software, which implies it can be bought or run independent of HDS hardware.
HDS also says it is the foundation for global storage virtualisation, and claims it will:
Double the useful life of hardware architectures, talking generally about two generations of HW used with SVOS>
Span the breadth of the HDS infrastructure portfolio
A slide said it would be the "common OS across Hitachi storage for the future". Supporting text said it will power "core infrastructure storage platforms that come in the future; some that look quite different from the VSP G1000."
SVOS includes flash optimisation, storage virtualisation, replication, automated tiering, non-disruptive data migration, and a global active device feature.
This latter item provides "multi-system and multi-datacenter active-active capabilities without the need for an appliance." Generally, HDS says, an appliance like EMC's VPLEX is needed to provide failover between high-end enterprise systems in a data centre and between data centres.
NetApp with its clustered ONTAP systems would disagree.
Like the VSP OS, SVOS virtualises HDS and third party storage.
SVOS is claimed to have a leadership NDM capability.
G1000 performance, scalability and availability
The G1000 has had a considerable performance boost over the VSP array, having:
4X the IOPS
twice as many HNAS cluster nodes, 8 rather than 4
3.5 times more bandwidth at 48GB/sec
Twice the maximum number of VSD pairs at 16
10 per cent better power efficiency
Twice the cache capacity at 2TB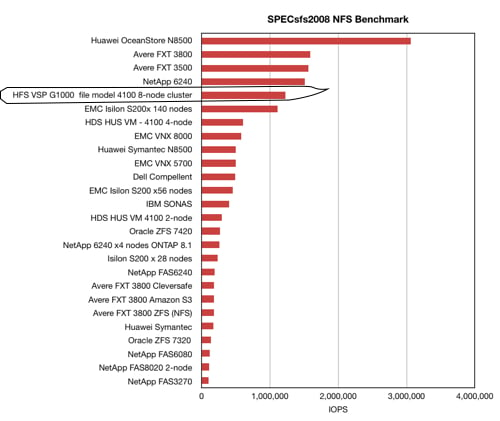 HDS VSP G1000 SPECsfs2008 NFS benchmark
It also has a 1.2 million SPEC.org NFS result, along with encryption support for all media types. Active/active, clustered systems can be over 100KM apart.
G!000s can start as a virtualisation controller with no capacity, and grow to be a unified storage system with an 8-node Hitachi NAS platform (HNAS).
The G1000 can also be used as the storage vault for a Hitachi Content Platform (HCP), which provides object storage.
In May three years ago, HDS said it wanted to move to having a single storage system covering both enterprise and mid-range storage needs. The SVOS VSP G1000 looks like the first such system, and it has taken a while to get there. We think that this means, possibly, the HUS line will may get SVOS support too, with SVOS being the single platform.
SVOS and the G1000 are certified for Microsoft Private Cloud Deployments and SAP's HANA Tailored Database Initiative – and its integration with the VMware ecosystem is said to be extended.
UCP and Command Suite
There are new entry-level UCP (Unified Compute Platform) configurations for VMware's vSphere, and the UCP supports the G1000. There is a UCP for VMware with Cisco UCS server, G1000 array and SVOS software coming soon.
The UCP Director v3.5 gets server profiling, which automate server provisioning, leverage resource pool abstraction and have user assigned names. HDS claims it also has better disaster recovery, with integration of snapshots with Hitachi Thin image.
Hitachi's Command Suite v8.0 has had SVOS support added and has a REST API plus the general UI has been streamlined.
It can manage SVOS capabilities such as Virtual Storage Machines, Global Active Devices and NDM Workflow (2014). There is application service level management for performance and capacity.
Improved Application Awareness And Provisioning Templates
The VSP G1000 will be available in May.
®
Bootnote
*If you think you've come across a Hitachi G1000 system before, you're right. In 2003, Hitachi released its G1000 mobile phone, which looked a lot like a BlackBerry because of its keyboard: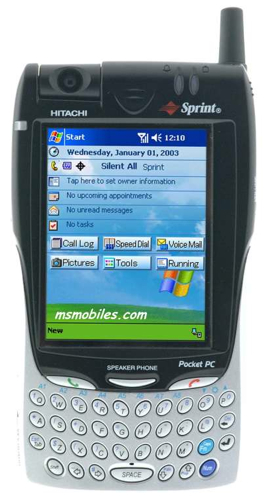 Hitachi G1000