Brazilian president signs internet civil rights law
Marco Civil bill enshines 'net neutrality', 'privacy' as law
A bill guaranteeing civil rights on the internet was signed into law by Brazilian president Dilma Rousseff at the NetMundial Internet Governance conference today.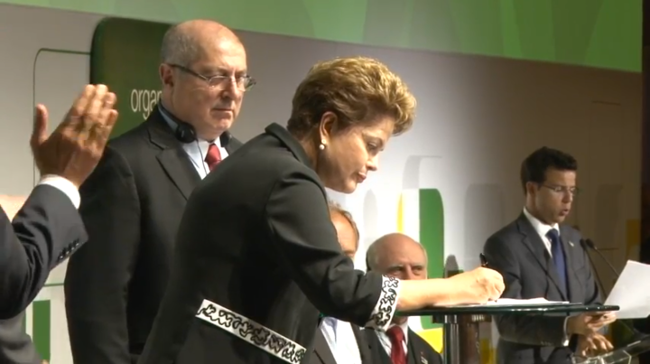 Brazilian president Dilma Rousseff signs Marco Civil at the NetMundial conference in Brazil, 23 April 2014
In a theatrical flourish, Rousseff signed the "Marco Civil" at the podium before giving a speech at the opening ceremony of the NetMundial Internet Governance conference that runs today and tomorrow here in Sao Paulo.
"Ladies and gentlemen," it was announced to the packed conference room, "the President of the Republic has approved a law that guarantees the rights and duties for the use of internet in the world."
The bill protects privacy and freedom of expression online and enshrines net neutrality as law. It is locally referred to as the "internet constitution".
Five years in the making, the legislation recently gathered some political urgency after rogue sysadmin Edward Snowden's revelations of spying by the US National Security Agency (NSA) and particularly the monitoring of President Rousseff herself.
The signing was meet with cheers and applause from the NetMundial audience.
In a speech immediately prior to the signing, inventor of the World Wide Web Tim Berners-Lee called it a "fantastic example of how governments can play a positive role in advancing web rights and keeping the web open" and called for other countries to follow suit.
Soon after, European Commissioner Neelie Kroes chipped in, telling the assembled crowds the Marco Civil is "great. It is party time, so to say."
In her speech, Rousseff highlighted the collaborative approach taken to developing the bill and noted that it contains "clear rules governing withdrawal of content from the internet", the aspect that had caused the most argument.
The controversial idea of insisting on local storage of data rather than storing it on servers in other countries was dropped last month to gain Senate approval.
Rousseff also used her speech to highlight concerns over surveillance on the internet. "Any data collection or treatment should only be carried out with full agreement of the parties involved," she pointedly told the audience, which included a number of US government officials.
As she did so, protestors in the audience, some wearing Edward Snowden masks, unfurled a large banner reading "We are all victims of surveillance".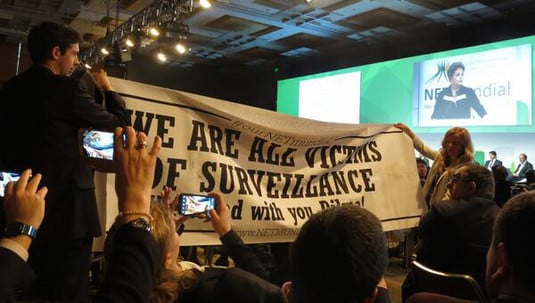 Protestors at the NetMundial conference in Brazil
Just months ago, it emerged that Rousseff's email accounts may have been hacked by the NSA. At the time she responded that the actions were "more than personal... an affront to the nation's institutions, since they were carried out during my tenure as president of the republic." The leaks also alleged that the US spied on her country's state-run oil firm Petrobras.
The issue of internet surveillance was an initial driver behind the conference – which has been described as the Internet World Cup – but has been reduced to a single paragraph at the end of the draft outcome document, causing some consternation.
Over the next two days, the issue is expected to be repeatedly raised although it is unclear if anything substantive will end up in the meeting's final document. ®