This article is more than 1 year old
It's GOOD to get RAIN on your upgrade parade: Crucial M550 1TB SSD
Performance tweaks and power savings – what's not to like?
Review Just under a year ago Crucial sent shock waves through the SSD consumer market space with the launch of the M500 series. Not only did the family contain the first near-1TB SSD in this space, in the shape of the flagship M500 960GB drive, but the whole range had been priced at such a competitive level it had rivals scurrying around trying to match it.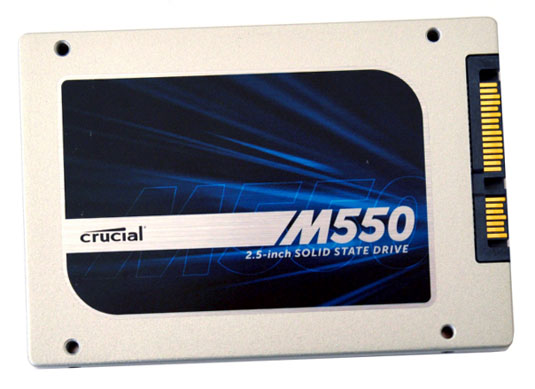 Size matters and speed too: Crucial's 1TB M550 SSD
Admittedly, Samsung had a stab at it when it took away that tentative 1TB crown a little while later with launch of the 1TB proper 840 EVO.
Now Crucial has launched the followup to the M500, the M550. The M550 series offers different capacities to the M500 and is available in 128GB, 256GB, 512GB versions. The M550 flagship remains at 1TB along with some keen pricing. Capacities aside, you also get a choice of three formats – 2.5in 7mm, mSATA and M.2.
The mSATA and M.2 versions will be available later in the year. However, the 1TB drive is only available in 2.5in, which is on test here. For the time being the M550 will run alongside the M500 series, giving Crucial a wider range of capacities and performances in its SSD portfolio.
A new controller? Well, almost. The M550 series uses Marvell's latest 88SS9189 controller which is an update on the 88SS9187 that looks after the M500. Details on the new controller are pretty thin on the ground but it does provide a bit more bandwidth than the 9187.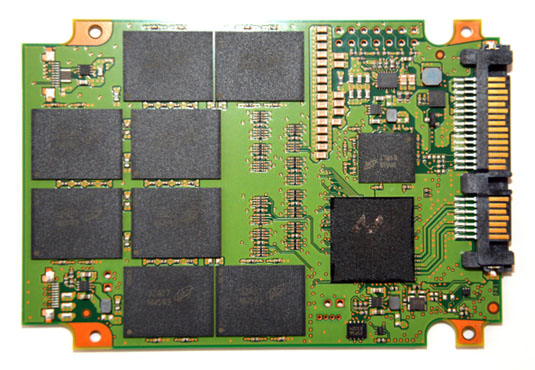 1TB M550 SSD dissected. Note the bank of capacitors to the top right
It also caters for LPDDR (Low Power DDR) and has improved DevSleep (DEVSLP) support. In this very low power state, Crucial reckons the drive uses just 3mW. These last two new refinements allow the M550 to have better power consumption and potentially offering an improved battery life than previously.
The M550 features an aluminium enclosure offering easy to access the drive's internals once the four corner screws are undone – bang goes the warranty! For storage, the 1TB drive uses 16 Micron 64GB 20nm MLC NAND modules, divided equally between both sides of the PCB. Sitting alongside the NAND on both sides is a single Micron 256MB 1066MHz LPDDR2 DRAM chip for the cache – giving the drive 512MB of cache in total.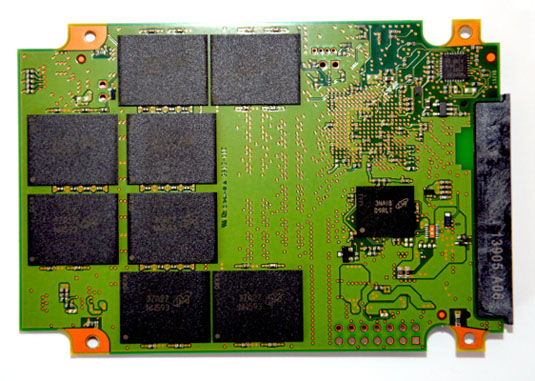 The chips continue on the back for this capacity
On one side of the PCB these chips are joined by the controller and a row of power capacitors – just like the M500, the M550 has power failure protection. The new drives also keep tabs on thermal protection too. If the drive exceeds its maximum rated operation temperature of 70˚C by too larger a margin, the drive will throttle back its performance until the drive returns to a safe operating temperature.