This article is more than 1 year old
It's GOOD to get RAIN on your upgrade parade: Crucial M550 1TB SSD
Performance tweaks and power savings – what's not to like?
RAIN maker
In the 1TB and 512GB models, the NAND has 128Gbit density dies, the same as used throughout the M500 series. For the 128GB and 256GB versions of the M550, Crucial has switched to using 64Gbit density NAND, which offers a better performance potential in a highly competitive section of the market.
In short, the 120GB M500 is rated 500MB/s and 130MB/s for sequential read and writes whereas the 128GB M550 sports figures of 550MB/s reads and 350MB/s writes.

CrystalDiskMark results: uncompressed data (left), compressed data (right)
As with the M500, the M550 supports Crucial's RAIN (Redundant Array of Independent NAND) technology for increased reliability. The M500 was the company's first non-Enterprise drive to use RAIN and the parity settings were set pretty tight, mainly to give the 20nm NAND a helping hand to keep it as reliable as possible.
As 20nm NAND is now a more mature product, the parity settings in the M550 have been relaxed to allow more capacity to be freed up as useable storage space.
Also still present in the M550 is 256-bit AES encryption, TCG Opal 2.0 and IEEE-1667 support. The meaning of the latter two is, in effect, a nod that the drive supports Microsoft's eDrive.
Crucial quotes sequential read/write performance for the 1TB M550 of 550MB/s for reads and 500MB/s for writes, which is an improvement over the M500 960GB's quoted performance figures (500MB/s reads, 470MB/s writes).
So how do these figures hold under testing? Using the ATTO benchmark it managed a sequential read figure of 557MB/s and 514MB/s for writes, pretty much bang on the official figures, and putting it neck and neck with Samsung's 840 EVO 1TB (555MB/s reads, 519MB/s writes).
When it comes to dealing with the small bitty file size that most of us use on a day to day basis the M550 does pretty well too. It produced a read score of 27.08MB/s in CrystalDiskMark's 4K test, which is only slightly better than the 960MB M500's 25.21. Yet the extra bandwidth the controller brings shows in the write performance, with the M550 producing a score of 91.73MB/s - as opposed to the older drive's 75.63MB/s.
It's slighter slower in read performance than the 840 EVO (30.79MB/s) but faster when it comes to writes, as the Samsung drive gave a score of 75.56MB/s in the same test.
The Marvell controller also doesn't have a preference when it comes to whether the data is compressed or not, as I found out. When tested using CDM's compressed data test it produced read/write scores of 27.22MB/s and 89.45MB/s respectively.
I then tested the drive using some real life scenarios. Copying a 50GB folder of small files (28,523 items) took just under ten minutes at an average speed of 73MB/s, while copying a 4GB image took just 30 seconds – 128MB/s average. Similarly, a 17GB BluRay image took a mere 2 minutes 18 seconds to copy at a 127MB/s average speed.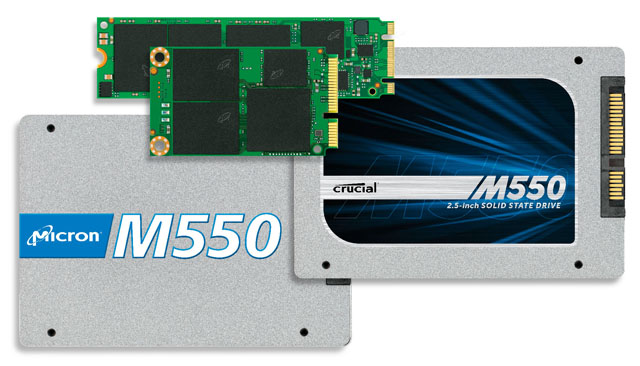 Take your pick: the M550 range comes in multiple form factors
The Reg Verdict
As with the M500, the pricing of the M550 series is highly competitive. All those extra enterprise features that impressed in the M500 – thermal and power loss protection, RAIN and advanced encryption – are all still in place in the M550.
Thanks to the tweaked controller, they are joined by some noticeable improvements in performance: in particular. the write speed.
Also, the power savings from its enhanced DEVSLP support will give laptop users yet another drive to ponder on for that essential upgrade. ®

It's GOOD to get RAIN on your upgrade parade: Crucial M550 1TB SSD
New generation of cost-conscious SSDs in a variety of form factors.
Price:
£72 (128GB), £122 (256GB), £244 (512GB), £383 (1024GB) RRP