This article is more than 1 year old
Sony Xperia Z2: 4K vid, great audio, waterproof ... Oh, and you can make a phone call
Decent phone calls and signal quality ... what a FEATURE
Review What do you want in a smartphone? A premium build quality? A high-resolution display that looks the business whether you're watching a movie or reading a book?
Maybe it's a decent camera so you can ditch your compact snapper.
As phones become better at doing all these things, manufacturers struggle to make their products stand out.
The latest premium phone to hit the market is Sony's Xperia Z2. Like many phones recently, it's a direct and gentle upgrade of an existing phone: the Xperia Z1, released last autumn, which looks pretty similar to this new phone. Both have a solid metal frame and glass front and back.
That metal-framed design with glass back may not match the high-end sparkle of the HTC One (M8), but it's pretty sharp.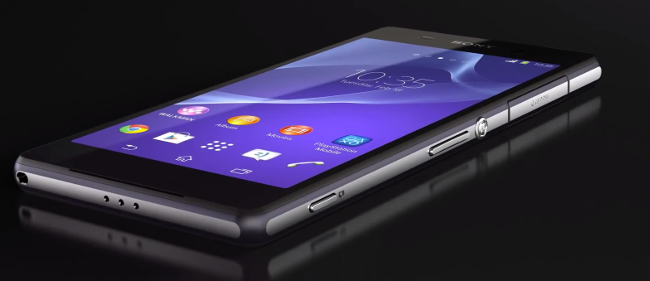 The Xperia Z2
The chamfered edges make it feel a little more palm-friendly than a phone this size deserves to be. The phone measures 146.8 x 73.3 x 8.2mm, so there are plenty of hands which will find this phone just too hefty. Still, at least it's slimmer than last year's model and a touch lighter at 163g, even though the screen size has increased.
It's among the biggest, heaviest of the mainstream premium phones (obviously there are phablets which are even more cumbersome). But it still feels manageable – just – and comes across as well-built and reliable rather than super-slim. It's more high-end than the plastic-backed Samsung Galaxy S5. If you like a little monolith in your pocket, the Z2 is for you.
The screen, now 5.2 inches, is the first really noticeable upgrade over last year. This is the first IPS screen Sony has used and this particular kind of LCD has great viewing angles.
Sony has cribbed some knowledge from its TV boffins to create what's called Live Colour LED. Instead of the over-saturated colours found in some OLED screens, this gives more faithful, realistic hues. It's worlds away from the previous phone's screen quality.
Not that last year the screen was terrible but it was outgunned by some rivals. This time, it's very nearly on a par with the stunning display on the Samsung Galaxy S5 and it looks more natural than Samsung's does. The screen is such an important part of a phone, it's a nightmare when it's not quite good enough. This one is. The touchscreen is responsive and fast, by the way, so touching it is as pleasant as looking at it.
Basic snapper's the same... but get a load of the video camera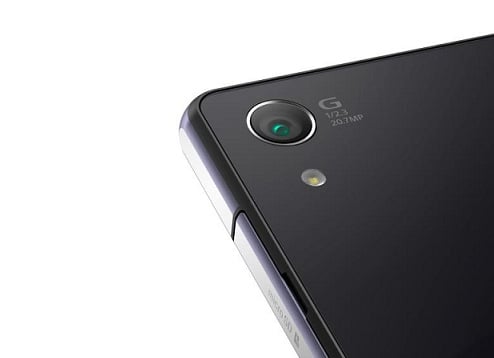 The Xperia's cam hole
Many of this phone's components are the same as last year. The camera is a 20.7MP model, again. Still, many of the Xperia Z1's specs were significantly more high-end than most of the competition, so there was no need to change the camera. It had components from advanced Sony compact cameras, and was capable of delivering excellent results.
Last time and this, there was minimal shutter lag, responsive focus and lighting measurements so that a simple interface delivered sophisticated results. Since a camera is a crucial part of a phone for many, Sony was wise to make this a priority. But it's not all the same this time around. The Z2 has a big improvement in the phone's video-recording capabilities.
Like the Samsung Galaxy S5, the Xperia Z2 can shoot in 4K resolution, which as you know is four times that of HD and unusable on all but the most expensive of TVs. Sony calls it future-proofing your memories, a clever phrase to get us to buy into a technology we can't really use yet. Still, if we don't mislay the footage before buying a new-fangled 4K telly, the future really will be bright (though perhaps not orange).
In practice, the video looks sumptuous and pristine on this phone, even though the screen can't do the full resolution justice. And let's be grateful the phone has a microSD card slot, one that can use cards of up to 128GB capacity, because that 4K footage takes up a lot of space, and quickly. The camera interface is straightforward but still manages to be sophisticated and subtle with extra features.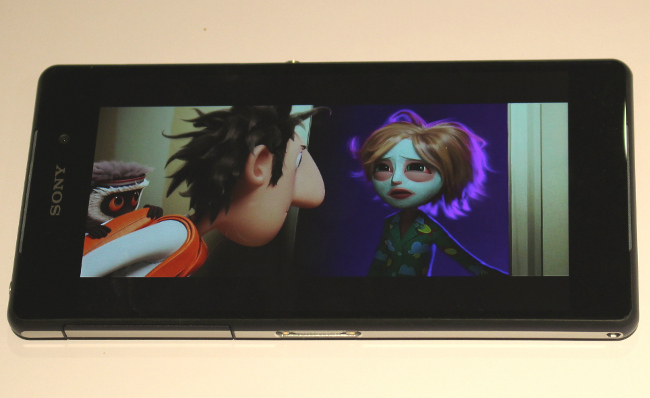 The video looks fantastic, but the small screen can't handle 4K's full glory (click to enlarge)
Take Info-Eye, which uses augmented reality to overlay information on top of what the camera sees. If you're looking at a landmark building, and the phone recognises it, it will download information to the phone's display. You need a decent data connection for this. And other effects include dinosaurs and volcanoes which are superimposed on still and moving images. Nuts, but fun. If a camera's not your priority, the Sony Xperia Z2 has more to offer.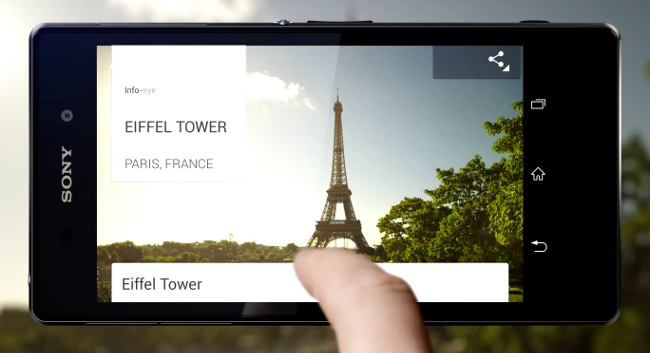 Info-Eye, overlays info on top of what the camera sees – nifty trick... if you've got access to Wi-Fi