This article is more than 1 year old
OnePlus One equals 'killer' new mobe running CyanogenMod
But it's invites-only for now, and you might also need a hammer
Vid After months of teasing, Chinese smartphone startup OnePlus has formally launched the OnePlus One, a budget Android handset with specs so enticing that some industry watchers had suspected it of being vaporware.
Described as a "2014 flagship killer," the One – not to be confused with HTC's product of the same name – has a high-end processor, a large screen, and generous amounts of RAM and storage, yet is priced closer to its competitors' midrange offerings.
It's also notable in that it's the first handset to be built specifically for the CyanogenMod OS fork, rather than stock Android.
It's not the first CyanogenMod phone – you can buy a version of the Oppo N1 with CyanogenMod preinstalled today – but the OnePlus One will ship with a new version of CyanogenMod based on Android 4.4 that's been custom optimized for its hardware.
"We've brought out the full potential of the hardware and complemented it with innovative new features to give users a fresh new experience and the tools to tailor the One to their personal style," Cyanogen CEO Steve Kondik said in a canned statement.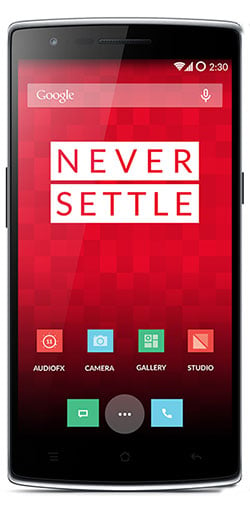 The OnePlus One features a custom firmware
built in partnership with Cyanogen
About that hardware: the heart of the One is Qualcomm's quad-core Snapdragon 801, arguably the season's hottest mobile system on a chip (SoC), which also powers the recently-released HTC One (M8) and Samsung Galaxy S5.
The version in the OnePlus One has its four Krait 400 CPU cores clocked at 2.5GHz – the maximum for the 801 – and they're coupled with a speedy Adreno 330 GPU clocked at 578MHz, plus 3GB of 1866MHz LP-DDR3 RAM.
The base version of the device comes with 16GB of eMMC 5.0 storage, which is a little "meh" for a so-called flagship phone these days, but there's also a version with a whopping 64GB onboard. Still, we might have preferred it to include a microSD card slot.
The screen is a 5.5-inch 1080p IPS display with Corning Gorilla Glass 3 for protection and a pixel density of around 401ppi.
The rear camera is no slouch, either. It's a 13-megapixel Sony Exmor IMX 214 with a maximum aperture of f/2.0 that boasts six lenses to correct for distortion and color aberration. It can record 4K video with stereo sound or 720p slow-motion video at 120fps.
As for connectivity, the OnePlus One throws in everything and the kitchen sink. It can handle GSM, WCDMA, and LTE on global bands, plus dual-band 802.11b/g/n/ac Wi-Fi, Bluetooth 4.1, NFC including software card support, and positioning via GPS and GLONASS. It also includes a compass, accelerometer, gyroscope, and proximity and ambient light sensors.
Fueling all of this is a 3100mAh non-removable lithium polymer battery, which is a higher capacity than the battery in either the HTC One M8 or the Galaxy S5 (although the Galaxy S5's is removable). OnePlus has yet to make any claims about battery run time, however, other than to say it offers "all day power efficiency."
The trade-off for all of these goodies is bulk. OnePlus has managed to cram all of this into a 152.9mm-by-75.9mm-by-8.9mm enclosure with a weight of 162g (5.71 ounces), making it chunkier than either the Galaxy S5 or the HTC One (M8), although not by much.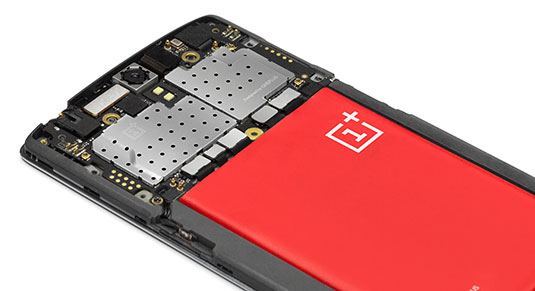 OnePlus is so proud of its hardware design that it put its logo on every little component (click to enlarge)
So what will all of this set you back, you're wondering? The 16GB version with a "silk white" body will arrive with a list price of $299/£229/€269, while the 64GB version in "sandstone black" will cost $349/£269/€299. Both models will arrive carrier unlocked and contract-free.
By comparison, HTC sells unlocked One (M8) handsets for $699 in the US, while the Samsung Galaxy S5 is selling for more than $700 unlocked.
The catch is that you can't actually buy the OnePlus One – not yet, and it may take a while after the devices start shipping in the second quarter before you're able to.
That's because OnePlus is using a unique marketing tactic as it ramps up production on its first phone. For its initial run, only people who receive invites will be able to order the phone. You can get an invite one of two ways: either from someone else who already has a OnePlus One, or by participating in various contests and online promotions the company has planned for the next few months.
The first such gimmick is already underway. For the next day or so, prospective buyers who submit their email addresses to a contest website will be entered into a drawing to receive an invite for one of the first 100 OnePlus One handsets produced.
What's more, winners will be able to pick up a device for just $1 and will be the first to be able to invite others to buy the next batch – provided, that is, they're willing to "smash" their current phones into bits as part of the promotion.
That last little wrinkle, combined with the OnePlus One's non-removable battery and lack of expansion, makes us suspect OnePlus isn't exactly the most environment-friendly smartphone company around – but hey, at least their phones are fast and cheap. ®