Despite revenues rising steadily, Fusion-io cannot stem its cash bleed: it lost $30.7m in the third quarter of fiscal 2014, a 54 per cent increase on the loss it recorded in the same period a year ago.
Revenues from the just-ended quarter were $100.5m, 15 per cent up on the year and six per cent more than the second quarter; overall a good result.
However, this makes five quarters of losses, all of them greater than $20m, and Fusion's revenue climb is not enabling it to stand clear of the red ink.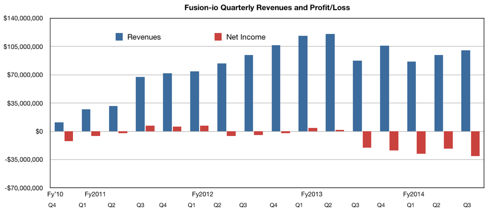 Fusion-io's revenues and net income ... click on the graph to see a larger version
When the first 2014 quarter's results were announced Shane Robison, Fusion's CEO and chairman said: "We have made progress in the last several months on key technology and strategic initiatives that we believe sharpen our execution and create a strong foundation for future growth."
At second quarter results time he said: "Our second quarter results demonstrate validation of our go-to-market strategy, continued traction with our OEM and ISV partners, and we are continuing to diversify our customer base, with nearly 6,000 end-user customers worldwide."
This time around he said: "We are pleased to deliver six per cent sequential revenue growth this quarter while making investments in the team, technology and partnerships that we believe will drive the business forward."
William Blair analyst Jason Ader said: "Cash operating expenses increased by more than $4m sequentially due in part to investments in front of Gen 3 product launches."
Fusion-io isn't selling enough gear considering its cost structure. The company is strengthening its product lines but they all face strong competition.
That competition includes: the ioControl hybrid flash/disk array line from Nimble Storage, Tegile and Tintri; the ION Accelerator all-flash array from moneybags Pure Storage, EMC, IBM and so on; the ioMemory PCIe flash cards from other PCIe flash card suppliers; looming NMVe SSDs; and the FlashDIMM technology from SanDisk. Viking Technology has similar technology with its ArxCis-NV DDR3 NVDIMM.
All this competition provides a tough environment for Fusion-io and those low-hanging server flash card fruit days are a distant memory now.
Robison and his team believe they can grow revenues from new products with improved technology, which will give sales and Fusion's distribution channel a stronger set of products to sell.
Ader is not quite so sanguine: "Management noted that margins were affected by large deals and the ongoing transition to a partner-focused business model. While margins are expected to improve by roughly 60 basis points (0.6 per cent) in the fourth fiscal quarter, we believe that standardization poses a fundamental threat to Fusion's business model."
He discussed NVMe as a threat: "The NVMe standard—which is the communication protocol used between the CPU and the flash media—is gaining momentum with backing from vendors such as Intel, Micron, LSI, Samsung, Western Digital, and Seagate. This puts Fusion's proprietary protocol (which employs software in the CPU talking to a FPGA-based card) in an uphill battle against the majority of market participants."
How will Fusion-io respond to this?
Revenue next quarter may show another steady rise, but could show a decline on an annual basis. CFO Ted Hull said there is $225m in cash and equivalents, meaning the company can absorb these losses while it regrows its product sales.
At this rate it looks as if profits will be a story for the second half of 2015. ®